Cinnamon sugared walnuts

I have just finished making a batch of these beauties. Not only they were simple and easy but super delicious. I could not get enough…….this is not good :-)
The reason for making these was that I wanted to give them away. I package them in cellophane bags as a gift to one of my friends. She has been kind enough to drop off and pick up my son to and from school while recuperating from surgery.
She also brought me this amazing chicken noddle soup, which I will be posting the recipe when ever I get a chance. It was the best chicken noddle soup ever…..
I guess you can make this recipe with which ever nuts you may prefer. I think with peanuts it will be really good. That is what I am going to do next time :-)
Until then……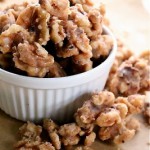 Cinnamon sugared walnuts
Ingredients:
1 lb whole walnuts
1 1/2 cups unrefined sugar
1 cup milk, I used low fat milk
2 teaspoons cinnamon
1/2 teaspoon salt
1 teaspoon vanilla
Directions:
In a saucepan combine the sugar, milk, cinnamon, and salt. Whisk over medium high heat until all of the ingredients are combined completely, then stop stirring and bring to a boil. Boil the mixture gently until it reaches 235-245 degrees (soft ball stage) on a candy thermometer, about 15 minutes. I actually reached 240 for mine.
Remove from the heat and stir in the vanilla. Add walnuts working as quickly as possible to coat them all.
Spread the walnuts on a baking sheet lined with parchment paper. Break apart any big chunks and allow to cool completely.
Nutrition facts calculated on the recipe giving 10 servings.
Related Posts
38 Responses to "Cinnamon sugared walnuts"
Leave a Comment