Penne with mushrooms, sun dried tomatoes and asparagus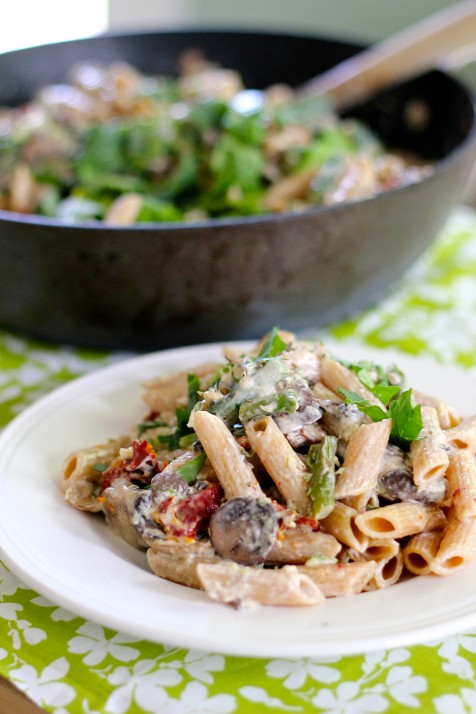 Hello my friends, I am writing this Penne mushroom and sun dried tomato recipe from Spain :-)
For those that have been following for a while you may know that I am from Spain. I have not visited Spain for two years but yesterday I arrived and I couldn't be happier.
I am really excited to be here to see my friends and family, and of course, eat REALLY GOOD FOOD. I have also planed a few super good recipes to make while in Spain. I will have much more time to bake and cook, as well as study and relax, since my relatives will be taking care of my kids, so stay tuned for the good goodies to come.
This Penne mushroom and sun dried tomato pasta is one of our new favorite pasta dishes. For me it works great because it literally takes 15-20 minutes to put together, it is super tasty, yummy, filling and healthy all at the same time. I do love pasta so lately I have been trying to add a few new pasta dishes to my repertoire! There is an avocado pasta version to come soon so I hope you like that one too.
Asparagus are now in season, that is why I decided to add them to the dish. You can choose to add other veggies if you like. I have done it using fresh spinach and olives which works really well too. Just get creative or you can just leave the recipe as is.
On another note, the winner for the Health Warrior Chia seed bars has been announced. EMELY BENNET you are the winner, you have 48 hours to respond to the message and contact me otherwise I will have to choose another winner. I love doing giveaways, especially of products that I love. I hope I can secure some more goodies for you to have so stay tuned for that too.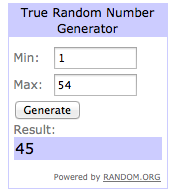 Well folks, I am going to get in the kitchen in a little while to experiment with some dishes I have in mind. Since I am in Spain I think a few Spanish dishes are in order.
Until then, stay safe and enjoy!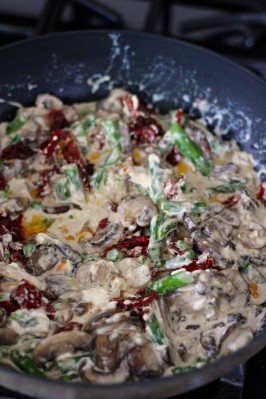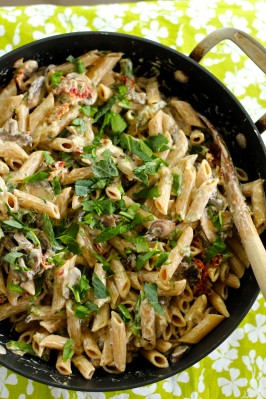 Here you can see how the sauce looks like with the veggies before I added the penne. I also sprinkled some fresh spinach over it with some pepper flakes when done. This is just optional.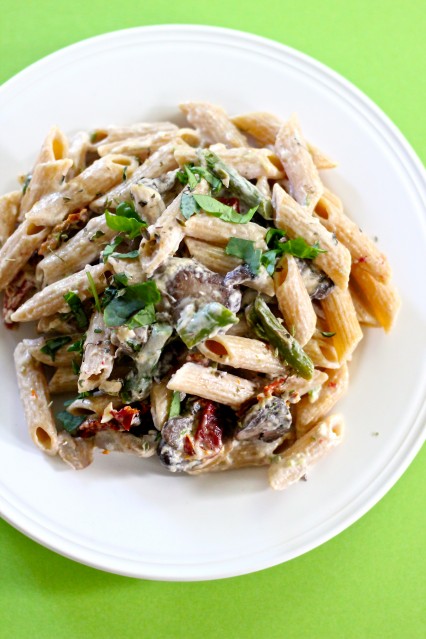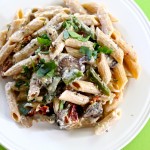 Penne with mushrooms, sun dried tomatoes and asparagus
Yield: 4-6 servings
Total Time: 20 minutes max!
Ingredients:
1 lb whole wheat penne
8 oz cream cheese
6 oz sun dried tomatos, chopped
20 oz sliced fresh mushrooms
12 oz fresh asparagus, chopped
1/2 cup Parmesan cheese
4 garlic cloves, chopped
1 tsp Celtic salt, or to taste
Pepper flakes, optional
Directions:
Cook pasta according to package instructions.
In a heavy bottom sauce pan, over medium to high eat, place the sliced mushrooms and asparagus and cook stirring occasionally until almost tender. About 5 minutes.
Add the garlic and cook for 1 minute. Add the cream cheese with some pasta water, about 2-3 tablespoons, and stir until the cream cheese is well incorporated with the veggies. Add the sun dried tomatoes and Parmesan cheese and stir.
Add cooked pasta to the pan and stir until all the cheese is well incorporated through the pasta. You may add some pepper flakes if you like as well as a pinch of salt if need it be.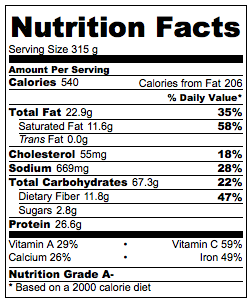 Nutrition facts calculated based on the recipe giving 6 servings.
Related Posts
17 Responses to "Penne with mushrooms, sun dried tomatoes and asparagus"
Leave a Comment