Christmas Rum Cake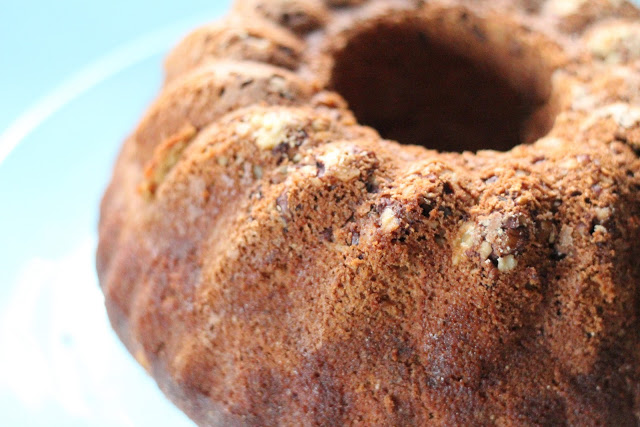 I have never made this cake but it will not be the last time. The cake was so moist, it was basically dripping from the rum. Rum lovers out there, this is just up your alley, trust me it is that good…..Although it was a bit strong for my taste it was nevertheless superb. A well fitted cake for the holidays right?
This cake is also simple to put together, pretty much you just have to mix the ingredients, throw the batter into the bundt pan and bake.
Now, be careful when unmolding, mine broke a little bit on the side, although you can't see it in the picture :-) tricky, tricky……so make sure you grease and flour the pan generously like in the pictures.
After this cake I hope I can start baking some cookies, will see  because I have a big list of recipes I would like to make soon. I will try my best :-)
I hope you get to make this cake because it is truly a winner. Enjoy!
By the way it is best eaten with some ice cream and caramel, yum, yummy….
You can see that the pan is nicely greased and floured. I put half the walnuts in the bottom of the pan and then the other half in the batter.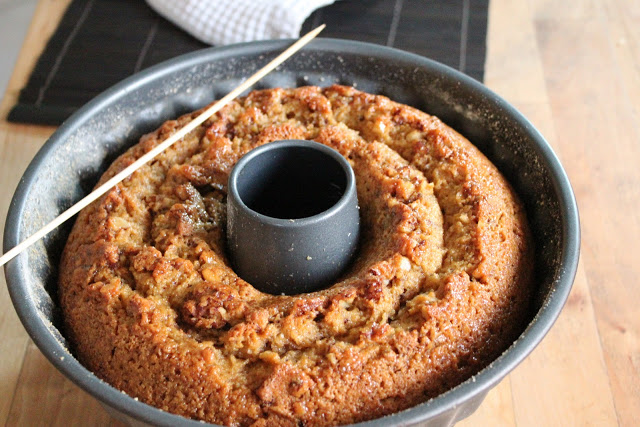 Here you can see the utensil that I used to make holes all over the cake, a barbecue skewer. I made holes on the sides and top of the cake so that the rum glaze could be soaked in well.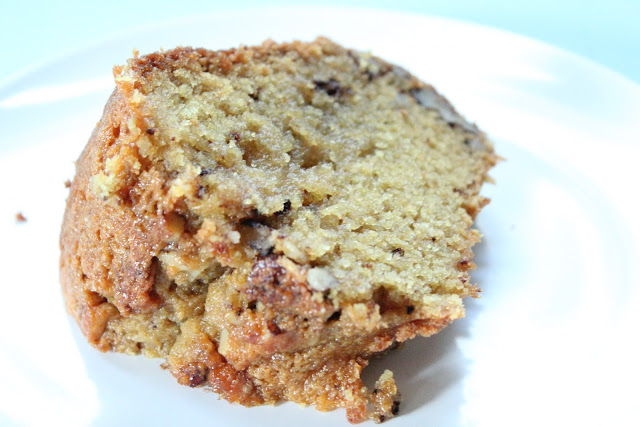 …..and the final product, super moist! I just have mine with caramel and ice cream, a much better combination :-)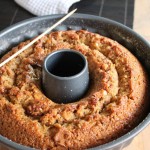 Christmas Rum Cake
Ingredients:
3 cups whole wheat pastry flour
1 1/2 cup unrefined sugar, I used 1 cup
1 cup walnuts, chopped, optional
2 teaspoons baking soda
1 teaspoon baking powder
1 cup low fat milk
1/2 cup olive oil
1 teaspoon vanilla extract
1 cup dark rum, I used a bit less
2 eggs
Glaze
1/2 cup of sugar
1/4 cup of dark rum
1/4 cup of water
Directions:
Preheat oven to 325 F. Grease and flour your bundt cake and sprinkle half the walnuts in the bottom of the pan like in the picture.
In a bowl, with a whisk, combine sugar, oil, rum, vanilla, milk, and eggs. Add flour, baking soda, and baking powder. Combine well. Add the remaining walnuts. Pour batter in the pan and bake for at least 1 hour or until tester comes out clean. (I baked mine for 1 hour and 15 minutes)
When you have 10 minutes remaining for the cake to  be done make the glaze. Combine sugar and water on a pot and heat through until sugar is dissolved. Turn off heat and remove pan from the heat, add rum. Place back into the heat and combine for a minute.
With a barbecue skewer make little incisions all over the cake. Pour glaze over the cake. Wait at least 10 minutes before you unmold the cake. ( I helped myself with a butter knife to undo the sides of the cake)
I served the cake with ice cream and caramel sauce which is much better. The rum flavor goes great with the ice cream :-)
Related Posts
9 Responses to "Christmas Rum Cake"
Leave a Comment