Panko Baked Chicken Nuggets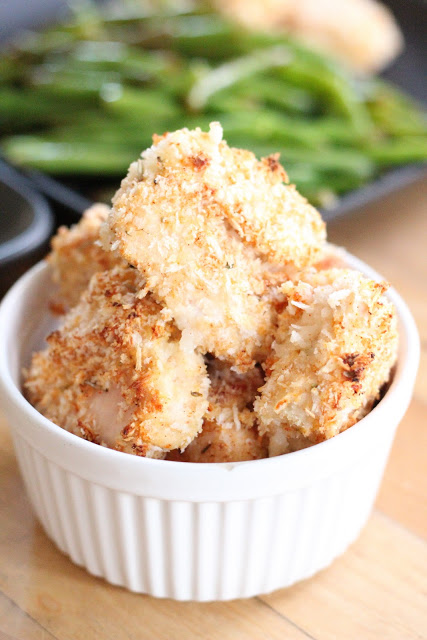 We all know how unhealthy chicken nuggets can be right? Well not anymore with this no fuss and simple recipe.
Chicken nuggets can be fried and breaded in many different ways making them even unhealthier so this is an easy and fast alternative for those famous chicken nuggets that are very popular among kids :-) This one is very popular in my household!
Anyhow, there isn't that much to say about this recipe. You can season the breadcrumbs as you wish and use this with a firm fish as well. I have done that before using tilapia and it works wonderfully.
Enjoy!
Baked chicken nuggets
Ingredients:
1 1/2 lb chicken breast, cut into cubes,  I buy mine organic
2 eggs, beaten
2-3 cups panko breadcrumbs
1 tablespoon oregano
1 teaspoon salt
Directions:
Preheat oven to 400F. Grease a square baking pan. ( I use a deep rectangular one)
Set up a breading station with one bowl for the eggs and one for the breadcrumbs, oregano and salt. (feel free to season panko breadcrumbs as you wish).
Bread each chicken piece by coating it in the egg, followed by the bread crumbs. Place in the baking dish and bake for 25-30 minutes turning chicken halfway through.
Serve however you wish. I accompanied mine with some green beans :-)
Related Posts
2 Responses to "Panko Baked Chicken Nuggets"
Leave a Comment