Mini Vegetable and Bacon Fritatas
I just finished making these for lunch. They were superb. I pair them up with some corn bread, which I have never made before. I will post the corn bread recipe sometime this week!
This is another versatile recipe, as you can add any veggies you may prefer, add or replace other ingredients to satisfy your own individual flavor. You can also make a big fritata rather than small ones, much faster, which I did a while back. Here is the link Vegetable Fritatta
These are perfect as an appetizer for any party you may think of having in the future, as a quick lunch fix or whatever you may want!
Enjoy!
Left picture depicts right before placing the fritatas in the oven and the right picture right after :-)
…….and the final result, just beautiful and very tasty :-)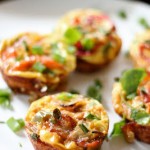 Mini Vegetable and Bacon Fritatas
Ingredients:
6 eggs, beaten, I always use organic eggs
1 cup egg whites, I buy them in a container
2 red peppers, chopped
1 green pepper, chopped
1 onion, chopped
1 teaspoon salt
4 tablespoons olive oil
3 garlic cloves, chopped
3-4 green onions, chopped
6 slices Canadian bacon, chopped. I get Canadian bacon which is the only one I can find without sodium nitrate, a potent carcinogenic
Directions:
Spray muffin tin with cooking spray and set aside.
On a sauce pan over medium heat heat the oil and add the veggies except the garlic. Cook for 3-5 minutes. Add garlic and bacon and cook for a further 2-3 minutes.
In a bowl mix regular eggs and egg whites. Preheat oven to 350F.
Divide veggie mixture between the muffin tins. Top veggies with 3-4 tablespoons of the egg mixture. Sprinkle each fritata with the green onions like in the picture.
Bake for 20-25 minutes.
Let the fritatas cool in the pan for about 5 minutes. Run a small knife alongside each fritatta to release it from the pan. Serve warm.
 Each serving equals to two fritatas
Related Posts
11 Responses to "Mini Vegetable and Bacon Fritatas"
Leave a Comment