strawberries and cream steel cut oats
How about some strawberries and cream steel cut oats? My kids just had this for breakfast this morning and they loved it. A different still healthy way to start the day.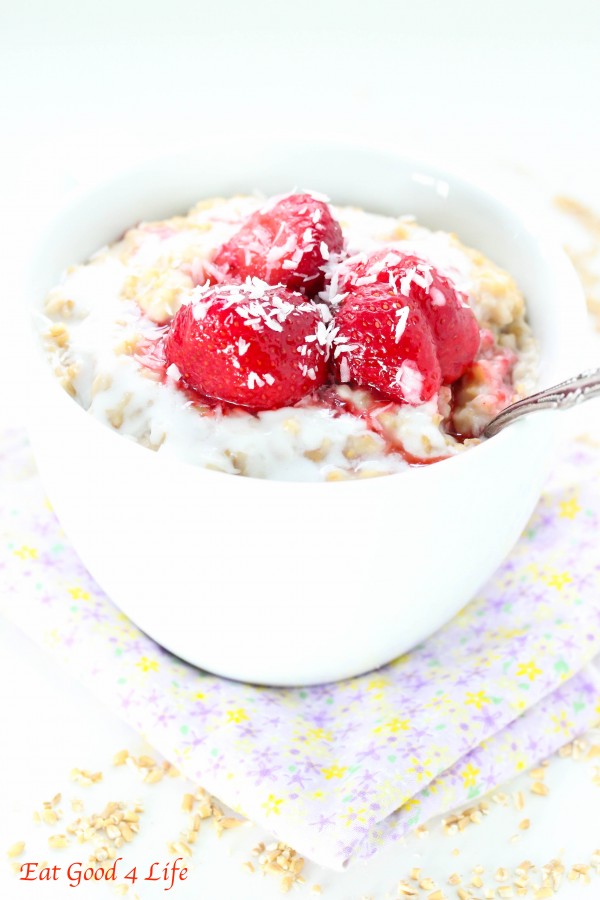 I have always tried to make different types of breakfast for my kids each week. I mean don't get me wrong, I will occasionally use the cereal box type from time to time, but for the most part I always make my own version of granola, oatmeal etc.
On the weekend is when I tried to tackle what is for  breakfast for the entire week so yesterday, since it was a holiday, I made a huge batch of these strawberries and cream steel cut oats.
While this recipe takes a bit longer since you have to cook the oats for 30 minutes or so, as well as stir in between, it is worth every minute of it. They are so creamy, feeling and delicious. If you haven't used steel cut oats I suggest you give it a go. You can make any flavor of your choice. The sky is the limit really!
I actually like to use Bob's Red Mill Steel Cut Oats. They have the greatest healthy products. It is one of my favorite brands, truly. I use many of their products in my baking and cooking and if you haven't tried them before I suggest you do. They have tons of products you can choose from and many of them are gluten free.
If you are looking to healthify your diet this year, starting your day with healthier food choices is a must. This strawberries and cream steel cut oats is a great way to start the day so give it a go and let me know what you think.
Enjoy!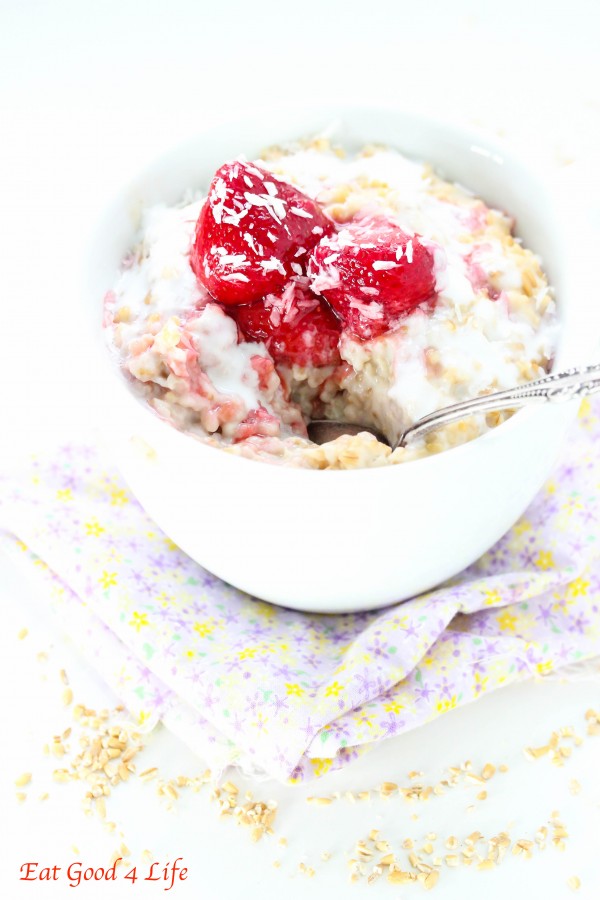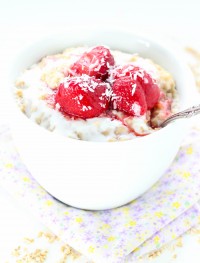 strawberries and cream steel cut oats
Yield: 8-10 servings
Total Time: 30 minutes
Ingredients:
1 1/2 cup Bob's Red Mill steel cut oats
4 cups almond milk
1  cup coconut milk or cream
1/4 cup maple syrup
8 oz fresh or frozen organic strawberries
1 tsp vanilla extract
Directions:
In a heavy bottom sauce pan place the milks, maple syrup and vanilla and heat over medium to low heat. Once the milk is almost boiling add the oats.
Stir and turn the heat to low. Cook until the oats have absorbed most of the milk and they are tender occasionally stirring in between, about 30 minutes.
Turn the heat off and add the strawberries. Store in the refrigerator in an air tight glass container for up to 1 week. In subsequent days, before serving you may add more milk if you like.