Pumpkin pie overnight oats
I have many overnight oat recipes in the blog but never thought of making pumpkin pie overnight oats. I am glad I did because they are super easy, delicious and healthy. This version is also gluten free and vegan!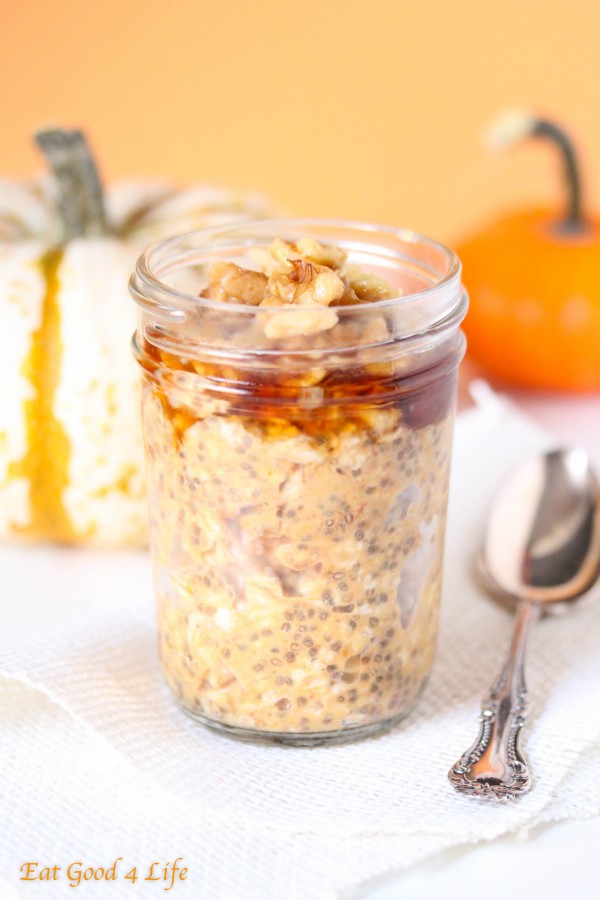 I am all for easy and healthy breakfast. I like to have something different each week so that I don't get board with my options. Overnight oats are a great alternative because you can make endless variations. So far my favorite is the strawberry and coconut oats but this pumpkin pie overnight oats version is pretty close.
I have used maple syrup to sweetened my version but you can use dates, honey or even unrefined sugar if you like. I think the maple syrup mixes rather good. I also used rolled oats because I like a smooth consistency but if you like more of a crunch you can use steel cut oats. I have never tried it with them but I am sure it will still be good, just not as smooth I am sure.
I also used walnuts but you can use any type of nuts. I like walnuts best because of the Omega- 3's but my kids love pecans. Maybe I will add that next time, will see!
Well nothing much to elaborate with this simple yet delicious pumpkin pie overnight oat recipe. I hope you get to make it because it is just plain sensational!
Here are some other overnight oat recipes if you like more variations.
P.S: I think I might have one more pumpkin recipe left before by the end of the month. I had some leftover pumpkin puree so I have to think of something so that I can use that bit!
Enjoy!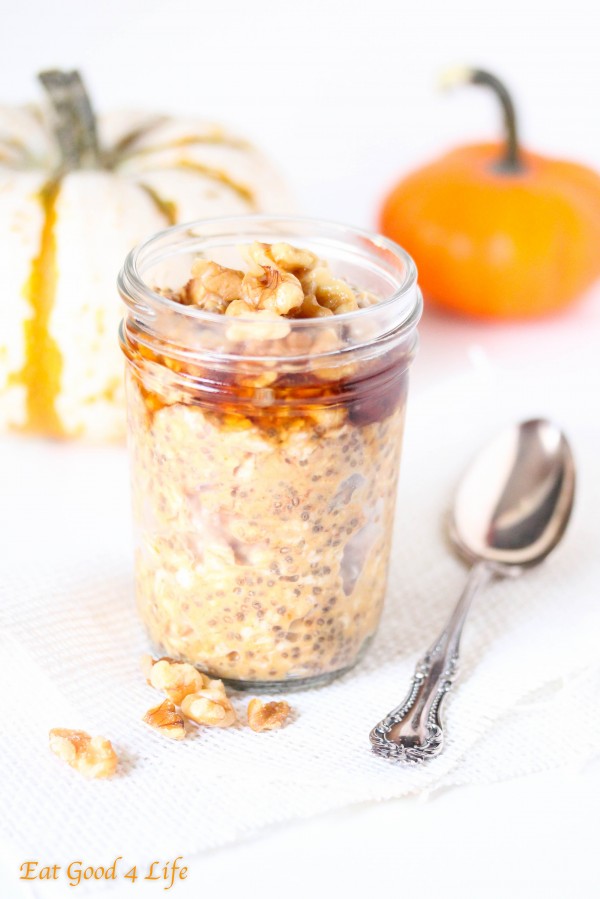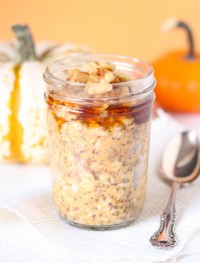 Pumpkin pie overnight oats
Yield: 12-16 servings
Total Time: 5 minutes
Ingredients:
Directions:
In large mixing bowl mix all the ingredients. You may need a little bit more milk if you like. I like mine a bit more liquid like than pudding consistency so I add more. Place in the refrigerator overnight and eat the next morning.
This recipe will keep in your refrigerator covered in a  glass container for up to 5 days.