100% whole wheat halloween sugar cookies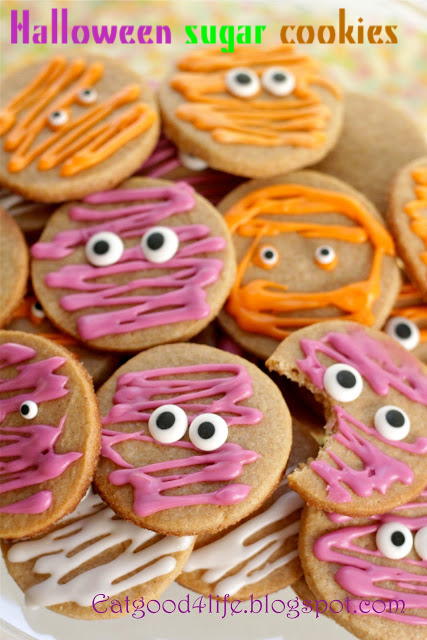 Oh wow it has been quite a few days since my last post. Sorry, I am just really busy working on my e-book project developing new recipes and that is taking quite a bit of time!
This sugar cookie recipe actually comes from my old sugar cookie recipe I made a while back. I used for this variation as well ghost sugar cookies in case you also want to take a look.
You can use this recipe for making any sugar cookies you have in mind. This version is a little bit healthier for you, and trust me, the flavor and texture it is still there. These sugar cookies would be perfect for Christmas.
This time around, for the dough, I actually decreased the sugar content by 1/4 cup and the cookie came out fine. Maybe next time I will reduce the sugar even further!!
For decorating the cookies you can really do what ever you like. I actually used some decorated eye pieces I bought at the baking store and  some powdered sugar mixed in with water.
I know, I know, using powdered sugar is not exactly healthy but like I said before, once in a while is OK. My kids eat one cookie a day, which I think is plenty, and because their diet is pretty healthy indulging on Halloween season… well, that is just part of childhood.
I hope my next post is in the next few days but if you notice a delay, now you know why. Until then,
Enjoy!
This is how the dough looks like before flatting it out with a rolling pin in between plastic wrap and placing it in the fridge for a couple of hours to chill.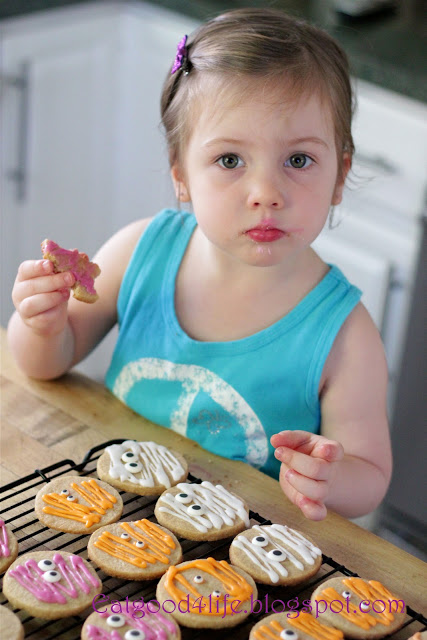 I used different colors to decorate the cookies but you can stick with just one color if you like. My daughter was the happiest kid on earth when she was able to dig in!
To decorate the cookies I used a mixture of powder sugar and water with a little drop of food coloring. Then I bough I few edible sugar eyes at the baking store. You can decorate them however you like though! I thought this method was rather easy.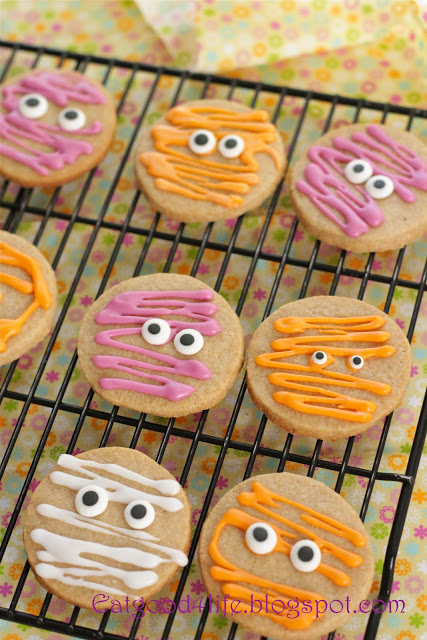 You can shape and decorate these sugar cookies how ever you want. The sky is the limit!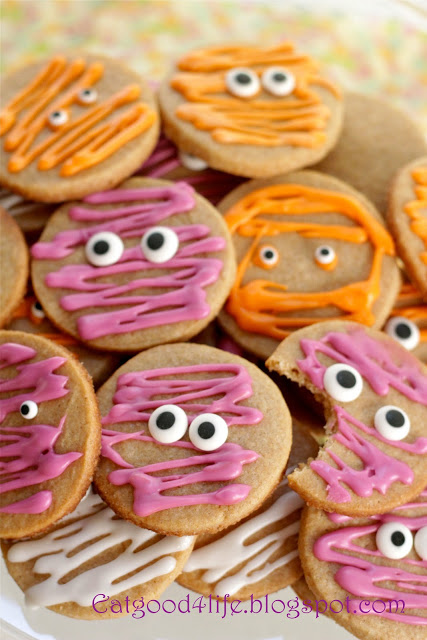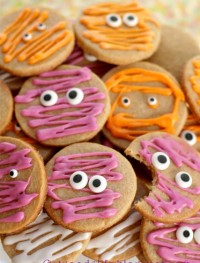 100% whole wheat halloween sugar cookies
Ingredients:
Directions:
With a hand mixer, beat butter and sugar until fluffy, about 2-3 minutes. Beat in egg, oil and vanilla. Add flours, and baking powder and combine until you have a homogeneous dough formed.
Divide dough into two and flatten out with a rolling pin like in the pictures. Chill dough for at least 2 hours.
Preheat oven to 350F and line two baking cookie sheets with unbleached parchment paper.
Roll out the dough to about 1/4 inch thick and stamp out rounds using a cookie cutter (I roll out the dough in between plastic wrap which I find very easy to do. You can use any other cookie cutter shape you like as well).
Bake cookies for 10-12 minutes. Cool on cookie sheets for 2-3 minutes and transfer them to a wire rack and cool. Decorate as desired or eat as is.
For decorating the cookies I mixed the powdered sugar with the water and food coloring and used a decorator bottle set to drizzle it. You may need an extra tablespoon of water or so, just make sure that the consistency of the sugar is thick. Place the sugar eyes over each cookie.
Tip: Dough can be chilled for up to 5 days or frozen wrapped in a double layer of plastic wrap for up to 1 month. If frozen, thaw dough in the fridge before using.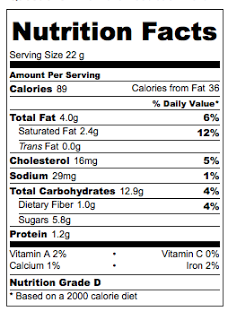 Nutrition facts calculated based on the recipe giving 25 cookies. The nutrition facts are calculated with no added frosting