Chocolate rice crispy treats
Have you ever had the original store bought rice crispy treat before? They are loaded with sugar, unhealthy ingredients and offer no nutrition at all. These chocolate rice crispy treats are another story.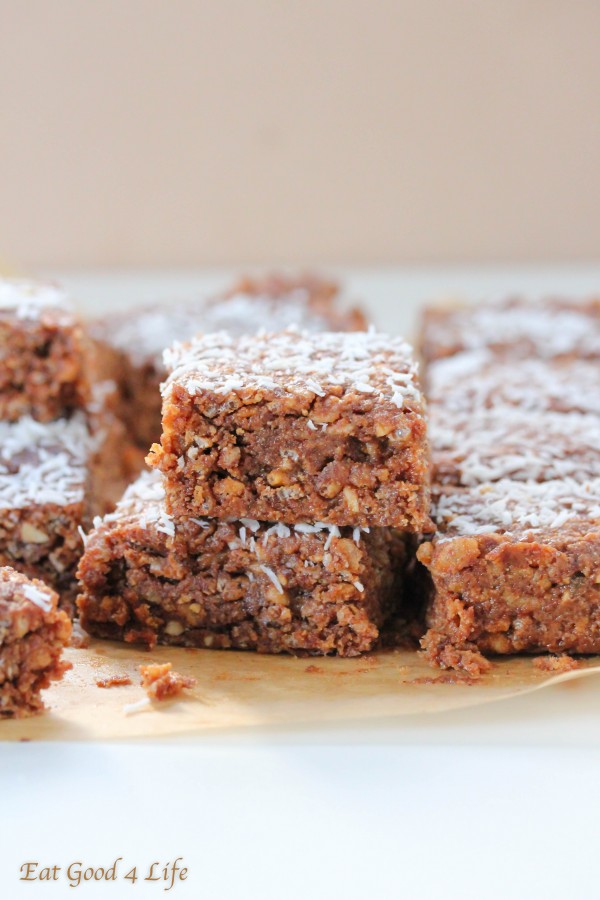 Have you ever being sledding with your kids before? We have had so much snow lately in New Jersey that snow activities are pretty common especially on the weekends. We live around many parks and hills so tubbing and sledding it is pretty common. My kids enjoy both but for some reason I get a bit afraid when rolling down the hill and catching up some speed. I guess I am getting older and afraid I will brake a bone or something! My kids love it of course but I can't help but be a little bit afraid.
These chocolate rice crispy treats were our treat when we headed home. We paired it together with some hot chocolate and it was just perfect to keeps us warm. Given that neither the chocolate rice crispy treats or the hot chocolate were exceptionally sweet it was perfect. I always associated hot chocolate and rice crispy treats and sweet foods but not my versions!
For these chocolate rice crispy treats I used Truvia® Brown Sugar Blend  to sweetened them. ½ cup of this blend has 210 calories and provides the same sweetness as one cup of brown sugar that has 830 calories. Since I only used 1/4 cup for this recipe the calories were even less. This blend is great for baking cookies and cakes. Visit Truvia® to learn more about their products and other recipes. I am sure you will find something that you will like.
These chocolate rice crispy treat are not sweet at all, which is good since I don't want my kids to over load themselves on sugar.
Truvia is also giving away prizes worth up to $700 on a photo sledding photo contest. To participate read below:
#SweetWarmUp Photo Contest – Part 2
Share your sledding or sledding inspired photos on the
Truvia Facebook page
or by using #SweetWarmUp on their
Instagram
or
Twitter
. The contest runs from 
February 9th – 24th, you will have a
 chance to win:
Faribault Woolen Mills Scarf
Marmot Gloves
Enamel Coffee Mugs
Snowman Building Kit
Thermos
Reusable Hand Warmers
Duluth Pack Bag
Truvia(R) Product Family
Keurig 2.0
Good luck and enjoy!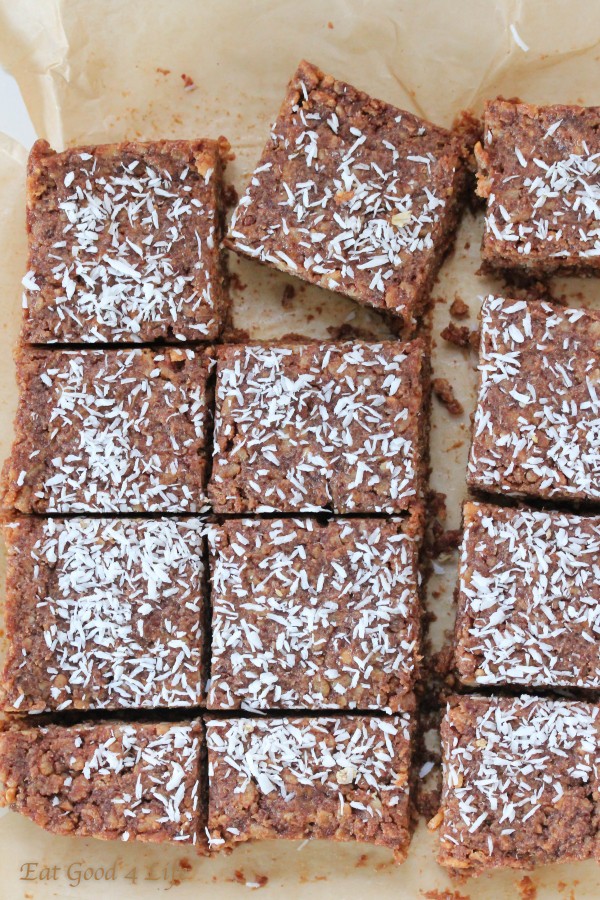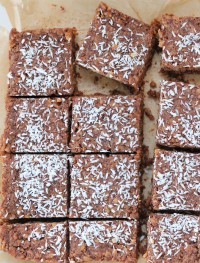 Chocolate rice crispy treats
Yield: 12 pieces
Total Time: 15 minutes
Ingredients:
4 cups brown rice cereal
1 1/2 cup almond butter
1/4 cup almond milk
1/4 cup Truvia® Brown Sugar Blend
2 tbs cocoa powder
1 tbs unsweetened shredded coconut
Directions:
Line a 8x8 baking pan with unbleached parchment paper.
Place ingredients in a mixing bowl and with a spatula combine until they come together. Press mixture down onto the prepared baking pan and sprinkle the shredded coconut over it. Place mixture in the fridge for at least 2-3 hours until it becomes firm.
Cut crispy treats into squares and serve. Keep leftovers in the fridge.