Baileys Irish Cream and Pistachio Fudge

Merry Christmas to all of my family, friends, followers and blog visitors. This will be my last post for 2010 since I am bound for TN is a few hours and won't be returning until the new year. I guess a mini holiday vacation for me although I am not looking forward to the 10 hours drive that is ahead :-(
About this post now.
I have made this Irish cream, Baileys fudge before but the first time around I made a mistake and didn't add enough white chocolate chips. This time around, it looks good, it tastes even better, and I think the amount of chocolate chips was just perfect!
I know this Irish Cream or Baileys fudge is super sweet and all…but you know what? it is Christmas and indulging once in a while is perfectly OK. One piece will a long way, so go ahead and indulge :-)
These Irish Cream, or Baileys fudge also made it to my goodie Christmas bags this year so I hope you get to try it. Everyone keeps asking me for the recipe and tell me how good it is, and the best part?
No candy thermometer need it here!!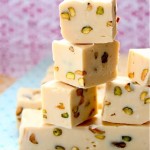 Baileys Irish Cream and Pistachio Fudge
Ingredients:
36 oz white chocolate chips, Ghirardelli brand,  3 bags
1 14 oz can sweetened condense milk, unsweetened is best
1/2 cup Irish cream liquor, more if you like
1/2 cup raw pistachios, chopped, more if you like
Directions:
Lined a square pan, I used an 8x8 square baking pan, with foil paper and lightly grease it.
In a sauce pan, at low heat, pour all of the ingredients except pistachios. Stir constantly until chocolate has almost melted.
Turn off heat and continue stirring until chocolate is completely melted. Add pistachios and pour evenly onto prepared pan. Let cool until set. Remove fudge from pan and peal off the foil paper. Cut fudge into small squares.
Store fudge in a airtight glass container.
Nutrition facts calculated based on the recipe giving 40 pieces. 1 piece = 1 serving
Related Posts
41 Responses to "Baileys Irish Cream and Pistachio Fudge"
Leave a Comment