Wild Berry Oat and Whole Wheat Pancakes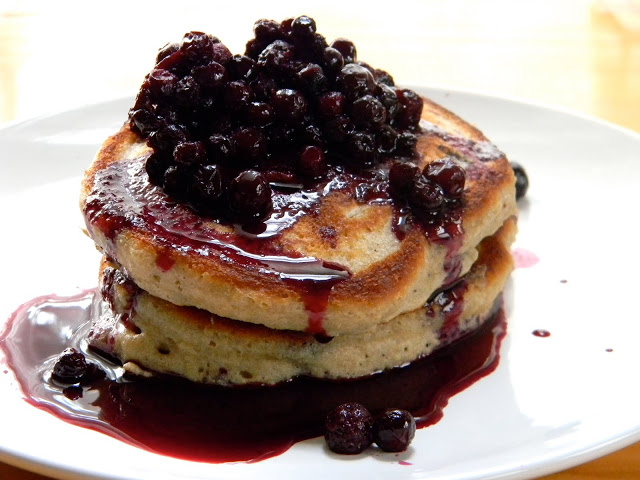 These pancakes are just awesome. Every time I make them I have to double the batch because my family pretty much eats them all in one sitting. I normally try to freeze a few for some other occasion and that actually works pretty well. On these pancakes I made a syrup with the wild berries as well, so simple and so good.
You can also serve them with maple syrup or chocolate sauce which they are really good. I make my own chocolate sauce with dark chocolate and heavy cream. Also I tend to use organic dairy products, I probably mentioned that before right?
Well I hope you try this recipe….I guarantee you will not be disappointed.
Enjoy!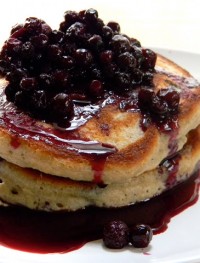 Wild Berry Oat and Whole Wheat Pancakes
Ingredients:
1 1/2 cup whole wheat flour, you can sub 1/4 cup of the whole wheat flour and use flax seed meal
1/2 cup oat flour
1 1/2 teaspoon baking powder
2 tablespoons of unrefined sugar
1 organic egg
1 tablespoon of olive oil
1 1/4 cup fat free organic milk
1 cup of frozen Wild Berries, thawed
Directions:
In a large mixing bowl mix flours, baking powder and sugar. Make a well in the center and add egg, milk, and oil. Combine ingredients until you obtain a smooth batter. Carefully fold in the berries. In a skillet over medium heat drop 1 tablespoon of olive oil.
For each pancake place about 2-4 tablespoons of the batter onto the skillet and make sure you spread. Cook for a few minutes until you see bubbles appear on the surface. Turn over and cook for another 1-2 minutes.
TIP: You do not want the pancake to turn out very thick, they will be raw inside. You do not want that, so make sure you spread the batter in the skillet.
TIP: You can substitute 1/2 cup flax seed meal for 1/2 whole wheat flour in the recipe, much more healthier.