Wild Berry Apple and Oat Crumble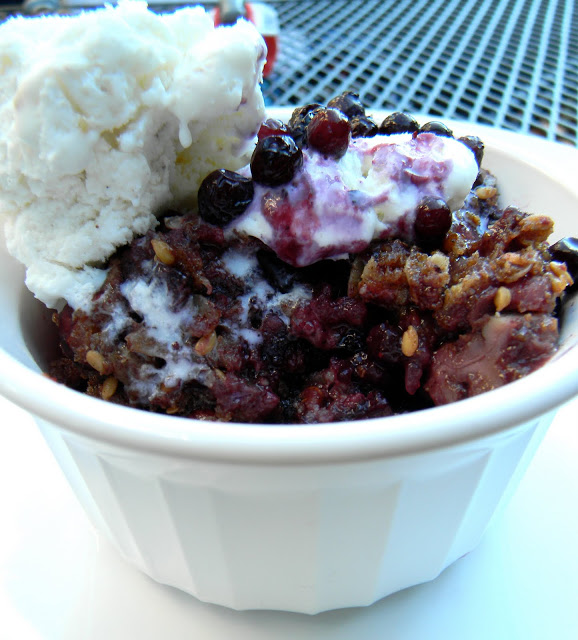 By now, for those that are checking out my blog know that my recipes are normally given a nutritional lift, meaning that alterations are given to the recipes so that fat, and sugar are used in less quantities and that complex carbohydrates (whole grains) are used instead of the refine ones, simple carbohydrates.
Carbohydrates have always had a bad reputation but the thing is that not all carbohydrates are created equal and not all of them are bad. The ones to stay away or minimize their intake are simple carbohydrates which are processed and refine sugars. Anyhow I won't bored you with technicalities.
I have come up with this recipe. The texture of this crumble is not the same as a regular crumble recipe would be, but never the less still pretty good and much better for you.
Every summer I try to incorporate fruits into my desserts and this is a super easy way to do that.
You can use any other type of fruit in this recipe, peaches, pears, strawberries and raspberries work pretty well. Also, you will not spend tons of time to get this dessert done. The pealing of the apples is what takes the longest. This dessert will not disappoint.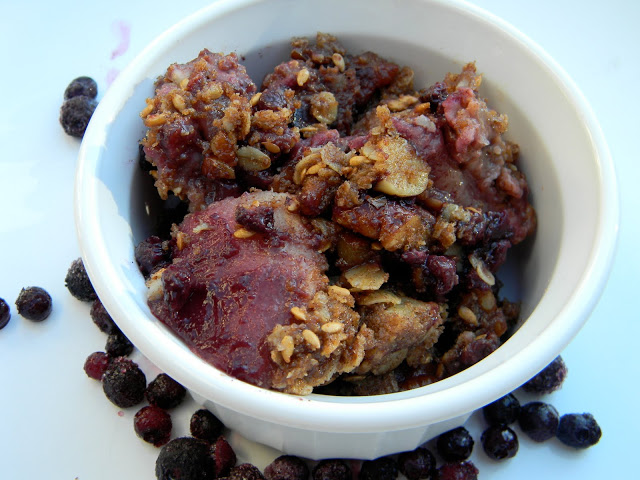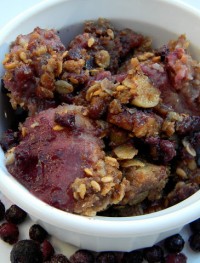 Wild Berry Apple and Oat Crumble
Ingredients:
For the topping1 cup oat flour
1 cup old fashion rolled oats
1 cup dark brown sugar
1/2 cup canola oil
4 tablespoons of cold water
1/2 cup chopped hazelnuts
1/2 cup chopped pecans
1/4 cup toasted flax seeds, regular flax seeds would do as well
1 teaspoon ground cinnamon
Filling
7 tart apples
1 cup of wild berries, fresh or frozen
1/4 cup dark brown sugar
1 tablespoon of oat flour
1 teaspoon cinnamon
Directions:
Heat oven to 375 degrees Fahrenheit. Spread the apples and wild berries in a ungreased square pan. Combine the sugar, oat flour and cinnamon from the filling and mix with fruit. Mix topping ingredients with your hand and sprinkle over apples and berries. Bake for 35-45 minutes. Serve with ice cream.