Wild berry and apple whole grain crostatas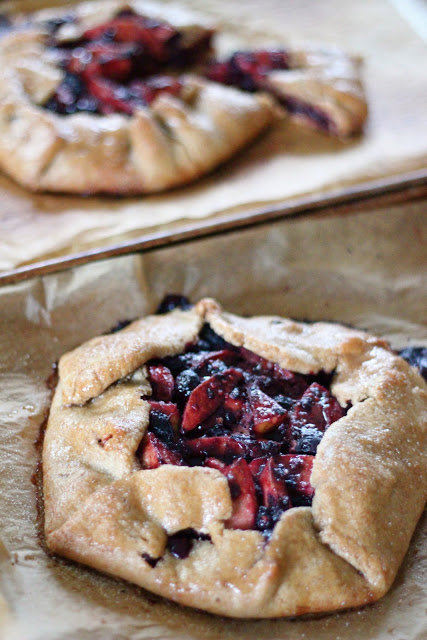 If you are looking for a super simple version of a pie here you have it. This is the second version of a crostata that I have made, apple danish crostata was the first one which was really good as well.
With this one I wanted to experiment with the crust and I used butter instead of oil. I actually could not tell much difference between using olive oil or butter so I think I will stick with the olive oil since it is healthier :-)
With crostatas you can pretty much add any fruit of your choice. With the apple danish crostata I made a while back I was thinking of maybe using the recipe and making it as an apple pie slab version. I just came up with and I think I like it. The cheese layer was a really tasty complement with the apples so will see how it goes…..
Enjoy!!
In the left picture you can see the dough and filling ingredients. In the right picture you can see the crostatas just before baking.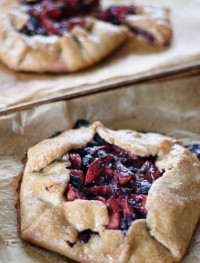 Wild berry and apple whole grain crostatas
Ingredients:
Dough
1 1/2 cup + 2 tablespoons whole wheat pastry flour
1/2 cup water
1/2 cup butter, 1 stick
Filling
2-3 apples, thinly sliced
1 cup wild frozen berries, thawed out and juices removed
1 tablespoon corn starch
1/4 cup sucanat sugar, brown sugar or regular sugar will work
2-3 teaspoon cinnamon
1 tablespoon sugar to sprinkle over top of crostatas
2 tablespoon milk, for brushing crostatas with before baking
Directions:
Mix crust ingredients together in a bowl. Divide the dough into two pieces and roll them out between plastic wrap into a round disk. Transfer them to a prepared baking pan line with parchment paper.
Preheat oven to 375F. In another bowl mix filling ingredients except milk and extra tablespoon of sugar. Place filling on top of the doughs. Bring sides of the dough up onto the apples and berries and pad down. Brush with milk and sprinkle with the two tablespoons of sugar.
Bake for 35-45 minutes or until edges begin to brown. I baked mine for 45 minutes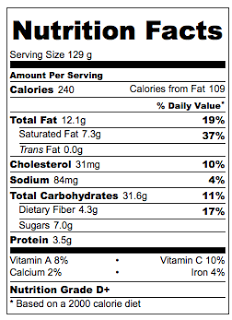 Nutrition facts calculated based on the recipe giving 8 servings