Whole wheat spinach goat cheese pizza
I love making my own pizzas. I started a long time ago and ever since I have never looked back. This whole wheat spinach goat cheese pizza was a total success.  I love any type of cheese and since my family does too, I don't have to worry about picking and choosing what type of cheese I should add to my pizza. They even like blue cheese.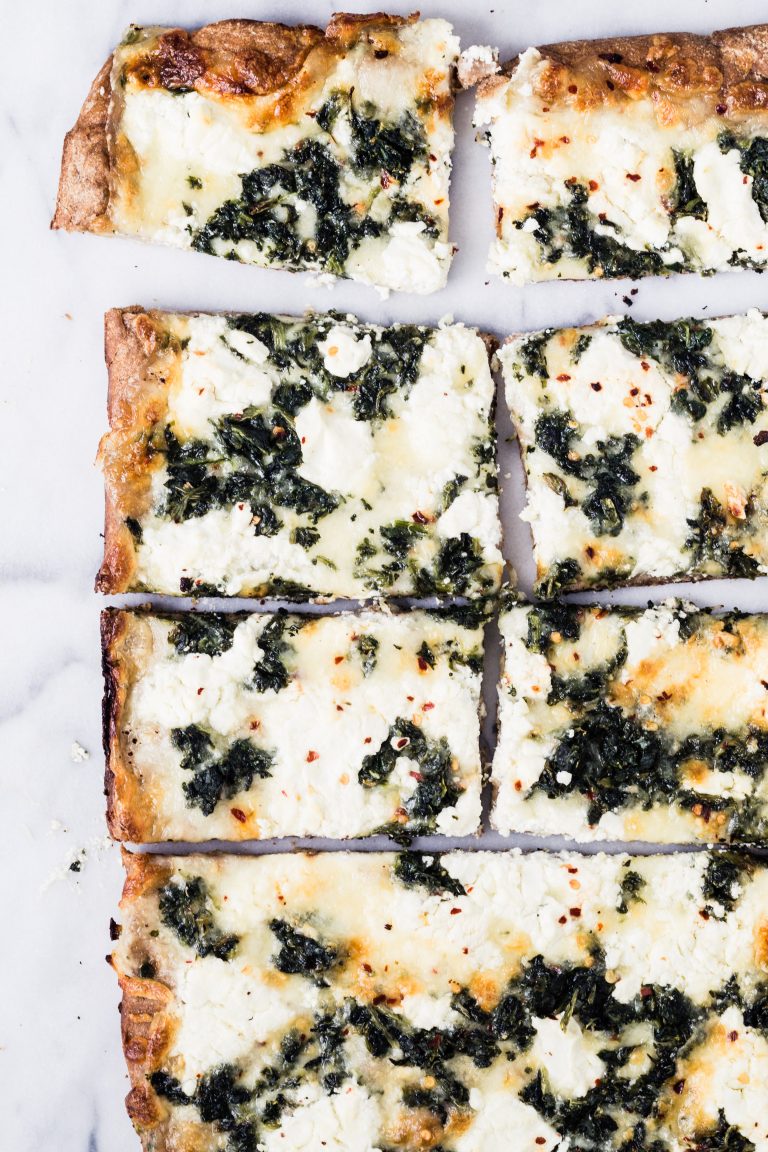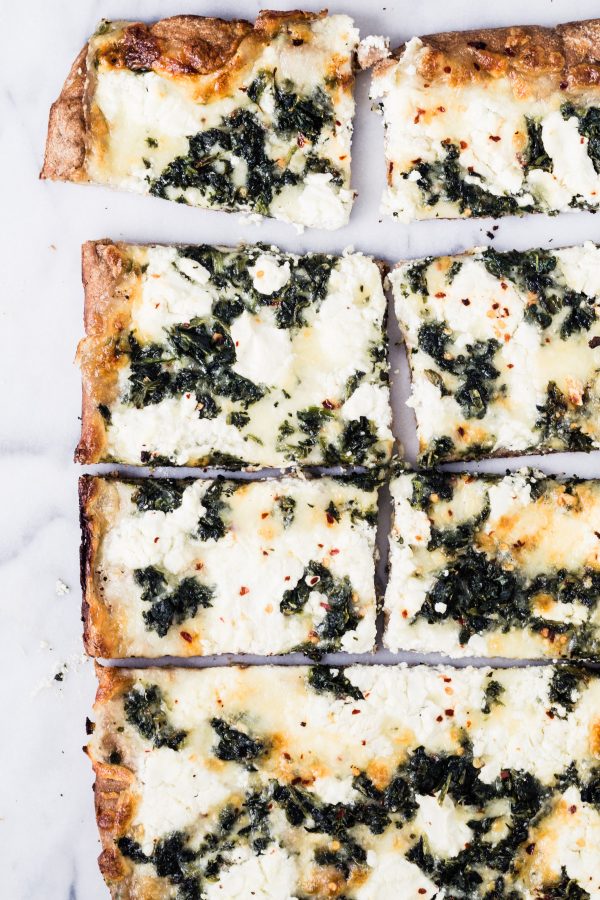 Right now I am still in Spain. I have been here for a few days now and it feels great. I have come to visit family and friends as well as search for a piece of land. It is great to be back to the place where I grew up.
I am planning on building a house and be able to own little piece of Spain. At some point I would like to come back, who knows, so having something here will make it a lot easier. Anyways, I will probably let you know somewhere along the way how the construction is doing and update you on the process in case someone is interested in investing here. Prices are very friendly and the quality of life is something very different to the US.
Grass feed beef is really popular already since people are picking up on the nutritional benefits it offers compared to conventional beef. This in terms is also prompting people to start consuming grass feed dairy. A much better alternative especially for the little ones.
Onto the recipe now.
If you search in my blog, I have plenty of pizza recipes that I am sure you will like. I have some classic ones but also some unconventional combinations.
I used to make my own pizza dough but now I just buy whole wheat pizza dough since it is so cheap, good and saves a lot of time. You can still make your own pizza dough if you prefer though.
To make this variation just make sure that your frozen spinach is drained and thawed other wise your pizza will get really soggy and wet. As far as the cheese is concerned, you can add any type of cheese you like. I choose a mixture of mozzarella and goat cheese but anything goes.
I have also used fresh and frozen kale before in place of frozen spinach so add whatever veggies rocks your boat.
Anyways, I leave you with this amazing, tasty and easy whole wheat spinach goat cheese pizza that I hope you get to make. Let me know how you like it.
Enjoy!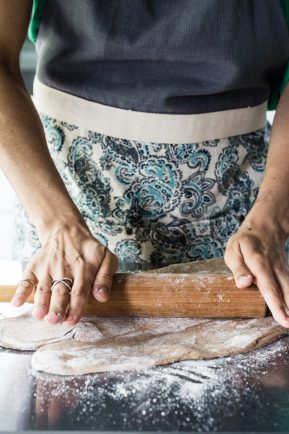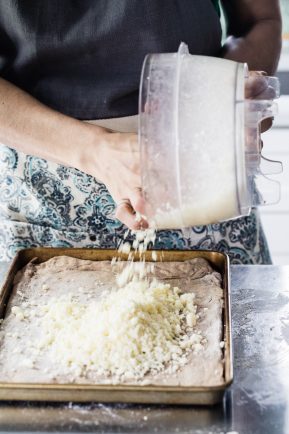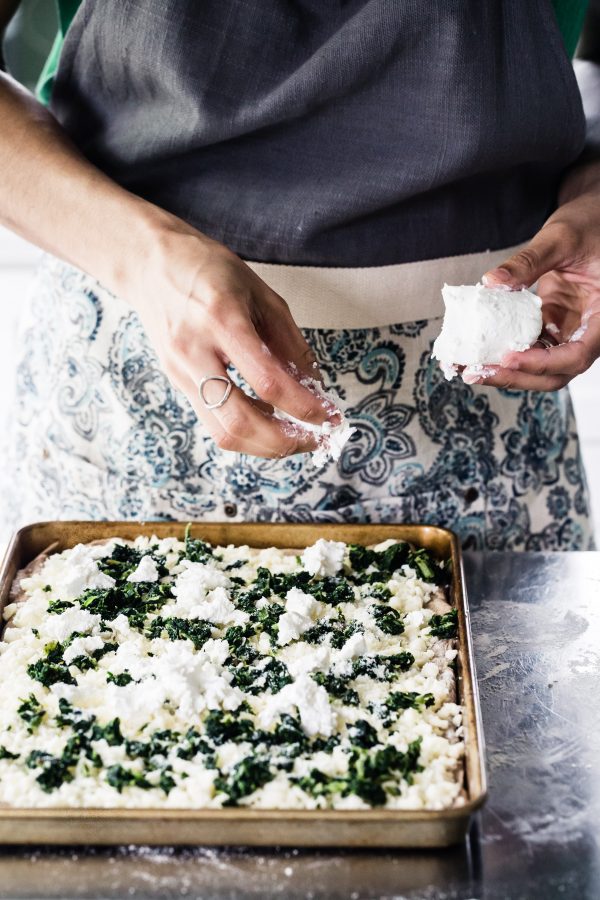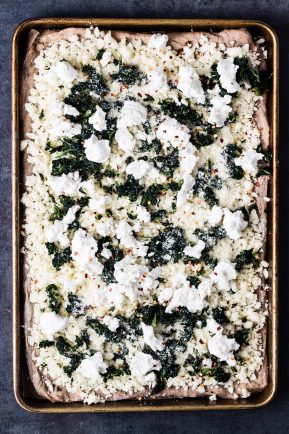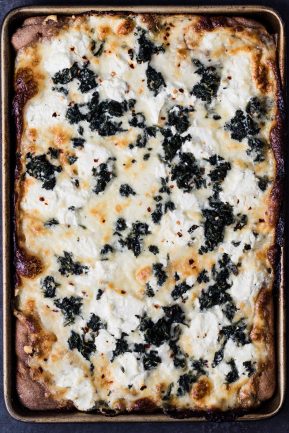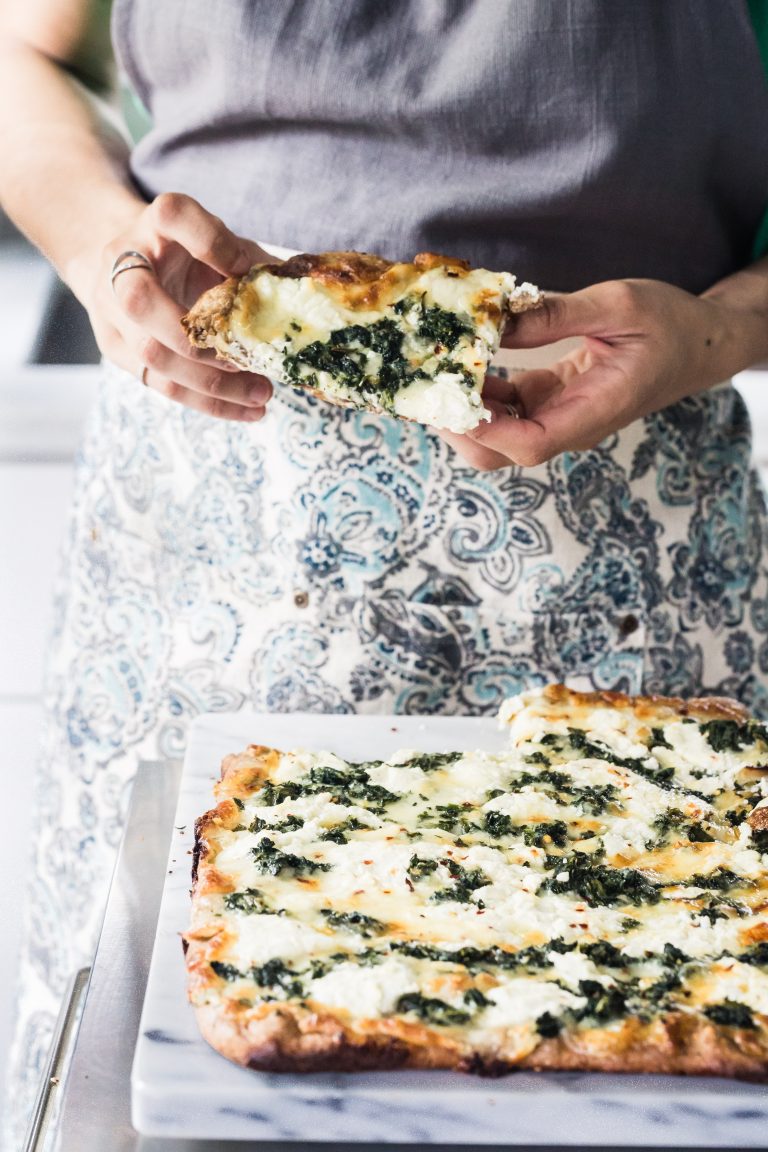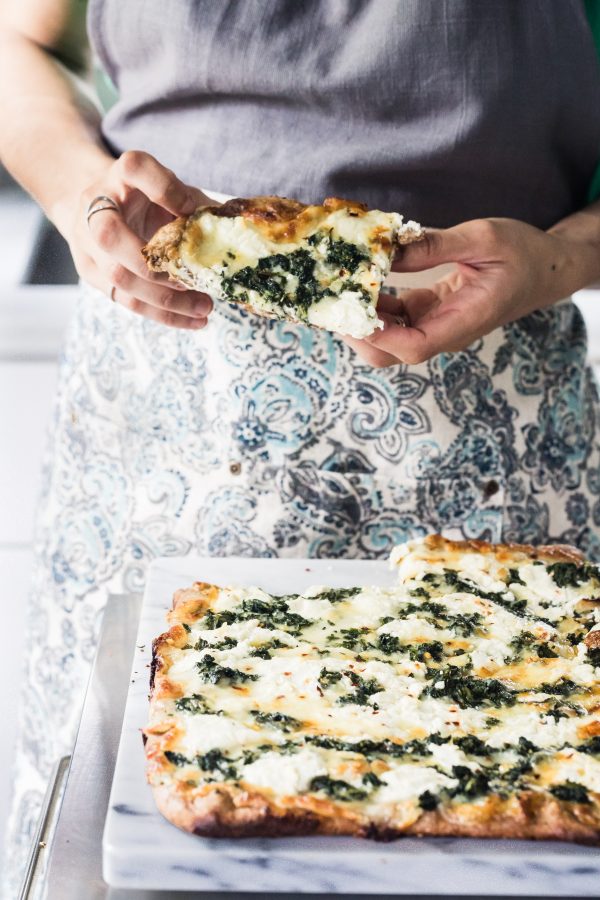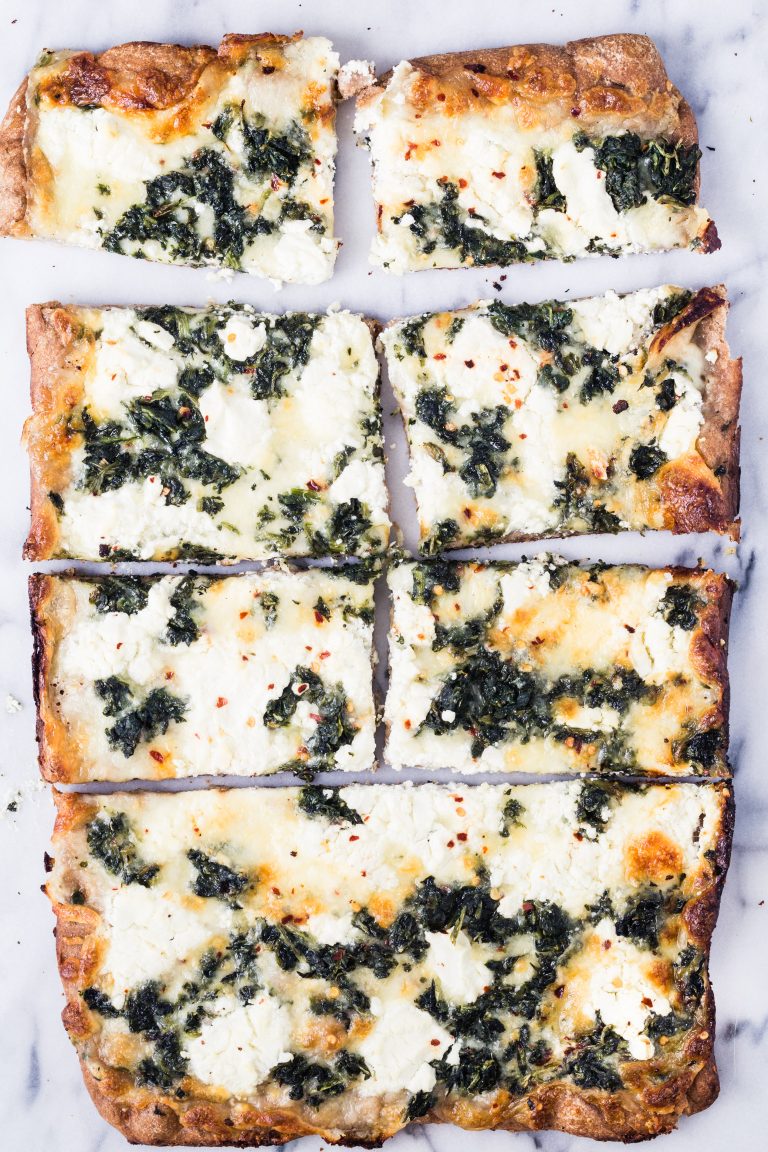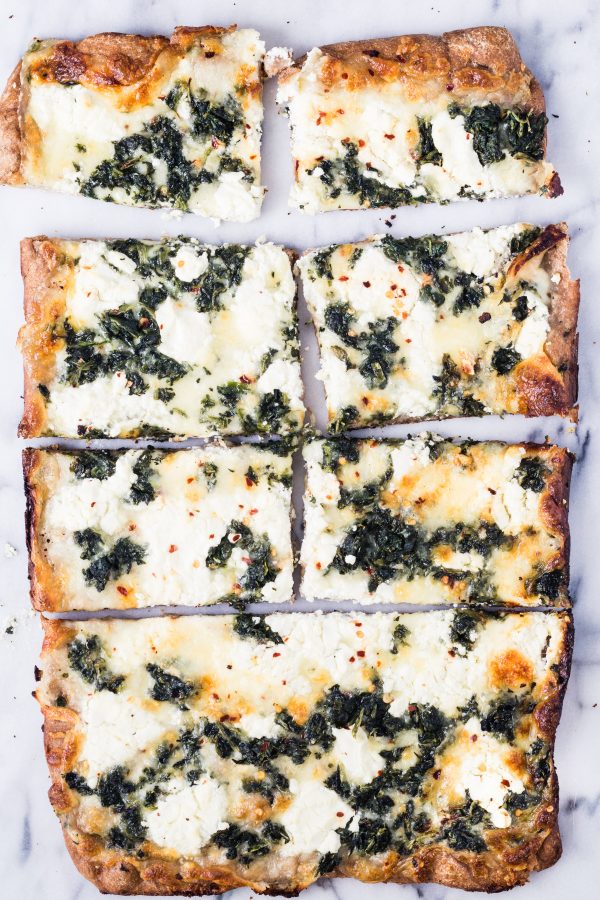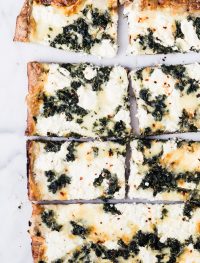 Whole wheat spinach goat cheese pizza
Yield: 8 servings
Total Time: 20 minutes
Ingredients:
1 whole wheat pizza dough, homemade is best
10 oz goat cheese
16 oz Mozzarella cheese, grated
1 lb frozen spinach, thawed and drained
Pinch of celtic salt
Pepper flakes, optional
Directions:
Preheat your oven to 425 degrees F.
To roll the pizza dough, sprinkle some flour on your work surface where you will roll out the pizza. With a rolling pin roll out the dough and transfer the rolled dough onto the pizza stone, or baking sheet previously lined with unbleached parchment paper or any other pizza baking tray you are using.
Spread the shredded mozzarella cheese over the pizza dough followed by spinach and goat cheese. Sprinkle the salt and pepper flakes. Bake for 16-18 minutes or until golden.
Serve immediately.