Whole Wheat Pizza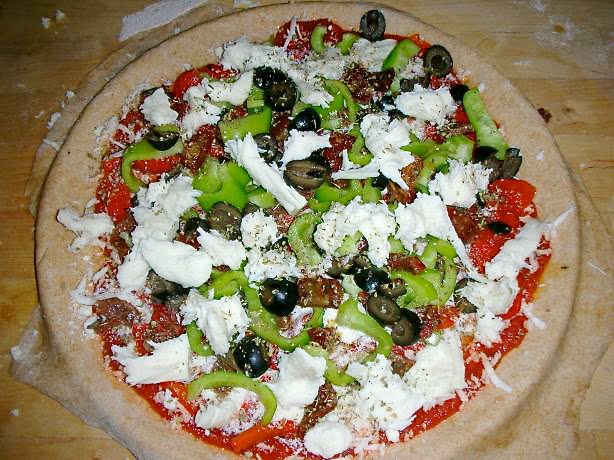 This is how it would look like if left has is, that is, if you choose same toppings :-)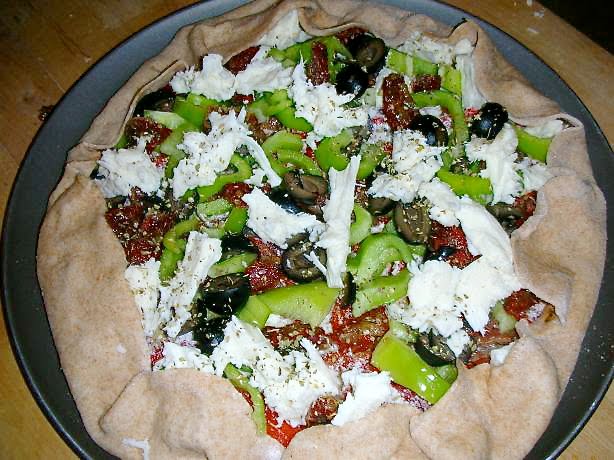 This is how it would look like right before baking, that is, if you choose to fold in the edges of the dough.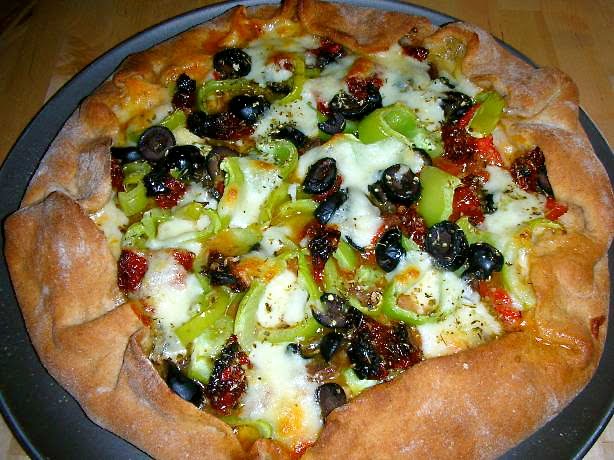 This would be the final result. That is if you fold in the edges of the pizza. Either way is good. You can even make calzones with the dough and fill in with which ever other ingredients you prefer. This pizza look is just more rustic.
I actually used the same pizza dough to make chicken buffalo pizza today. My family has been asking me for quite some time to make such version. I am not a fan of poultry or meat that much but I gave it a try and it was not bad at all. My family's favorite which means I will have to make this pizza more often!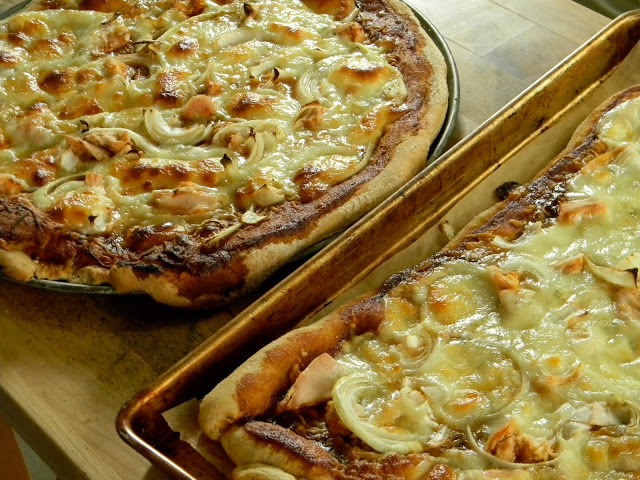 This is the barbecued chicken pizza I make for my family. I put lots of cheese as you can see although you can put what ever you may like. Also after kneading the dough and preparing it for the filling you can leave it to rise for another 20-30 minutes before adding the toppings.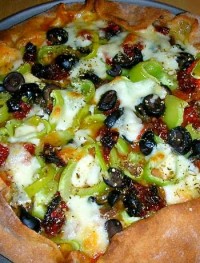 Whole Wheat Pizza
Ingredients:
Dough
1 tablespoon olive oil
1/4 ounce yeast, 1 package
1 tablespoon sugar
1 cup warm water
1/4 cup olive oil
1 cup bread flour
1 1/3 cups whole wheat flour
3/4 teaspoon salt
Filling
3 tablespoons tomato sauce
1 green pepper, cut lengthwise
1/2 cup black olives, sliced
1/4 cup sun-dried tomato, chopped
1/2 cup reduced-fat mozzarella cheese
1 tablespoon oregano
Directions:
Place warm water, sugar and sprinkle the yeast on top of the water in the bowl. Let yeast stand for 5 minutes until it foams.
Add oil, flour and salt. Mix and let it stand on a greased bowl covered with plastic wrap for 1 hour until at least double in size.
Dough is now ready for use so you may use it for calzones, or regular pizza pie.
Spread tomato sauce, and sprinkle with oregano. Arrange peppers, sun dried tomatoes, and olives on top. Add mozzarella cheese and bake at 400 degrees for about 15-20 minutes.