Whole Wheat Penne alla Vodka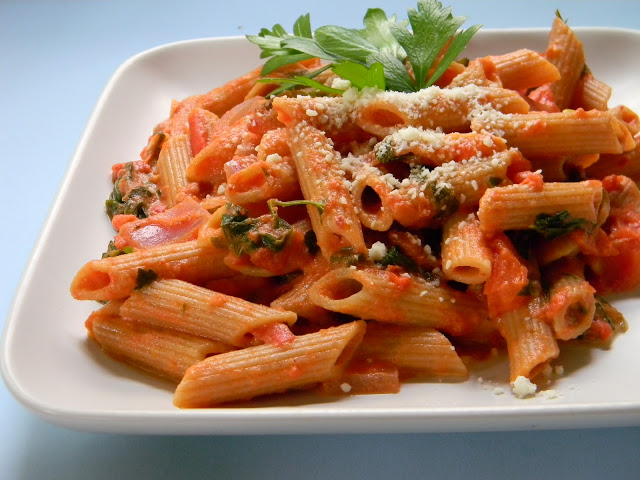 At our household we eat plenty of pasta. It is cheap, fast to cook, versatile and what could really go wrong with a pasta dish?
Penne alla vodka its a pretty easy recipe to make, however you can pay as much as $25-30 at a restaurant, nonsense. This is a very fast version and very tasty at the same time. Some versions use basil rather than parsley but I have always used parsley.
Enjoy!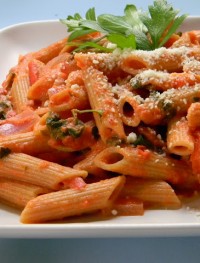 Whole Wheat Penne alla Vodka
Ingredients:
1 pound whole wheat penne pasta
1 28 ounce can crushed tomatoes
2 tablespoons extra-virgin olive oil
1 onion, chopped
2 medium tomatoes, chopped, optional
1 tablespoon tomato puree
3 cloves garlic, minced
1 teaspoon red pepper flakes
Salt to taste
1/3 - 1/2 cup vodka
1/2 cup heavy cream
2 tablespoons minced fresh parsley
1/2 cup grated Pecorino Romano
1/2 cup Parmesan cheese.
Directions:
At medium high heat add the oil in a large saucepan. Add the onion and garlic and cook for about 3-5 minutes. Add fresh chopped tomatoes and pepper flakes and cook for another 2-3 minutes stirring occasionally.
Stir in the crushed tomatoes, tomato paste and salt. Add the vodka and simmer, stirring frequently for 10 minutes to cook off the vodka. Stir in the cream and cook for 1 to 2 minutes. Add parsley, grated cheeses and cooked pasta to the pan, combine  and serve.