Whole grain strawberry donuts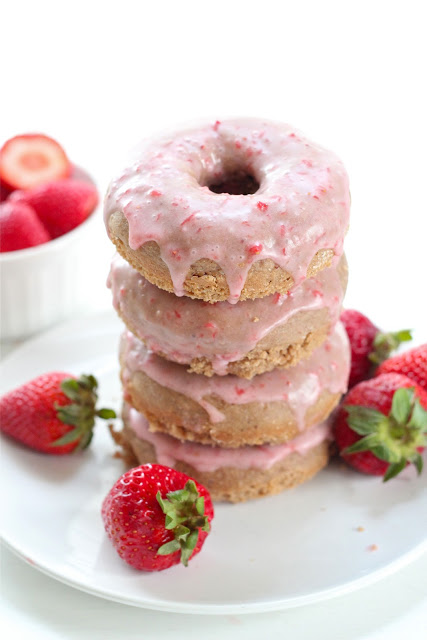 These donuts are to die for. These are not that sweet and are easy to make. The hardest thing I find about these baked donuts is actually getting them out of the pan.
I do always grease and flour the baking donut pan really well and even still I have to be careful getting them out. Nevertheless they are awesome to have, especially for the kids, as they think they are having the real thing :-)
I am planning, at some point, to make the real fried version but I am really afraid of having to use refined flour (all purpose flour that is) and having to fry them. Well since it isn't every day that we actually have these, I guess it should be ok. Somehow I will try to healthify them at least a tiny bit :-)
The recipe comes from my whole grain triple chocolate donuts I made a while back and decreased the sugar of the donut batter even further. Also, to die for :-) so I encourage to try them as well.
Anyhow, there is not too much to elaborate on these, so I hope you try them and if you do let me know how you like them!!
Enjoy!!
Here you can see the strawberry puree as well as the donut batter. Easy peasy :-)
These are sweet enough even though the batter only has 1/4 cup of sugar. With the glaze it makes the donuts perfectly sweet.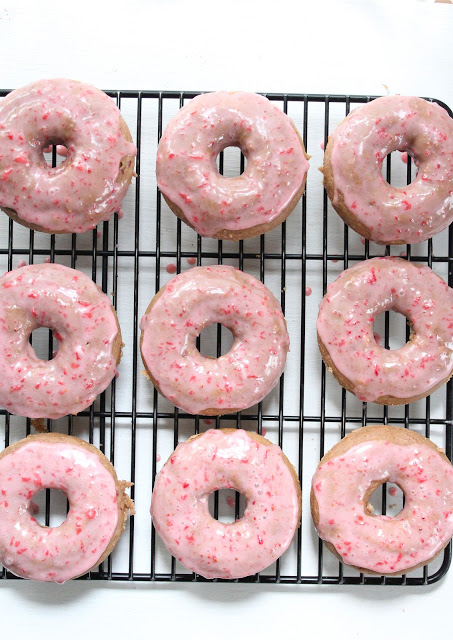 Made sure you glaze the donuts once they are completely cooled.
These are awesome to have. They are not that sweet as the batter hardly has any sugar :-) Kids think they are having the real deal!!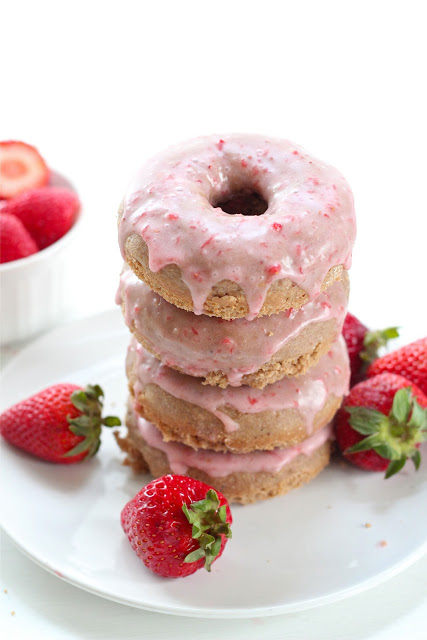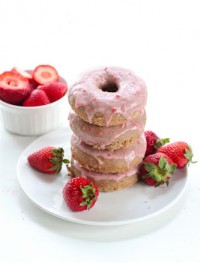 Whole grain strawberry donuts
Miryam's original recipe but flavor inspired by chocolateandcarrots.com
Ingredients:
1 cup whole wheat pastry flour, You can use 1 3/4 cups of whole wheat pastry flour if you don't have oat flour
3/4 cups oat flour
1/4 cup sugar
2 eggs
1 teaspoon baking powder
1/2 teaspoon baking soda
1/2 cup soy milk
1/2 cup strawberry puree, I used organic strawberries
2 tablespoons olive oil
1 teaspoon strawberry or raspberry extract, optional, vanilla extract will also work
Glaze
1-2 tablespoons strawberry puree, start with one, you want a thick glaze
1 cup confectioner sugar, You won't need it all, it makes the dipping of the donuts better when you have extra glaze in the bowl. I ended up throwing about half of it away
Directions:
Preheat oven to 325°F. Prepare pan by spraying donut pan with cooking oil and dusting with flour.
In a bowl, whisk eggs, milk, sugar, strawberry puree, extract, and oil. Add flours, baking powder and baking soda. Whisk until combined. Fill each donut hole 3/4 full.
Bake for 17-20 minutes. Cool for about 10-20 minutes and remove from pan to a wire rack to cool completely.
Mix glaze ingredients and dip each donut. Let it set and serve.
Tip: Make sure you grease the pan all over specially in the middle round donut piece otherwise they will stick when getting them out of the pan, probably breaking apart in the process.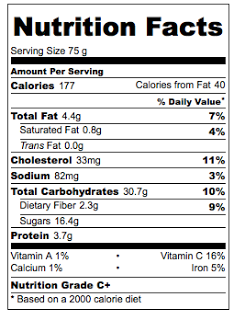 Nutrition facts calculated based on the recipe giving 10 donuts.