Whole Grain Cream Puffs
If you like cream puffs there is no reason why you shouldn't make these whole grain cream puffs. They are a bit better for you and still as good.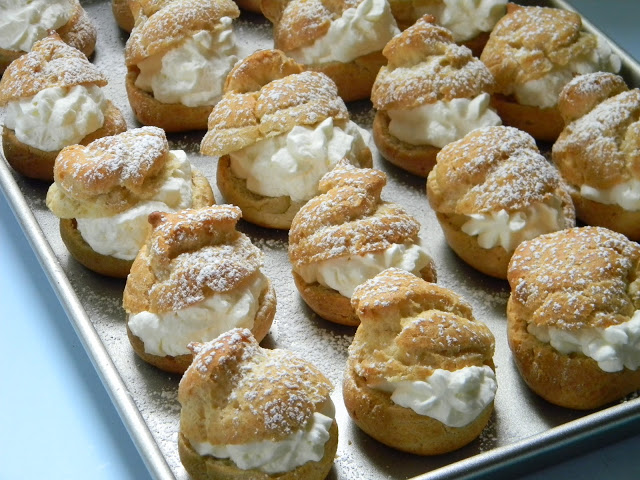 This is the first time I make cream puffs. I am so happy they turned out as good as they did specially given the fact that I was using whole wheat pastry flour. These Whole Grain Cream Puffs are just simply the bomb.
For these Whole Grain Cream Puffs you can add any filling you like, such as the typical crème pâtissière that you normally see on eclairs. I don't like  egg cream so I opted for an easier version, a whipped cream filling. You can also decorate these with melted chocolate or whatever you desire.
Since I have made this version I have come up with this other type of cream puffs, whole grain chocolate cream puffs. These are also terrific so you may want to check these ones out too.
Don't be scared of make cream puffs. They are really easy and once you have got the hung of it you will love them. Just make sure you get a good pumping bag.
On any event, I will be making these more often and perhaps I will get more creative. I also like the fact that you can freeze them up unfilled and use for future consumption. The are the ultimate luxurious easy dessert.
Enjoy!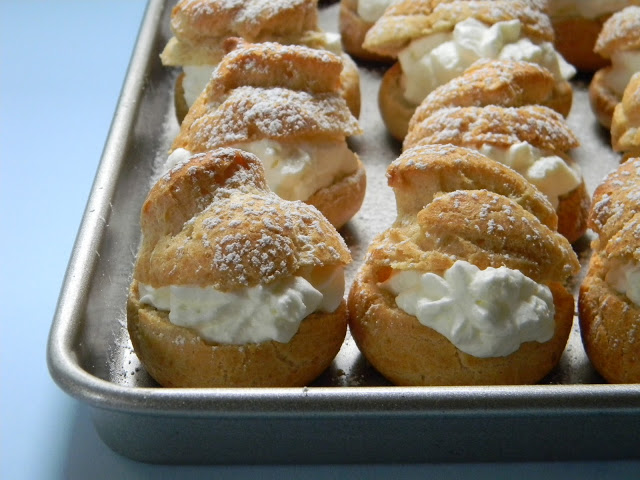 This is how they look like when they come out of the oven! Not bad I guess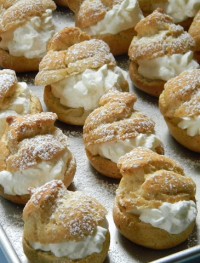 Whole Grain Cream Puffs
Ingredients:
1 cup water
1 stick of butter, 8 ounces
3/4 cup whole wheat pastry flour
1/2 cup all-purpose flour
1/4 teaspoon salt
4 organic eggs
For the filling
2 cups of heavy cream
1/3 cup maple syrup
Directions:
Preheat oven to 425 degrees Fahrenheit. Line two cookie sheets with unbleached parchment paper and set aside.
Put water and butter in a medium-size saucepan over medium-high heat and melt. When the butter has melted, add the flour and salt all at once and stir vigorously.  Cook and stir until the mixture forms a ball that doesn't separate, about 20 seconds.
Remove from the heat and cool for about 5-10 minutes.  Add the eggs, one at a time, beating after each one and until the dough is smooth. On the final egg addition I use my hand mixer for about 2 minutes to incorporate eggs well.
Drop heaping tablespoons of dough about 2-inches apart onto the prepared baking sheets.  You can also transfer the batter to a pastry bag with a round tip and pipe circles about 2-inches in diameter and about 1-inch apart onto baking sheets previously lined with parchment paper.
Bake the puffs for about 15 minutes at 425 F. Reduce the temperature to 375 F and bake for an additional 10-15 minutes until they are golden brown and puffy (I baked mine for about 11 minutes extra at this temperature). Turn off the oven and open the door a crack and leave cream puffs inside to cool for 30 minutes. Remove the cream puffs from the oven.
To make the filling beat  heavy cream with a hand stand mixer. Before it is almost whipped add the maple syrup and whipped until final stage, firm.
I carefully lengthwise in between the middle off the puffs (almost completely) and add the filling to each using a piping bag. Dust with powdered sugar.
TIP: I ended up with 25 medium size cream puffs. You can store unfilled cream puffs in the freezer in a zip log bag. Thaw at room temperature then rewarm in a 350°F oven until warm and crisped.