Whole grain banana and walnut bread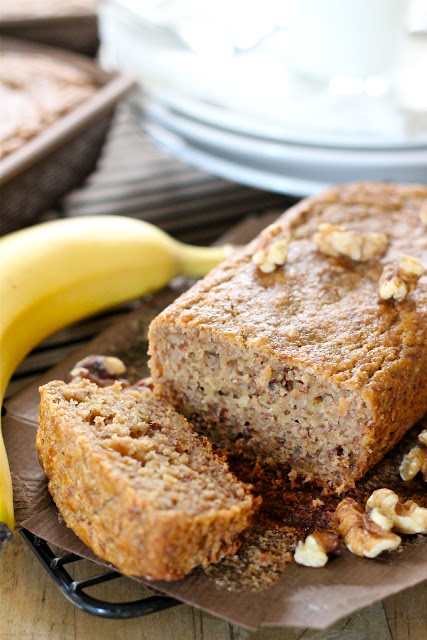 I have never made banana bread before and for sure this one will not be the last.
While I baked mine in 3 individual disposable loaf pans you can still choose to bake yours in a regular baking loaf pan. I just thought it would be cuter :-) Plus I wanted to freeze a couple of them for when we return from our mini vacation.
I call it mini vacation because we normally go to Europe for the summer for two months, although this time around we are just staying in the US and will go on vacation for just 4 weeks :-( I know, this is pretty good for US standards right? Not European though, especially for Spanish people. In the summer pretty much everyone is on vacation :-)
This year we will be going to the DC area and then NC and TN. Where the heat is pretty much!!
Anyhow, I will close the blog for about 3-4 weeks while we are away and hopefully on my return I will have plenty of goodies to share with you.
Until then, stay cool and enjoy this banana bread!!
Enjoy!!

See you in about 3 weeks!!
I mashed the bananas with a fork although in a food processor it will be lots better. Here you can also see the disposable loaf pans I used which were really cool!
Here you can see the banana bread before and after baking :-)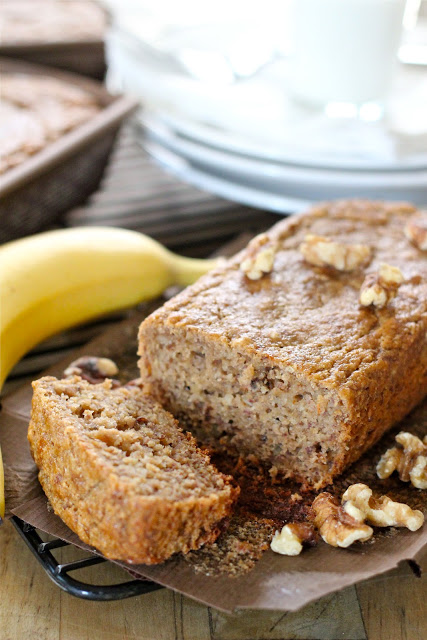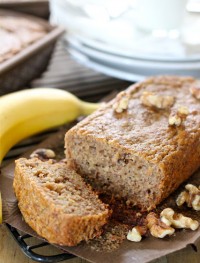 Whole grain banana and walnut bread
Ingredients:
2 eggs
1/2 cup apple sauce
1/2 cup honey
3 over riped bananas mashed
1 1/4 cups whole wheat pastry flour
3/4 cups almond flour (not almond meal, if you don't have almond flour you can use 2 cups whole wheat pastry flour)
1/3 cup walnuts, chopped
1 teaspoon baking soda
Directions:
Preheat oven to 350F. Grease and flour a baking loaf pan. I used three 6" x 2" 1/2 x 2" inch loaf pans that I got on amazon.
In a bowl mix first 4 ingredients. Fold in flours and baking soda. Incorporate walnuts and combine.
Pour mixture on prepared baking loafs filling 3/4 of the way. If using the same size loaf pans I used bake for 35-40 minutes. If using a regular size loaf pan bake for 55-65 minutes or until a cake tester comes out clean.
Cool loafs in a wire rack and serve. You can easily freeze these for future consumption. This is what I did!
Adapted from 8 weeks to better your recipes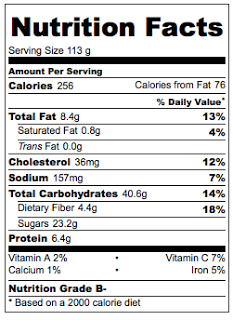 Nutrition facts calculated based on the recipe giving 9 servings.