White Chocolate Mousse Cake 2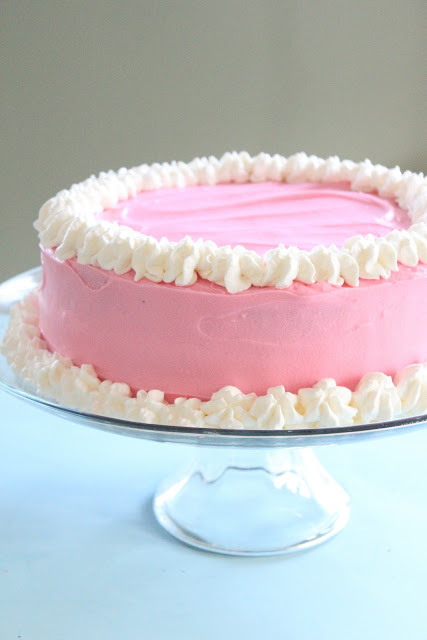 So this is my second version for the Chocolate Mousse Cake that I made a couple of weeks ago. This one is different because I used white chocolate chips for the frosting, food coloring to make it pink and used no agar (vegetarian version for gelatin) in the mousse part.
I made it pink because this will be my daughter's birthday cake coming up in 3 weeks, I was practicing you see…..You can omit the food coloring all together and the cake will be just white. I have also reduced the amount of sugar for the frosting since white chocolate is sweeter than the dark chocolate chips used on cake number 1.
Anyhow, there is not much that I can say about this cake but just that I really love it. It is going to be one of my all time favorite cakes :-).
Enjoy!
You can see the cut on the right picture. A little bit messy, I just could not resist digging in :-)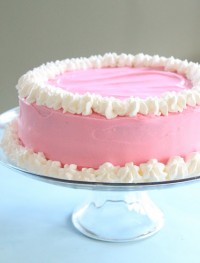 White Chocolate Mousse Cake 2
Ingredients:
2 cups whole wheat pastry flour
1 1/4 cup unrefined sugar, you can add more but I think this is plenty
3/4 cup cocoa powder
1 1/2 teaspoons baking powder
1 1/2 teaspoons baking soda
1 cup reduced fat milk
1 cup strong brewed coffee, you can use hot water as well
1 teaspoon chocolate extract, you can also use vanilla extract
1/2 cup light olive oil
2 eggs
Mousse
1 cup heavy cream
2 tablespoons cocoa powder
2 tablespoons powdered sugar
Icing
8 oz reduced fat cream cheese
1/2 cup heavy cream
1/2 cup confectioner's sugar
11 oz white chocolate chips, I used Ghirardelli brand
Directions:
Grease and flour a 9 inch springform pan and set aside. (You can also use two 9 inch round cake pans). Preheat oven to 350 F.
In a bowl mix all the wet cake ingredients. Add dry ingredients to the bowl and combine. Pour batter into prepared pan and bake for about 50- 60 minutes or until tester comes out clean (I baked mine for about 50 minutes).
Remove cake from the oven and cool on a wire rack completely.
For the mousse. In a bowl beat the cream until foamy and gradually pour in the sugar and cocoa powder beating until stiff peaks form.
For the icing. Over low heat melt chocolate chips with heavy cream. Turn of heat a couple of minutes before chocolate chips are melted. Keep stirring until chips are fully melted and pour the chocolate mixture into a bowl. Add the cream cheese and confectioners sugar and combine with an electric mixer.
Let the icing sit for at least 30-45 minutes. It will harden as it sits.
To assemble the cake. Because I baked the cake in a 9 inch springform pan rather than in two 9 inch pans I divided the cake in two layers by cutting it horizontally.
Spread the mouse over one cake layer. Top with second cake layer and frost the top and sides with the chocolate icing.
Decorate as desired. In this case I used a little bit of whipped heavy cream and used a piping bag with a decorative tip.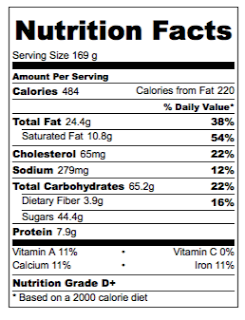 Nutrition facts calculated based on the recipe giving 12 servings.