White Chocolate and Dried Fruit Bark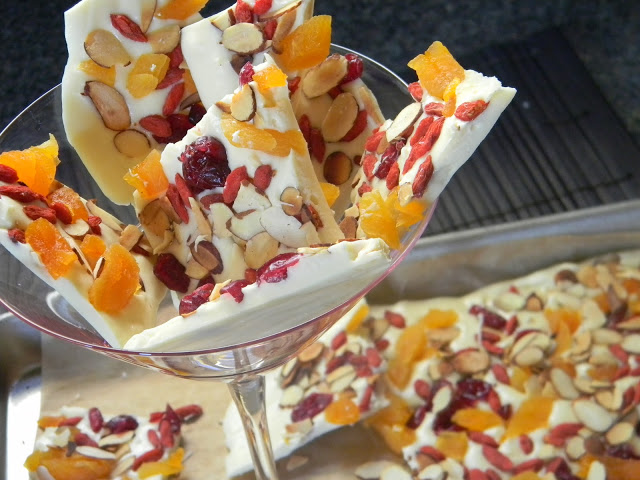 So today I made some white chocolate bark using white chocolate chips, good chocolate chips though, Ghirardelli brand. It is not suggested but I had to give it a try. I just made sure I melted the chocolate over low heat on a double boiler. I think the result was pretty good.
With this you can add what ever nuts and dry fruit you prefer or even use dark black chocolate. I think it is a pretty straight recipe with great results.
Enjoy!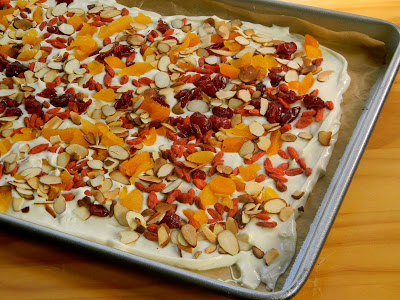 Once you spread the chocolate and press the fruit into the chocolate a bit this is how it looks like !!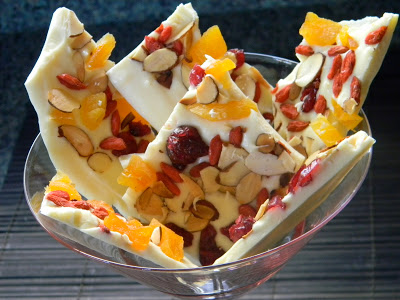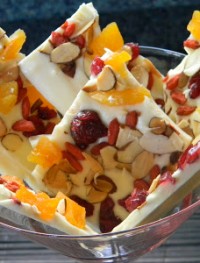 White Chocolate and Dried Fruit Bark
Ingredients:
16 oz while chocolate chopped,I used ghirardelli chocolate chips although not suggested
1/4 cup godgi berries
1/4 cup dried cranberries
1/4 cup chopped dried apricots
1/4 cup toasted raw sliced almonds
Directions:
On a sheet pan place some parchment paper and set aside.
On a skillet place sliced almonds. Cook for about 5 minutes stirring occasionally. Watch careful as when almonds start to toast they will burn very quickly.
Create a double burner at low heat to melt the chocolate. Make sure you stir the chocolate often with a rubber spatula once it is starts to melt. Once almost melted take the bowl off the heat and keep stirring until completely smooth.
Pour the melted chocolate onto the parchment paper and spread it lightly and evenly with a spatula.  Sprinkle the top evenly with the cooled almonds, cranberries, godgi berries and apricots. Press the fruit slightly with your hands into the chocolate.
Cool in the fridge for about 30 minutes. Peel of parchment paper and brake into pieces.