White Bean Soup with Spinach and Leeks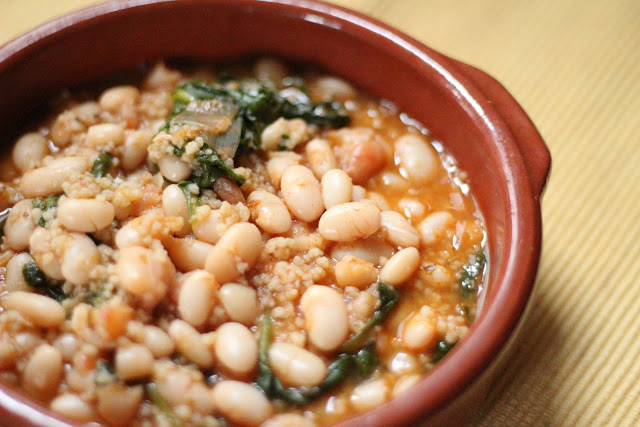 This is a warm, tasty white bean soup. As you can see in the pictures it is rather thick. I tend to make soups on the thick, chunky side as that is how I like them.
When using legumes I always use dried ones, rarely I use canned, but you can perfectly use canned for this soup as you will cut the cooking time drastically, both ways are delicious.
On any event, this winter I will be making plenty of soups.
Enjoy!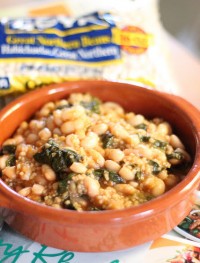 White Bean Soup with Spinach and Leeks
Ingredients:
1 lb dried white beans pre-soaked over night, or two cans of white beans, rinsed and drained
2 tablespoons of olive oil
4 leeks, chopped
2 garlic cloves
2 teaspoons ground cumin
2 teaspoon paprika
2 bay leaves
1/2 cup whole wheat couscous
2-3 cups fresh spinach leaves
Salt and pepper to taste
4-6 cups of water, depending on how thick you want the soup, if using dry beans you will need more water as dry beans will absorb the liquid
Directions:
Heat oil in 6qt dutch oven or large pot over medium high heat. Add leeks, garlic and saute for 2-4 minutes. Add cumin and paprika and stir. Add bay leaves, beans and water. Bring the mixture to a boil and reduce heat to low and simmer for 10 minutes (if using dry beans you will need about 1 hour at least, sometimes more)
Add couscous and cook for another 3-5 minutes. Remove bay leaves and turn of the heat. Stir in the spinach and season to taste.