White Bean and Vegetable Soup
I love making soup especially when it is cold outside. When making soups I normally double the batch so that I can save some and have whenever I don't feel like cooking. This white bean and vegetable soup is one of my to go favorite simple soup recipes. Always a winner!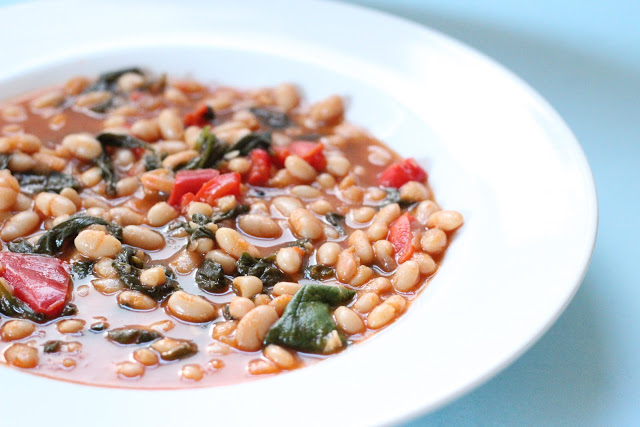 This is one of my favorite comfort bean soups. Very simple and extremely nutritious. I use dry beans for all of my legume soups as I find them to give the soups a different consistency.
I actually obtained a very amazing and distinctive flavor with this soup because I used a very rare wine that came from my cousin's vineyard in Spain. You can use any other white wine of your choice though.
Like with most soups, you can add, substitute or omit any veggies of your choice. Nevertheless I am sure it will turn out fabulous for you.
Also if you would like to omit the wine you can do that too, it just gives this soup a very distinctive flavor!
Enjoy!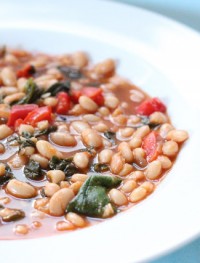 White Bean and Vegetable Soup
Yield: 6 servings
Total Time: 1 hour 15 minutes
Ingredients:
1 lb dried white beans pre-soaked over night
2-4 tbsp of olive oil
2 red peppers, chopped
1 red onion, chopped
1/4 cup vermouth or dried white wine
2 garlic cloves
2 tsp paprika
2 tbsp tomato paste
2-3 cups fresh spinach leaves
1 tsp celtic salt
4-6 cups of water (depending on how thick you want the soup)
Directions:
Heat oil in a 6 quart dutch oven medium high heat. Add onions, pepper and garlic and saute for 2-4 minutes. Add wine and let it reduce to half the amount. Add paprika and stir. Add the white dried beans (without the water), tomato paste, salt and water.
Bring the mixture to a boil and reduce heat to low. Cover and simmer for 45-60 minutes or until the beans are tender.
When the beans are tender turn off the heat and stir in the fresh spinach.