White Bean and Broccoli Soup
White Bean and Broccoli Soup is a very easy soup and at the same time delicious.
Here is the recipe I promised. White Bean and Broccoli Soup another healthy recipe for you guys to try. Once again, you don't have to use white beans, you can use any other type of legume you may prefer, either way if you try let me know how it goes.
I think you could also do this one in a slow cooker if you use dried beans. It will take a lot longer but if you are not press for time it may be worth it. I love using my slow cooker for this type of legume soups.
I have done this White Bean and Broccoli Soup using chick peas before as well. I love chick peas and I always keep them on hand.
Let me know if you get to try this soup. Not only it is super simple but extremely nutritious and tasty.
Enjoy!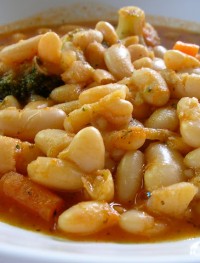 White Bean and Broccoli Soup
Ingredients:
1 lb dry white beans
3 garlic cloves
4 medium carrots
2 medium potatoes
6 ounces tomato paste
1 lb frozen broccoli
1 tablespoon oregano
3 tablespoons olive oil
2 teaspoons salt
Directions:
In a large mixing bowl, soak the beans over night.
Heat the oil, in a dutch oven, or any heavy pot,  over medium heat. Add chopped carrots, potatoes and garlic and saute for about 1 minute. Don't let the garlic burn. Add the tomato paste, oregano and salt.
Add the white beans and immediately after add about 6-8 cups of water (depending on how thick you want the soup). Cook on medium to low heat for about 30-45 minutes. Add the frozen broccoli previously thawed about 2 minutes before turning the heat off.
TIP: You can use canned white beans however cooking times will vary. The soup will be done is a mere 10-15minutes.
Calories 320, Calories from Fat 53, Total Fat 5.9g, Saturated Fat 0.9g, Cholesterol
Sodium 797mg, Potassium 1683mg 48, Total Carbohydrate 53.4g from which Dietary Fiber 13.4g, Sugars 6.4g, Protein 17.2g.