White and Pink Meringues for your Valentine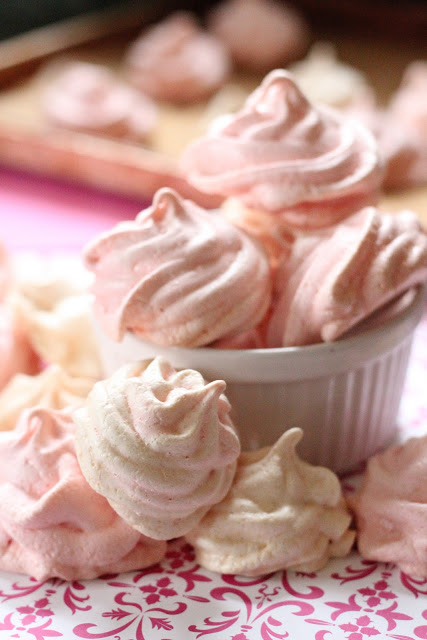 I have never made meringues before. I figured I should try them at least once since they also seem very easy to put together. Now I must confess that the swirl effect that I intended with the meringues was not perfect, yet the results was still good.
One of the things I will find myself changing for next time when I try this recipe is using confectioner's sugar instead of regular sugar. While piping the eggs whites onto the baking pan I noticed sugar crystals clogging my bag…..annoying……and that messed up my swirl effect, not good!
Anyhow, you can do this in many different forms and colors.
These meringues are just darling and yummy. You can also use any food coloring you may like!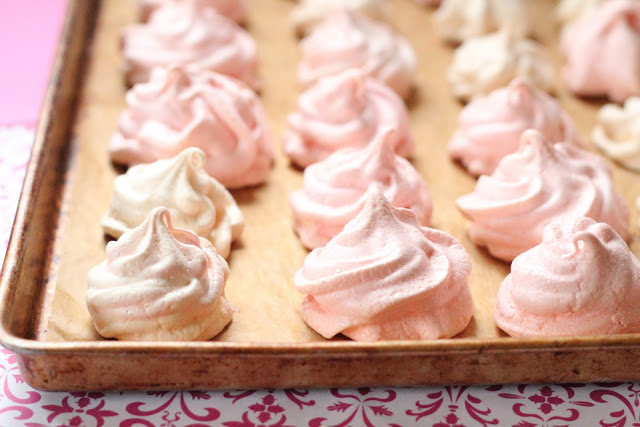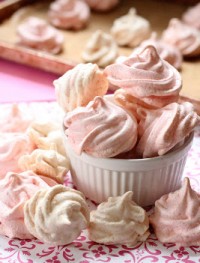 White and Pink Meringues for your Valentine
Ingredients:
4 egg whites
3/4 cup sugar
Pinch of salt
Pink food coloring
Directions:
Preheat oven to 250 F. Line baking sheets with parchment paper.
In a bowl, with an electric mixture or hand held electric mixture, whisk egg whites and salt until stiff peaks form. Add sugar gradually, the meringue should start to look glossy.
Continue whisking in the sugar until all the sugar has been incorporated and the meringue is thick and shinny. Fold in food coloring.
Fill decorating bag with meringue and pipe small whirls on to baking sheets.
Bake for 1 hour and 30 minutes until they are dry and crisp and the swirls can be easily lifted off the paper. Cool completely.