Very Berry Honey Cornmeal Muffins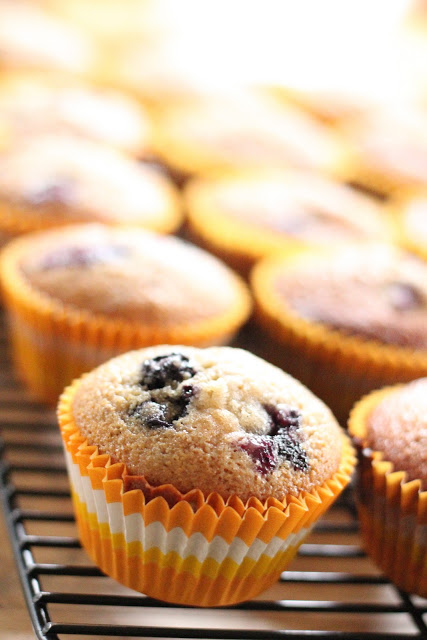 Here you have it, another cornmeal recipe….. I am on a roll right?
I am determined to get rid of the cornmeal soon, maybe not at once, but soon. I think between the Honey and orange cornmeal cake I made the other day and these muffins I think I will be able to finish it quite fast. I just don't want to forget that I have it or for it to get spoiled!
This recipe, again, turned out much better than anticipated. The berries were awesome, the honey gave them a distinctive flavor and they weren't powerfully sweet.
You can leave the cornmeal out if you prefer and just do all whole wheat pastry flour. You can also use other fruits of your choice like cranberries. I think that will also work very well.
Enjoy!
Batter is ready to be divided between the cupcake liners. A very easy batter I must add!!
After exactly 27 minutes I got them out of the oven and allowed them to cool on a wire rack.
Here you can appreciate the goodness of the berries inside the muffins. Just superb!!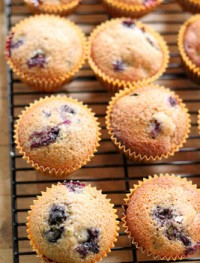 Very Berry Honey Cornmeal Muffins
Ingredients:
1/3 cup olive oil
1/3 cup sugar plus 1 tablespoon sugar for sprinkling
1/3 cup honey
2 eggs
1 cups fresh blueberries
1 cup mixed berries, fresh or frozen, I used frozen but I previously thawed and drained)
1 cup whole wheat pastry flour, You can use 2 cups WWPF and omit the cornmeal if you prefer
1 cup yellow cornmeal
1 teaspoon vanilla
2 teaspoons baking powder
1/2 cup low fat milk + two tablespoons, soy milk will also work
Directions:
Preheat oven to 375 F degrees. Line cupcake pan with cupcake liners.
In a large bowl, whisk together oil, honey, eggs, milk, sugar, and extract. Add flour, cornmeal, and baking powder, and combine. Fold in the berries.
Pour batter into prepared cupcake liners and sprinkle with remaining sugar.
Bake for 25-30 minutes. I baked mine for exactly 27 minutes.
Remove from pan and cool in a wire rack.