Vegetarian pasta bolognese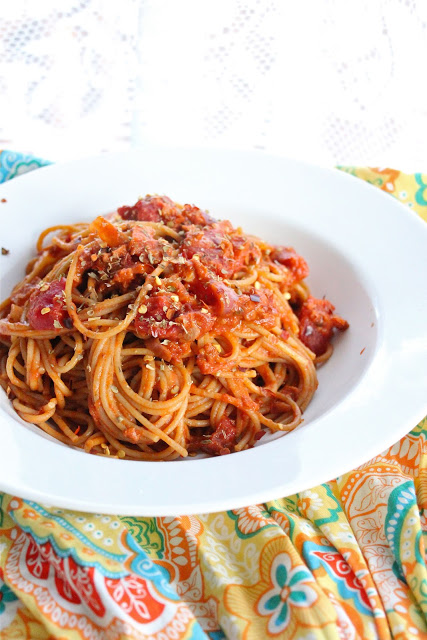 So pasta bolognese….what is it not to like? I have never made this one before and for sure it will not be the last. We loved this version a lot.
The only difference here is that this one is actually vegetarian, so in my book?……another pasta dish winner…….. Why? because it is tasty, easy, fast to put together, and healthy all at the same time :-)
For this variation I used soy chorizo from Trader Joe's. I am just in love with this product. So far I have used it in amazing nachos, and a couple of other recipes that are to come to the  blog very soon. One is vegetarian lasagna and the other one is vegetarian chili.
I haven't had pasta bolognese in for ever, perhaps the last time I had it was when I was little and my mom actually made it for us. After whipping this variation together I am just going to have it at least once a week, or until I get tired of it i guess!!
Anyhow, not much else to elaborate here so until my next post have a great weekend.
Enjoy!!
This is the soy chorizo I have been using in many recipes. So far on this one, this nachos, a vegetarian lasagna version coming soon and also another version of vegetarian chili.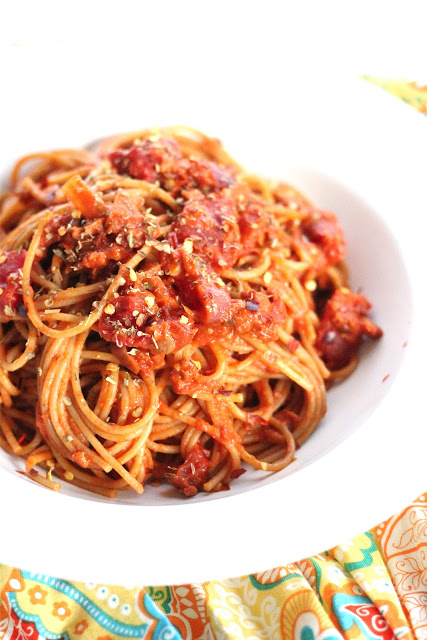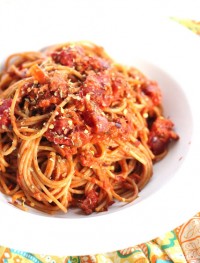 Vegetarian pasta bolognese
Yield: 4-5 servings
Total Time: 20 minutes max!
Ingredients:
1 lb whole wheat spaghetti
4 tablespoons olive oil
2-3 carrots, chopped
1 red onion, chopped
12 oz soy chorizo, I got mine at Trader Joes
1 tablespoon dried oregano
6 oz tomato paste
1 teaspoon salt
3 garlic cloves, chopped
1/2 cup white wine
1 tablespoon soy sauce
14 oz marinara sauce
14 oz can chopped tomatoes
1/4 cup heavy cream or coconut milk
Parmesan, optional
Red pepper flakes, optional
Directions:
Cook pasta to aldente stage and set aside.
Heat olive oil in a 12 inch nonstick pan. Add carrots and onions and cook for 2-3 minutes. Add garlic, oregano, and red pepper flakes if using and cook further for 30 seconds to 1 minute.
Add the white wine and cook until it is reduced, about 4-5 minutes. Add tomato paste, tomato sauce, canned tomatoes and soy sauce and stir to combine.
Pour in the heavy cream and stir. Let the sauce simmer for 5 minutes or so. If you find the sauce is too thick for you you can add a little bit of water. Add the soy chorizo and combine.
Incorporate the cooked pasta to the sauce and serve with Parmesan cheese if you like.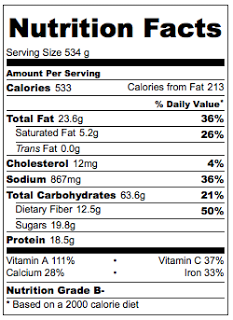 Nutrition facts are calculated based on the recipe giving 4 servings. It is high in manganese, selenium and vitamin A. To reduce the sodium content you can omit the teaspoon of salt.