Vegetarian lasagna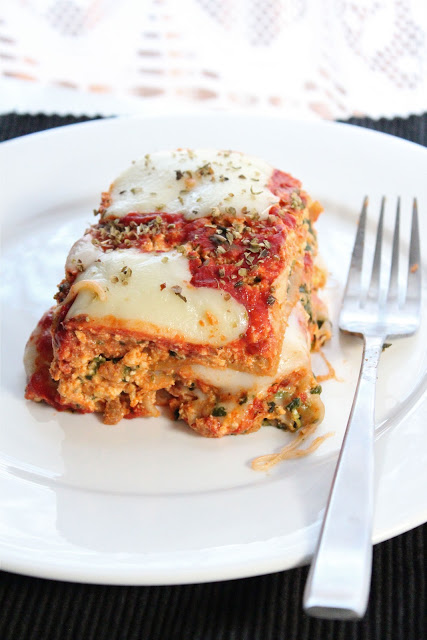 So when I thought I actually lost all of the pictures from the vegetarian tofu lasagna I made a while ago my camera downloaded them to my mac yesterday…..you really never know with technology!
I know what you are thinking, tofu in lasagna? I know it seems as though tofu doesn't sound that good in lasagna but to be honest you can't even tell it is there. I actually don't like tofu that much but because it is actually hidden with all of the other flavors, you can't even taste it, so don't be turned off by it. I promise, you won't even know it is there.
This vegetarian tofu lasagna uses ricotta cheese, not so much though, tofu to make it lighter and healthier, and soy chorizo, yet again. The result was just unbelievable. A food experiment that turned out really good.
This is my third time using soy chorizo from Trader Joe's, just in case you didn't notice :-)
I used it for the veggie nachos, for the vegetarian pasta bolognese and now this one.
Like I said before, I am sort of in love with this product because it tastes just like real chorizo.
Anyhow, I know that some people are not too fond of tofu, neither am I, although I really suggest you give this dish a go, you will not be disappointed. Until my next entry….
Enjoy!
Here you can see some of the ingredients I used for the lasagna, notice the soy chorizo, I can't leave without this specific ingredient. I hope they don't discontinue it. Right picture depicts the frozen spinach with the soy, ricotta, tofu and some mozzarella cheese.
…..and the final result. Everyone enjoyed it a lot. I think you would as well :-). As you can see I didn't finish the lasagna with the noodles but with the tomato sauce and cheese. You can do whatever you prefer. Normally lasagna layers are finished using the lasagna noodles as the last layer.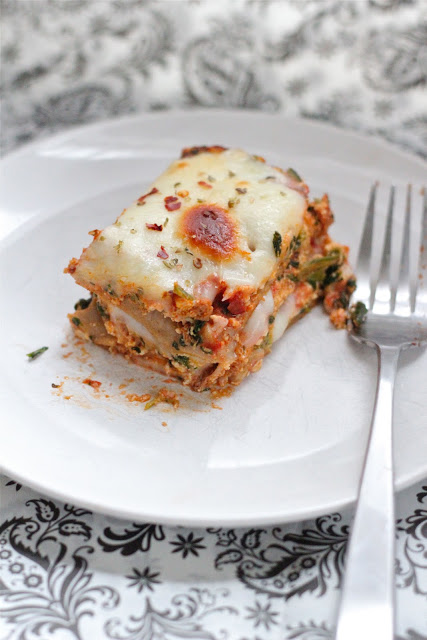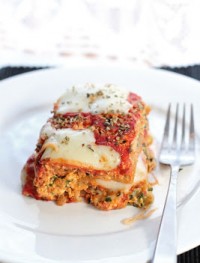 vegetarian lasagna
Ingredients:
1lb firm tofu
1lb low fat ricotta cheese,
6 oz can tomato paste
1lb frozen spinach, thawed and drained
1lb jar tomato sauce, I used marinara sauce
12 oz soy chorizo, I got it at trader Joe's
16-20 whole wheat lasagna noddles
1 lb low fat mozzarella cheese, shredded, I used a bit more
Directions:
Cook lasagna noodles until aldente stage and set aside. Preheat oven to 375F.
In a bowl mix tofu, ricotta cheese, soy chorizo, spinach and 1/2 cup shredded mozzarella. (I my metal potato puree tool to do this). Set aside. In another bowl mix the tomato sauce with the tomato paste. Set aside.
To assemble the lasagna, place 2-3 tablespoons of the tomato mixture at the bottom of a 9x13 square baking pan. Place 3-4 lasagna noodles over the tomato sauce. Place 4-5 tablespoons of the ricotta mixture over the noddles and spread (I do with a spoon or my hands). Place 2-3 of tomato sauce followed by the 3-4 tablespoons shredded mozzarella and another layer of lasagna noddles.
Repeat layers until ricotta mixture is done. I normally end up with 3 layers. Bake lasagna for 20-30 minutes until cheese bubbles on top and its starts to brown up a bit.
Sprinkle some dry oregano over the lasagna and serve.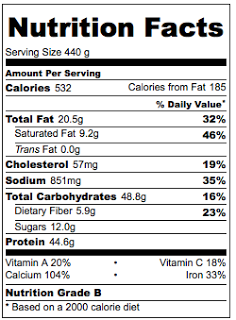 Nutrition facts calculated based on the recipe giving 7 servings.