Vegetable, Pesto, and Three Cheese Pizza
My cousin came with her little two kids over the weekend so I figured I make pizza since that is always a go for everyone. I made three pies in total, two veggie and one with a pesto base.
It was the first time I made a pesto pizza and for sure it will not be the last. Lately I have been making recipe keepers, and I am so excited about it. So far I have quite a few recipes for my upcoming book, I just don't know how I am going to come about choosing which one to add and which to omit, oh well will see how it goes.
As for the pizza. You can find the dough recipe here or here. They are both different. I prefer the second one though. This recipe will be enough for two pies. I normally double it because I make 3-4 pies each time. The ingredient list below is what I did for the filling but you can add, omit, substitute what ever you may like.
Enjoy!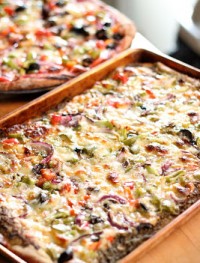 Vegetable, Pesto, and Three Cheese Pizza
Ingredients:
3-5 tablespoons pesto sauce, I buy made but without the hydrogenated fats
1/2 cup Gorgonzola cheese
2 slices provolone cheese, chopped
1 cup skim mozzarella cheese, cubed or grated.
1/2 red onion, sliced
1/2 cup black olives, chopped
1/2 cup red pepper, chopped
1/2 cup green pepper, chopped
1 tablespoon dry oregano
Directions:
Preheat oven to 400F.
Roll out the prepared dough into a round, square, rectangle, how ever you may like the pizza pie shape to be. Spread pesto sauce over the dough. Sprinkle goat, and provolone cheese over pie. Arrange veggies and olives over pizza.
Sprinkle mozzarella and dry oregano and bake for 20-25 minutes.