Vegetable Whole Wheat Fetuccini
So this dish, once again, super nutritious, healthy and tasty. As you can see in the picture with tons of Parmesan cheese, as I love cheese very much. With this dish you just pretty much chopped and saute, boil the pasta and you are done.
This dish it is also very versatile because you can add or substitute any other type of vegetables you would like. You can also add shrimp but like this it is just fine. I always make a big batch because this pasta last not long at all in my house.
Enjoy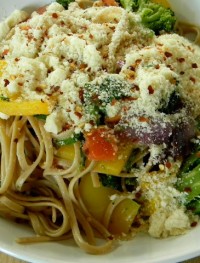 Vegetable Whole Wheat Fetuccini
Ingredients:
1 chopped yellow pepper
1 chopped large red onion
4 chopped medium carrots
6 cloves of garlic finely chopped, we love tons of garlic
1 lb already cut broccoli
2 ripe chopped tomatoes
1/2 cup of Manchego cheese cut into small cuber, any other hard cheese would do
2 tablespoons chopped parley
6 tablespoons of olive oil
1 lb of whole wheat fettuccine
1 teaspoon of salt
Grated Parmesan cheese and pepper flakes to serve
Directions:
In a large skillet heat oil. Add pepper, onions and carrots. Cook for about 3-5 minutes. Add broccoli, garlic and salt. Mix through and cook for another 3-5 minutes. I don't like the broccoli to be overcooked but crunchy so I add it towards the end. When veggies are cooked through add tomatoes, Manchego cheese and parley.
For the pasta, cook the fettuccine in a large saucepan of boiling water for 8-10 minutes or until just aldente. Mix in with the veggies. Serve on individual plates garnished with the Parmesan cheese and pepper flakes if you like.