Vegan blueberry coconut frozen cake
I have been wanting to make some sort of frozen vegan cake for quite sometime now and yesterday I was able to make this vegan blueberry coconut frozen cake. While I really have a sweet tooth I try to keep my desserts on the low sugar end so this one was perfect!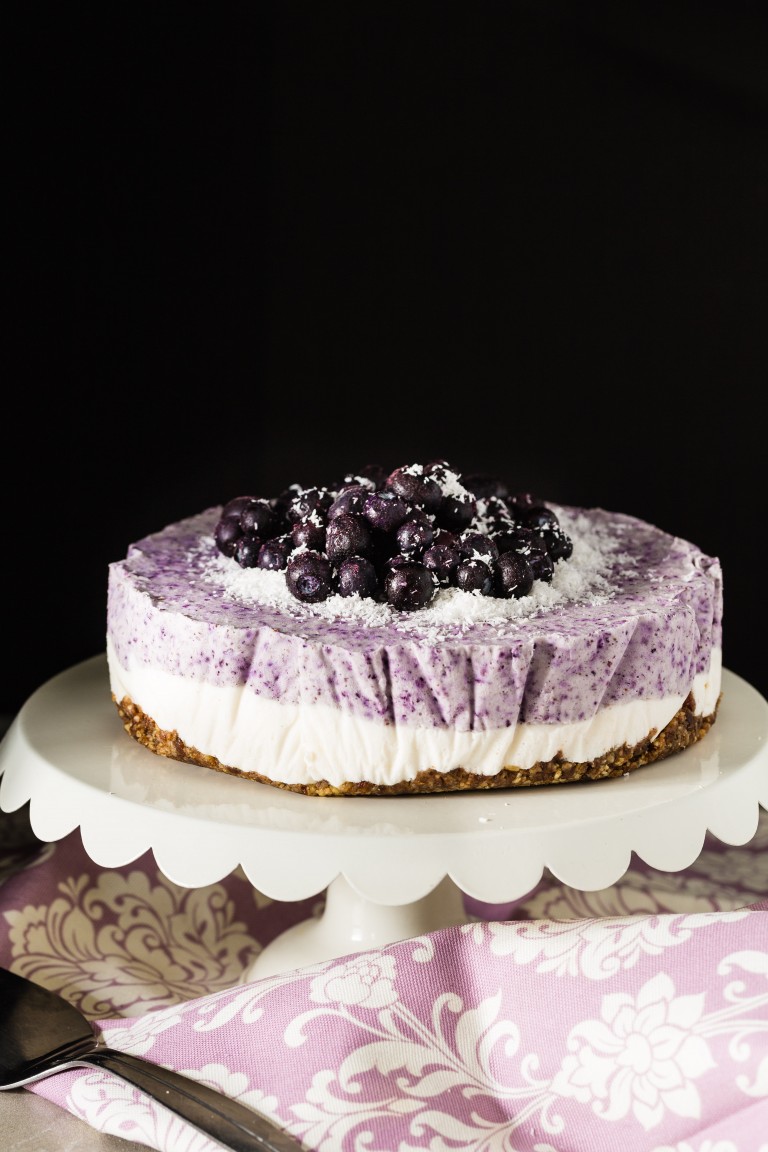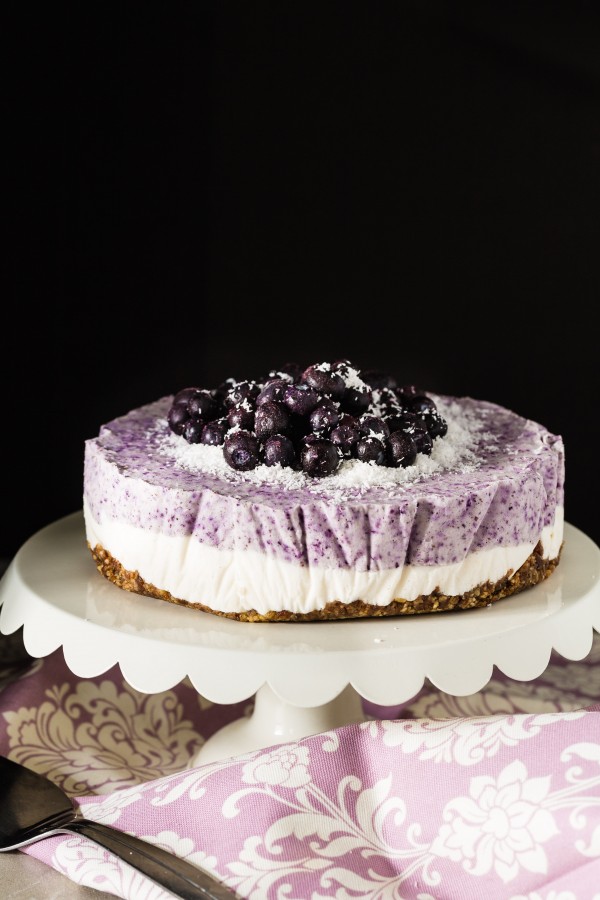 Bake goods in general always require tons of sugar, and while I enjoy eating sweets I can't stand just tasting sugar when eating a dessert. I like to taste the other ingredients as well, for this reason, I think this year, I am going to try to use even less sugar in my desserts, after all, life with less sugar is just as sweet.
More of a less theme is always good. This year I intend to have LESS clutter around my house, by LESS unnecessary stuff, spend LESS time with technology and use LESS sweeteners in my bake goods!
For my diabetic friends this cake is just perfect for you. Most of the sugar comes naturally from the blueberries and dates and since I used Truvia Spoonable the sugar content in this vegan blueberry coconut frozen cake is not bad at all. Just one carbohydrate exchange per slice!
I used coconut cream for the filling as well as shredded coconut. If you don't like coconut I guess this cake isn't for you. I love coconut anything and so does my family so this cake was just perfect for us.
I always keep this cake in the freezer and before serving I just let it sit for about 20 minutes in my kitchen counter so that it is not solid hard when cutting through it. Then, when it is soft enough to cut, I serve it. If for some reason you have any leftovers, just place them back in the freezer. This type of cake won't last us more than 3-4 days and for that long it has kept in the freezer just fine.
If you like frozen desserts this vegan blueberry coconut frozen cake would be perfect for you. Also, keep in mind that you can use any other fruit if you like. Strawberries, raspberries, mango…would work as well!
Enjoy!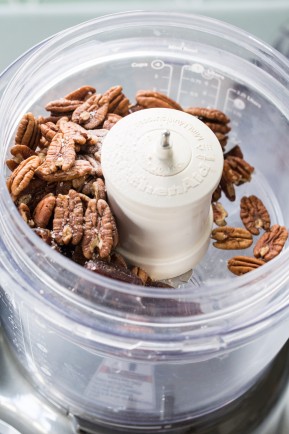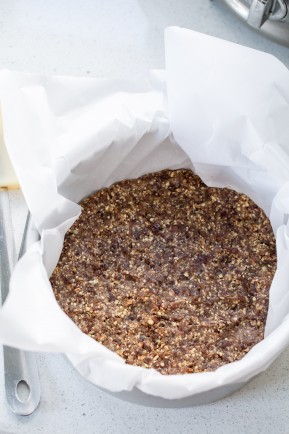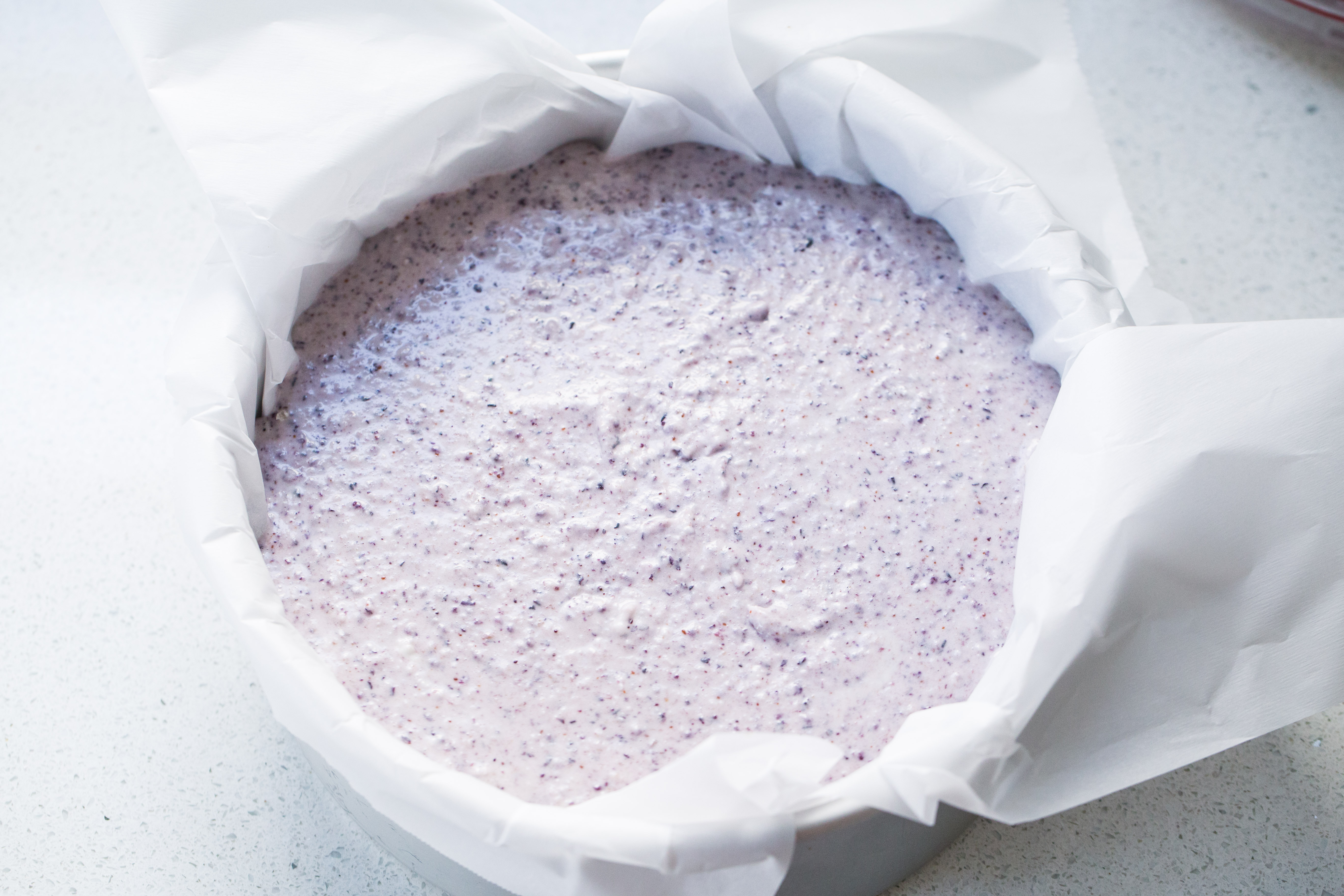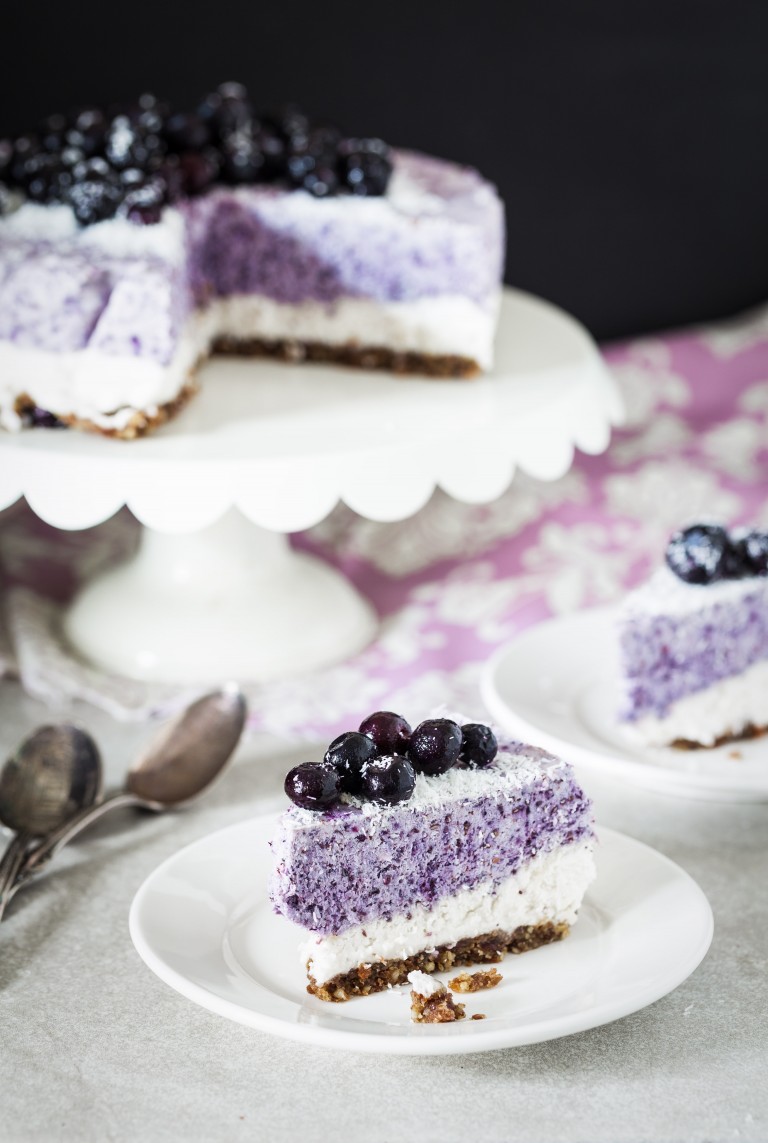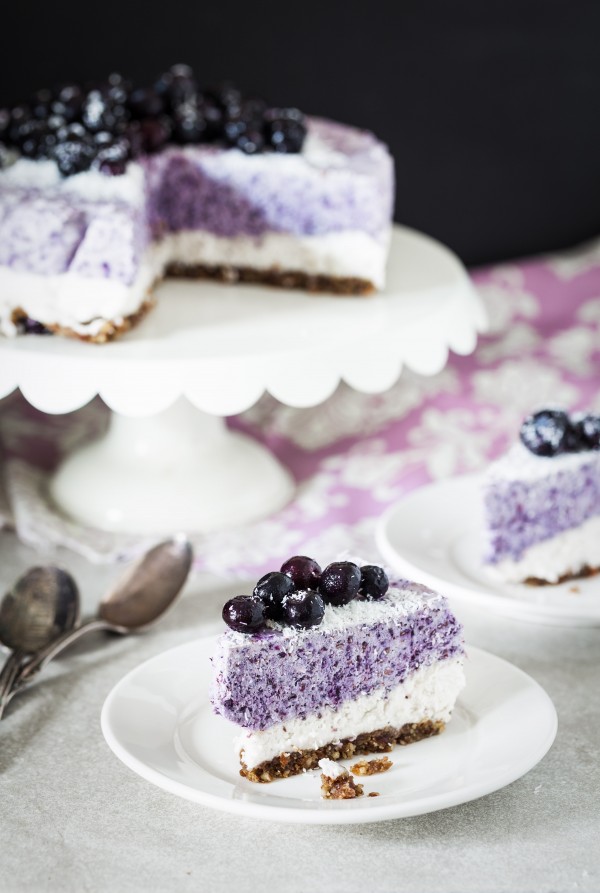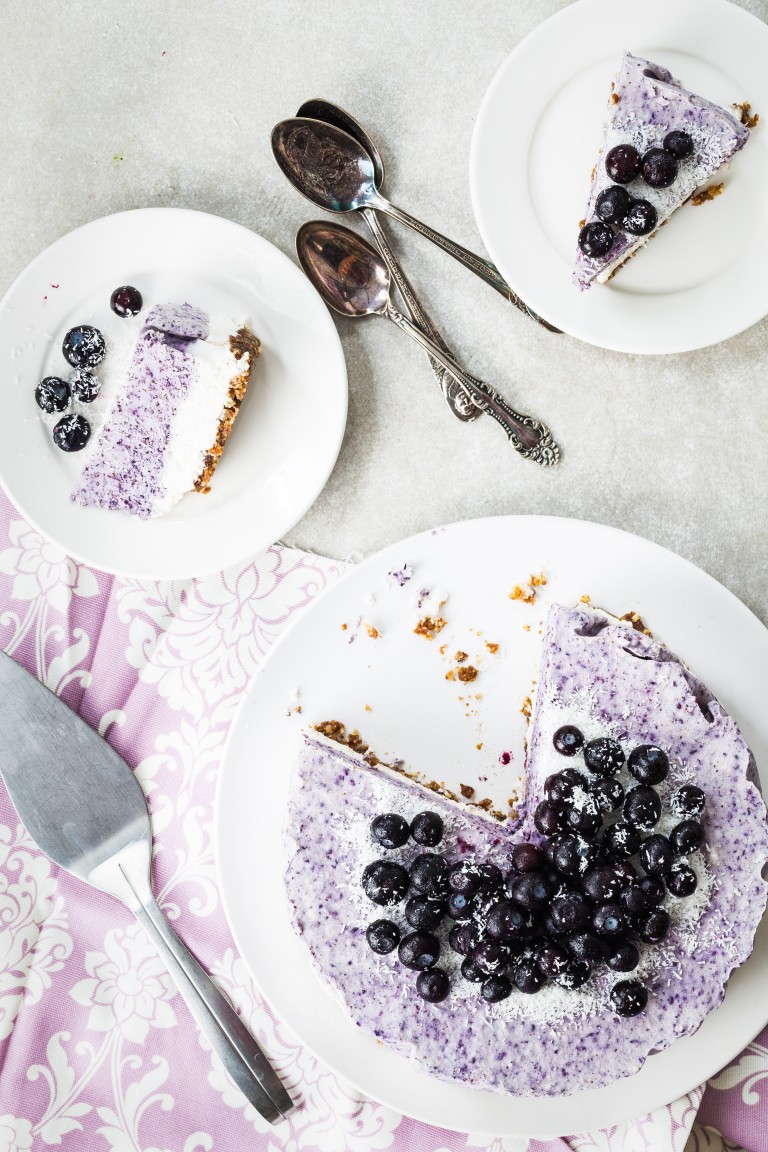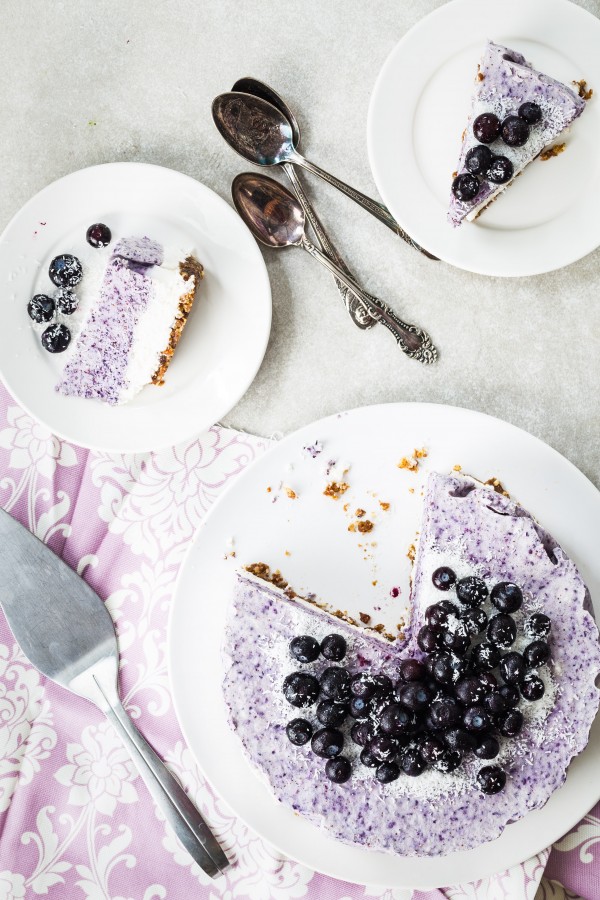 This post is sponsored by Truvia. As always, all opinions are my own. The end.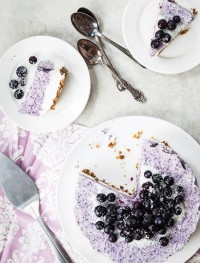 Vegan blueberry coconut frozen cake
Yield: 10 servings
Total Time: 20 minutes
Ingredients:
Crust 
Filling
Topping
1 cup blueberries
1/3 cup shredded unsweetened coconut
Directions:
Line a 8 inch round baking pan with parchment paper and set aside.
In your food processor place the crust ingredients and pulse until they crumbled. With your fingers, press this mixture onto the cake baking pan.
Place the filling ingredients, except blueberries, in the food processor and pulse until the mixture is homogenous. Pour half of the filling mixture over the crust and even it out with a spatula.
Place the blueberries in the food processor and pulse until you obtain a homogenous mixture. Place this blueberry mixture over the plain coconut layer.
Freeze for at least 6 hours before serving. You can top with more unsweetened shredded coconut and blueberries or just as is.