Vegan blueberry apple baked oatmeal
I just made this vegan blueberry apple baked oatmeal yesterday and it was my first time making baked oatmeal as well as using a flax egg. It turned out great so now I can make different variations using this same recipe. I am so excited!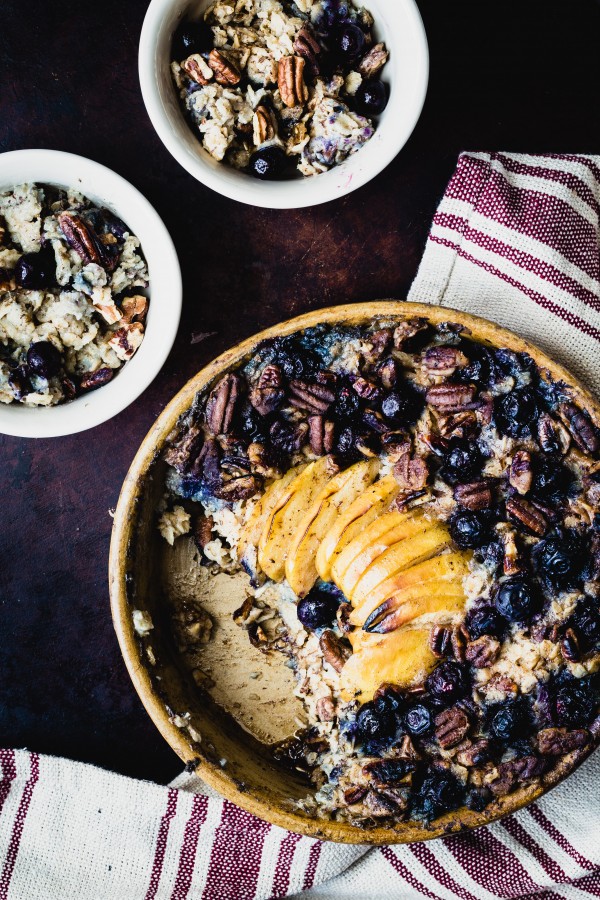 Have you made baked oatmeal before? If you haven't you should start with this vegan blueberry apple baked oatmeal. I used pecans for the topping but you can use any other nuts of your choice. Walnuts as well as hazelnuts would work great.
While in the next few weeks I will be making quite a few green recipes, given the new year diet resolutions many want to start following, I still want to keep baking. Healthy baking goods that is. I think this vegan blueberry apple baked oatmeal is an example. Still wholesome, healthy and easy to make.
For my diabetic friends this oatmeal only has 6.5 grams of sugar. I used  Truvia brown sugar blend to sweetened it so a few carbohydrate exchanges coming from it.
I think I am going to be making this vegan blueberry apple baked oatmeal again soon. Next time though is going to be a banana pecan flavor. I think that would be equally good if not better since I love bananas. I love the fact that this recipe is super easy to whip together. If you ask me a great way to start the day.
Enjoy!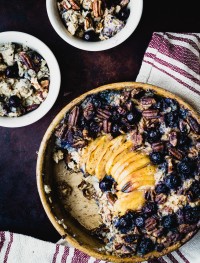 Vegan blueberry apple baked oatmeal
Yield: 6 servings
Total Time: 45 minutes
Ingredients:
2 cups gluten free rolled oats
2 cups almond milk
1 cup blueberries
2-3 tbsp coconut oil, melted
1/3 cup pecans
1 apple, thinly sliced
1/3 cup Truvia (or 1/3 cup coconut sugar)
1 tsp cinnamon powder
1/2 tsp nutmeg powder
1 flax egg (2 tbsp water + 1 tbs flaxseed meal)
Directions:
Preheat oven to 375F.  In a small bowl combine the ingredients for the flax egg and let it sit for 5-10 minutes or until thicken.
In a large bowl combine the rolled oats, baking powder, sugar, cinnamon, and nutmeg. In another bowl whisk the coconut oil, vanilla, milk and flax egg. Add the oat mixture to a 9 inch round baking dish.
Pour the milk mixture over the oats.  Place the apple in the middle over the oat mixture and scatter the blueberries and pecans.
Bake for 35-40 minutes until the top is golden and the oats have set. I placed mine under the broiler for an extra 3-5 minutes.