Unconventional Whole Wheat Rugelach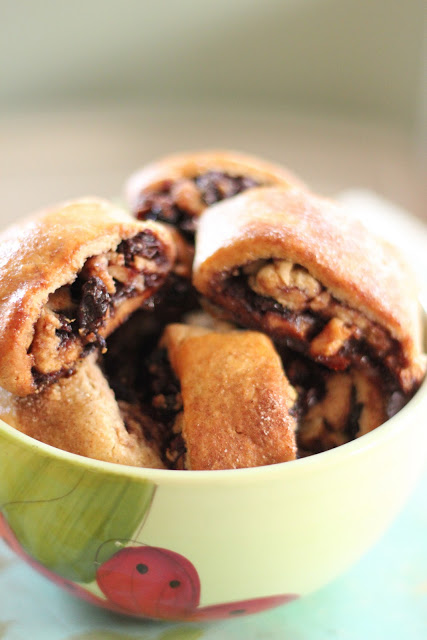 OK so it has been a week since I have posted a recipe, oops, SORRY, a lot going on……
My house is a construction zone right now.
They are finishing the basement and redoing the kitchen. My mom just came into town from Spain, I am trying to study for my entrance medical exam when ever I can and with the kids…… well not enough time in the day to do everything.
I think I am going crazy with so much going on. Hopefully the construction will be done in the next couple of days and things can get back to normal. I really need 28 hours in a day, that would be much better :-)
Anyhow, in the next week or so it should get a bit better. Not to my usual posting until I am done with my exam. I am really missing all of the baking though!!
A little bit about the posting.
I am still experimenting with the dough as we know that rugulah contains quite a bit of butter. This time I decreased the amount of butter slightly and the dough was perfect. Next time I will still decrease the amount even further and see what happens, hopefully good things!
Enjoy!!
Here you can see the first step for assembly of these cookies :-) You can add whatever preserves you may like as well as which ever nuts you like
Not the conventional way of folding, cutting and baking these cookies but this is a much easier and faster way, my kind of thing!!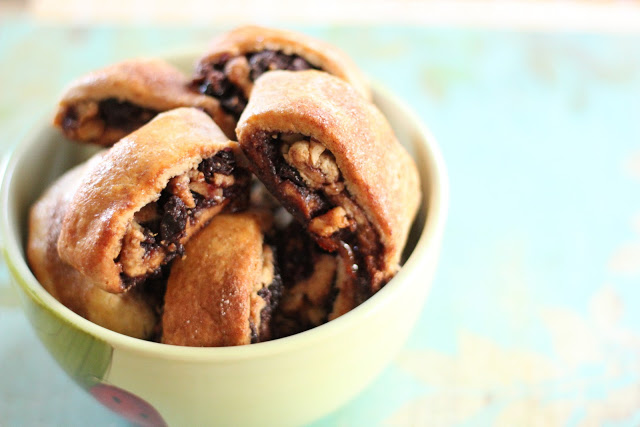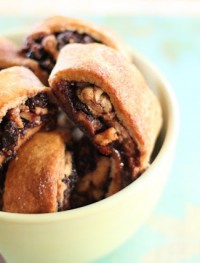 Unconventional Whole Wheat Rugelach
Ingredients:
8 oz 1/3 less fat cream cheese, at room temperature
1 1/2 sticks butter, at room temperature
1/4 cup olive oil
1/4 cup granulated sugar,
1 teaspoon vanilla extract
2 cups whole wheat pastry flour
Filling
1/4 cup light brown sugar, packed
1 teaspoons ground cinnamon
3/4 cup raisins
1 cup walnuts, chopped
1/2 cup preserves of choice, I use a berry blend
1 egg beaten

Directions:
Preheat oven to 350 degrees. Line a baking sheet with parchment paper.
In a bowl with an electric mixer cream the cheese, butter and oil.  Add 1/4 cup granulated sugar, and vanilla.  With mixer on low add the flour and mix until just combined. Dump the dough out onto a board and roll it into a ball.
Cut the ball in quarters, flatten each quarter slightly then wrap each piece in plastic and refrigerate for at least one hour, up to a few days, like in the picture.
To make the filling combine brown sugar, 1/2 teaspoon cinnamon, raisins and walnuts.
Roll each ball of dough into a 9 inch circle (I roll them in between plastic wrap). Spread the dough with about 2 tablespoons of preserves (all the way to the edge) and sprinkle with approximately 1/4 of the filling. Press the filling lightly into the dough. Do the same with the 4 rounds.Roll in each round, brush with the egg and sprinkle with the sugar like in the picture. Cut little disks placing them onto the prepared baking sheet.
Bake for 22 to 30 minutes or until lightly browned.  Place cookies on a wire rack to cool.