Triple chocolate donuts with home made sprinkles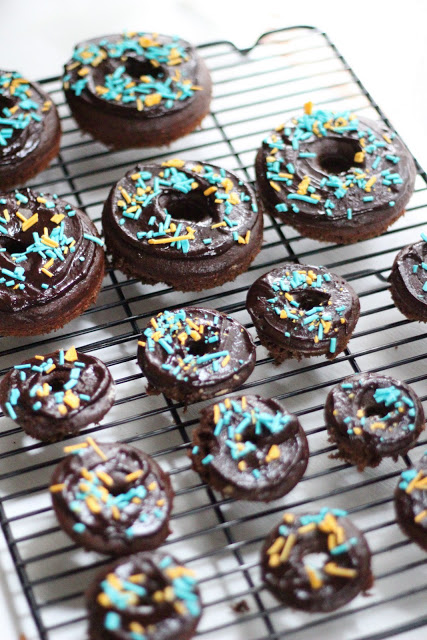 I am so excited I found this home made sprinkle recipe at bravetart its not even funny!
I have been avoiding using sprinkles in all of my baking because they all have trans fats- hydrogenated fat, and of course I was not going to be using that! so when I saw this recipe I could not resist but to make them ASAP.
A few notes though, I did buy the multi opening tip, the one with 4 little holes. The problem I had with that was that because the sprinkles recipe forms such a hard paste I could not pipe them out to good. I will keep trying though, I just hope next time they look better. Perhaps I need to practice :-)
For sure I will keep this recipe and make my own sprinkles from now on, my son thought it was the coolest thing ever :-)
I use them on my triple chocolate baked donuts. They were awesome. I have also decide to make fry donuts sometime this week or the next so stay tuned for that.
I hope you venture and try these. They are spectacular :-)
Enjoy!!
I baked the donuts in a regular size donut pan and a mini donut pan and I must say that getting the donuts out of the mini donut pan was a pain in the neck!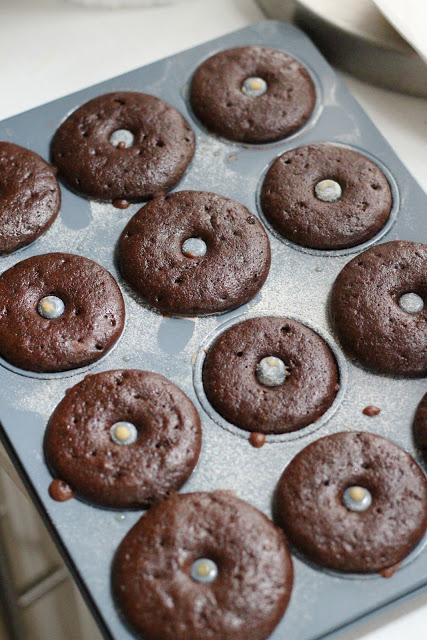 After 10 minutes of baking the mini donuts.
My kids having a feast on the donuts :-)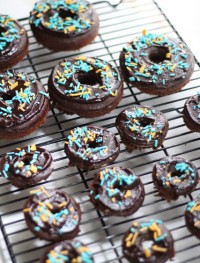 Triple chocolate donuts with home made sprinkles
Ingredients:
2 cups whole wheat pastry flour
1/4 cup cocoa powder
1/2 cup sugar, 3/4 cup if you are not going to frost them
2 eggs
1 teaspoon baking powder
1/2 teaspoon baking soda
1 cup low-fat milk plus 2 tablespoons
2 tablespoons olive oil
1/3 cup dark chocolate chips, melted
1 teaspoon chocolate extract, optional, I don't use most of the times
Ganache
1/2 cup chocolate chips
2 tablespoons heavy cream
2-3 tablespoons home made sprinkles
Directions:
Preheat oven to 325°F. Prepare pan by spraying donut pan with cooking oil and dusting with flour.
In a bowl, whisk eggs, milk, sugar, chocolate extract, and oil. Add flours, baking powder baking soda and cocoa powder. Whisk until combined. Carefully fold in melted chocolate chips (I melt these in the microwave). Fill each donut hole 2/3 full.
Bake for 17-2o minutes for regular size donuts and 10-12 for mini donuts. Cool for about 10 minutes and remove from pan to a wire rack to cool completely.
In a bowl place glaze ingredients and microwave 30 seconds at a time making sure to mix in between each 30 seconds. Mine melted after 1 minute.
Place a teaspoon on each donut followed by the sprinkles.
Tip: Make sure you grease the pan all over specially in the middle round donut piece otherwise they will stick when getting them out of the pan, probably breaking apart in the process.