Triple chocolate bundt cake – a MightyNest Giveaway
Hello my friends, I can't believe the month is almost over. Before it is I wanted to bring you this awesome triple chocolate bundt cake in honor to my friends at MightyNest.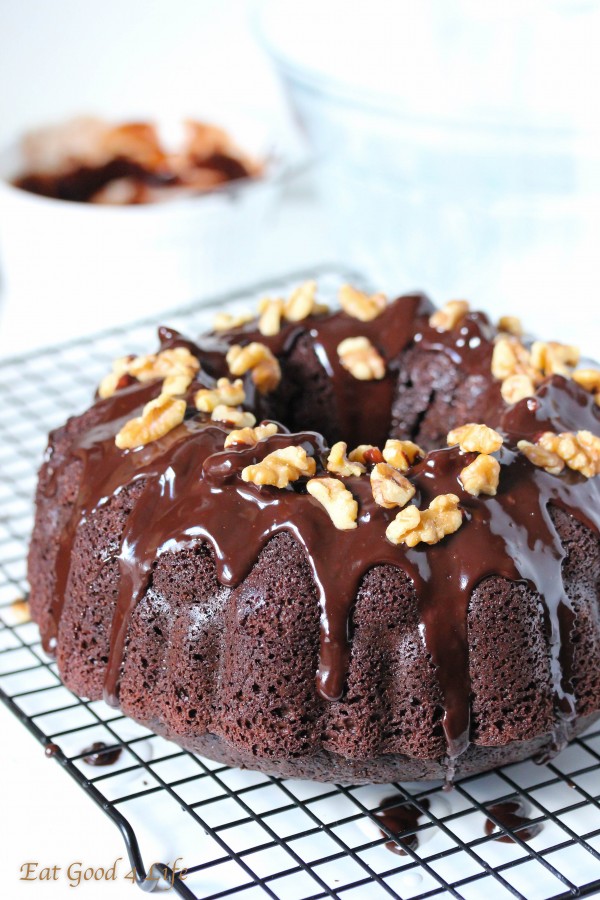 But you may ask, what is MightyNest?
MightyNest is an online retailer with a positive mission: providing the natural, organic, and non-toxic products that parents seek for their home while also giving back to schools. Better Goods. Supporting your school!
Everything they sell is selected with the highest standards for safety and quality. Glass and stainless baking gear and food storage. Green cleaning supplies. Natural bath products, and other home essentials. And everything is selected to be free from known toxic ingredients such as: BPA, PVC, Phthalates, Lead, Formaldehyde, flame retardants, Parabens and more.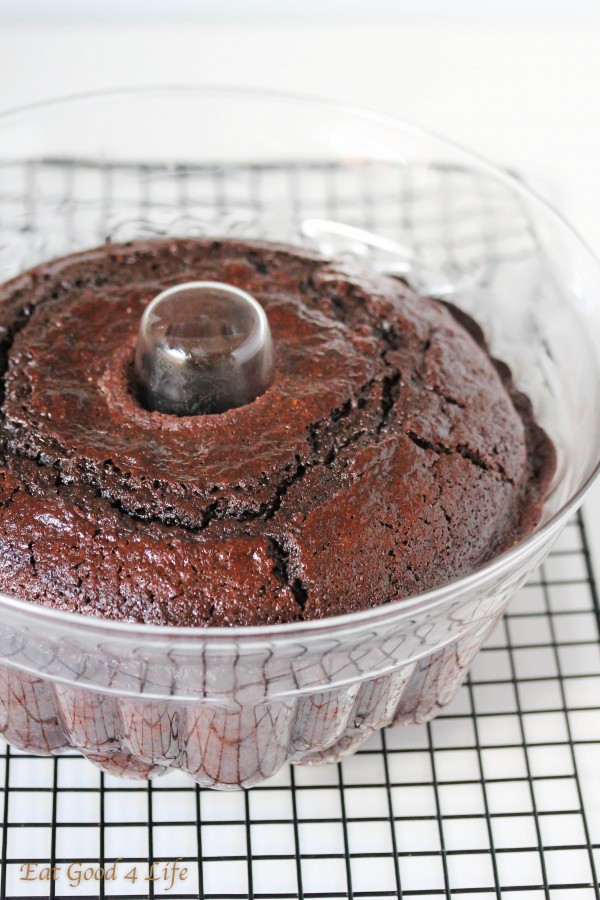 One of the things I like the most about MightyNest is that anytime you order from them, they'll give 15% back to the school of your choice. It's a great way to be healthier and support your local school.
For this triple chocolate bundt cake I use their Simax glass bundt pan. Instead of baking the bundt cake in a teflon coated PFOA baking pan, the Simax glass bundt pan offers a safe alternative as well as a gorgeous glass pan! Baking in teflon releases icky chemicals that we just don't need!
Plus, the Simax glass bundt pan is made of borosilicate glass and can withstand temps up to 932 degrees F, whereas tempered glass can go to 425 degrees. And it's easy to clean! I really love it!
MightyNest has offered the following to a new Eat Good 4 Life Reader:
The prize pack has a retail value of $100. MightyNest is also going to donate $100 to the winner's school of choice. A total of $200 in giveaways.
Use the widget below to enter. The giveaway runs until Nov 10th. GIVEAWAY NOW CLOSED
A little bit about the cake.
I actually use a lot less sugar than what bundt recipes normally call for. One cup it still seems like a lot but there is a lot of batter in this cake. I also use whole wheat pastry flour and coconut oil, which in my view are better alternatives than the plain old white flour, which is refined and with no nutrition at all and butter.
I really hope you make this triple chocolate bundt cake. It was super moist, airy and not dense or sweet at all. Just what I was looking for, since I haven't made a chocolate cake in ages and I was craving something like this. I made the cake yesterday and it is almost gone! It was out of this world…The bomb!
Enjoy!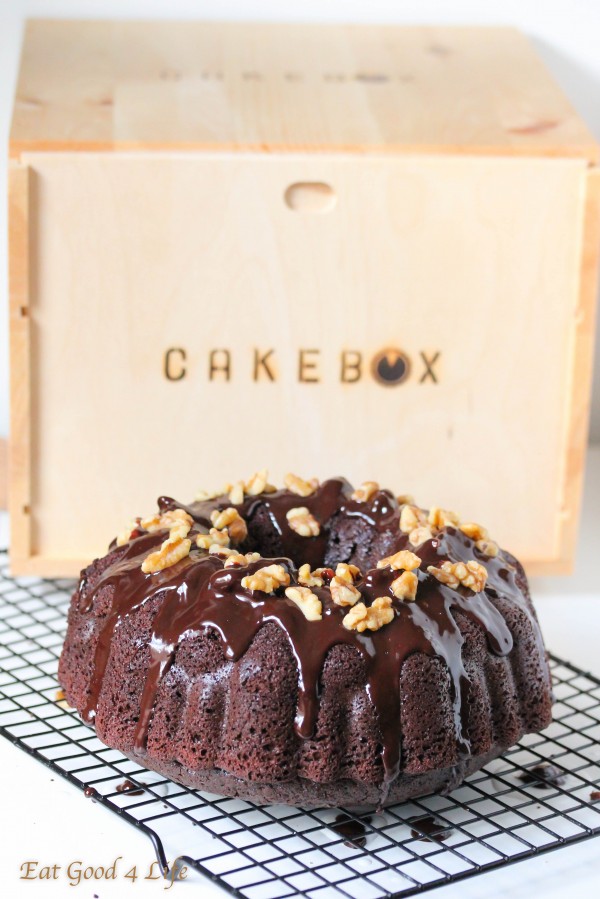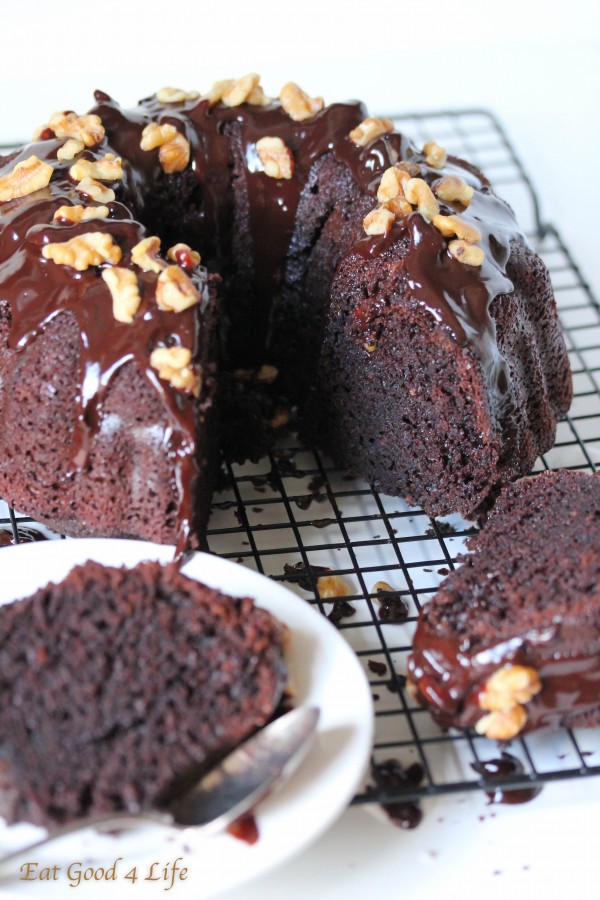 Disclaimer: This post is sponsored by MigthyNest. All opinions are my own. I speak from personal experience. The end :-)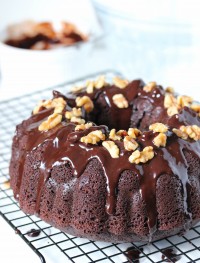 Triple chocolate bundt cake
Yield: 12 servings
Total Time: 1 hour 15 minutes
Ingredients:
Drizzle
1/3 cup dark chocolate, roughly chopped
2 tbs coconut oil
1/4 cup walnuts, chopped
Directions:
Preheat your oven to 350F. Grease the Simax glass bundt cake generously. Set aside.
In a large mixing bowl add the eggs, sugar, coconut oil, vanilla and warm water with the expresso powder dissolved in it and mix with a wire whisk. Add the melted chocolate gradually whisking at the same time if possible. Add the rest of the ingredients and combine.
Pour the mixture in the prepared bundt cake and bake for 50-60 minutes or until a tester comes out clean. I baked mine for 50 minutes.
Cool in the pan for 15-20 minutes before unmolding. Let the cake cool completely on a wire rack. On the meantime in a small microwavable bowl add the chocolate and coconut oil and melt in your microwave at 20 seconds intervals. Drizzle the chocolate over the bundt cake and sprinkle some walnuts if using.