Triple Chewy Ginger Cookies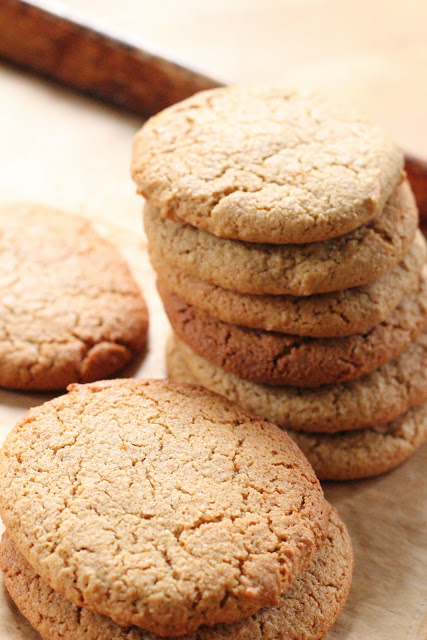 The house construction is about to end and I can't I really wait  so that we can get back to normal. No more dust cleaning, which its making me crazy. Everything is pretty much covered in dust, YUCK…
Anyhow, I am really pleased to post these cookies. I got the recipe from the chewy ginger and molasses cookies I made last month. We loved them so much that I figured I could just make them ginger flavor since we happen to like ginger cookies a lot as well :-)
I think next time I make them I will decrease the sugar by 1/4 cup and see how they go. On any event, I hope you get to make these ones because not only they are easy to make but really stupendous to eat!


Enjoy!
Before and after placing the cookies in the oven. You can see for yourself how much the expand!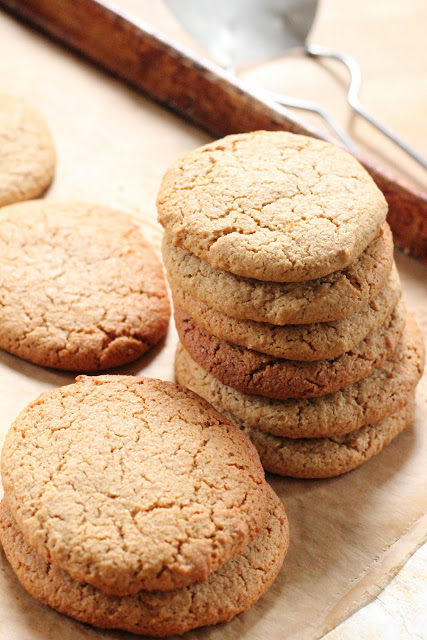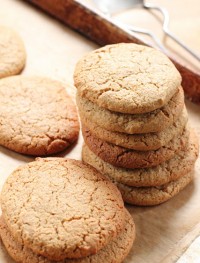 Triple Chewy Ginger Cookies
Ingredients:
1 cup whole wheat pastry flour
1 cup oat flour, you can use 2 cups whole wheat if you don't have oat flour
1 teaspoon baking soda
1 tablespoon ginger powder
1 tablespoon grated ginger
1/4 cup crystallized ginger, finely chopped, optional
3/4 cup unrefined sugar, next time I will do just 1/2 cup
1/4 cup olive oil
1/3 cup molasses
1 egg, at room temperature
Directions:
Preheat the oven to 350 degrees F. Line 2 sheet pans with parchment paper.
In a bowl beat the brown sugar, oil, egg and molasses until combined. Add flour, baking soda,  ginger powder and grated ginger. Combine the mixture with a rubber spatula.
Scoop the dough with 2 spoons onto the baking sheets making sure to leave some room as they will expand during baking. Flatten them lightly with your fingers.
Bake for 10-12 minutes. Let the cookies cool on the sheets for 2-3 minutes and transfer them to wire racks to cool.
Note: If you use the 2 cups of whole wheat pastry flour in place of the oat flour you will have to roll out the dough between plastic wrap to 1/4 inch thickness. You will also have to add and extra 2 Tbsp of olive oil to the batter.