Tortilla de patata (Spanish omelette)
Tortilla de patata (Spanish omelette) is one of the most typical recipe in Spain. While I love Spanish food, I shall add more recipes in the blog so that you can make it at home. Most of it is really simple and made with wholesome ingredients.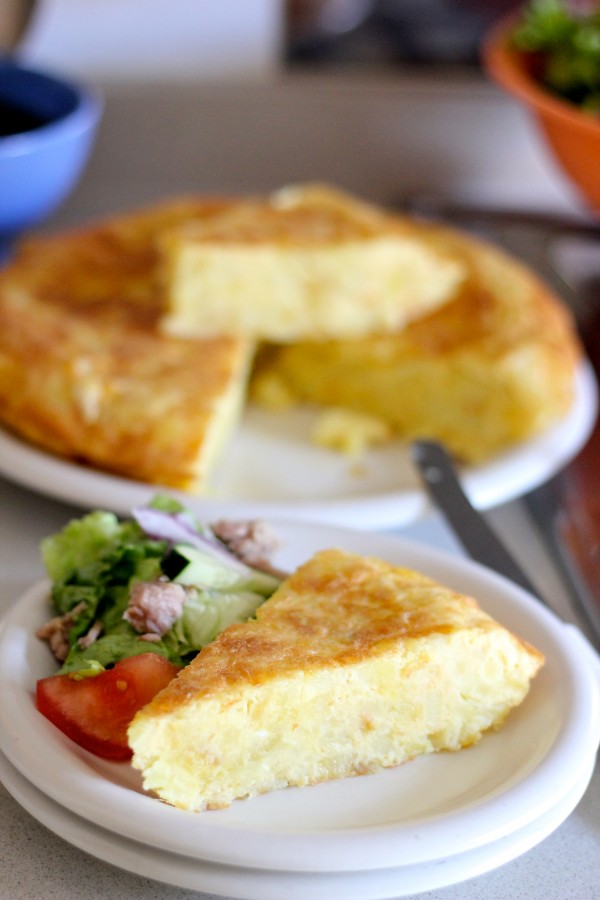 I have been in Spain for almost two weeks now, in North Spain to be exact, and today we are going to Madrid to see a few friends. I am excited beyond the moon because these are friends from way back when. Friends from grammar school as well as high school.
Madrid is where I lived until I was 18 years of age  and before deciding to venture on my own to travel the world. Every time I come to this city, it takes me back to the great and happy moments of my life as a child.
I also very excited to take my kids to the city where I was born and once lived. My oldest soon has been to Madrid once before, however, I don't think he can even remember. My youngest, which is three  now, has never been.
While in Madrid, there are tons of things to do, but the one thing I will definitely do is visit the many amazing tapa places this great city has to offer. From Puerta del Sol, Plaza de Espana to La Moncloa. I will take plenty of pictures for you to see.
Ok onto the recipe now. Tortilla de patata (Spanish omelette), as well as Gazpacho, are two of the Spanish authentic and staple foods we have. I don't know why I waited so long to add this recipe to the blog, but I am glad that at last I have.
Tortilla de patata (Spanish omelette) can be done in many different ways. There isn't a specific and right way to make it. Some people add onions, others add garlic, and some just leave it as is.
For my version I used ginger. This is very rare but I just love ginger. I won't get offended if you don't use it, so go ahead and omitted it if you like.
On another note, I want to show you a few pictures of the farmers market I visited yesterday. I love visiting farmers markets and look at all the artisanal food. It is like I am in a candy store but better.
Ok my friends. By the time you read this post I will be driving from North Spain to Madrid as well as down to the South after spending a day in between in Madrid. It might take me a few days before my next post. I will be spending a lot of time with family and friends and taking tons of pictures to share with you on my return, but until then,
Stay safe and enjoy the tortilla and pictures!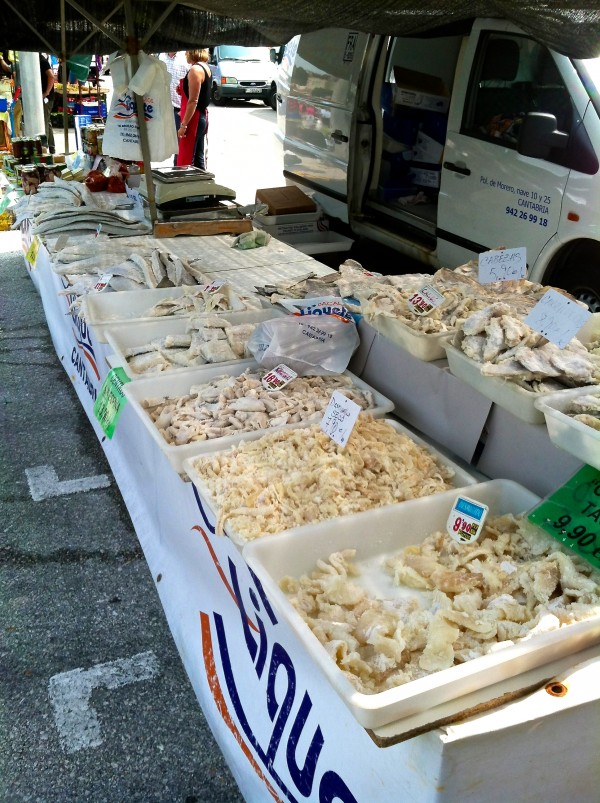 This is bacalao. It is used for many dishes but mostly for fish stews. It is delicious and very salty if prepared incorrectly :-)
These are the best cherries I have ever had. So juicy and so sweet. On the right picture you  can see chorizo (Spanish sausage). You can also have different versions of it like spicy. Chorizo is best in bocadillos (sandwitches) as well as served as a tapa if it is slightly pan fried.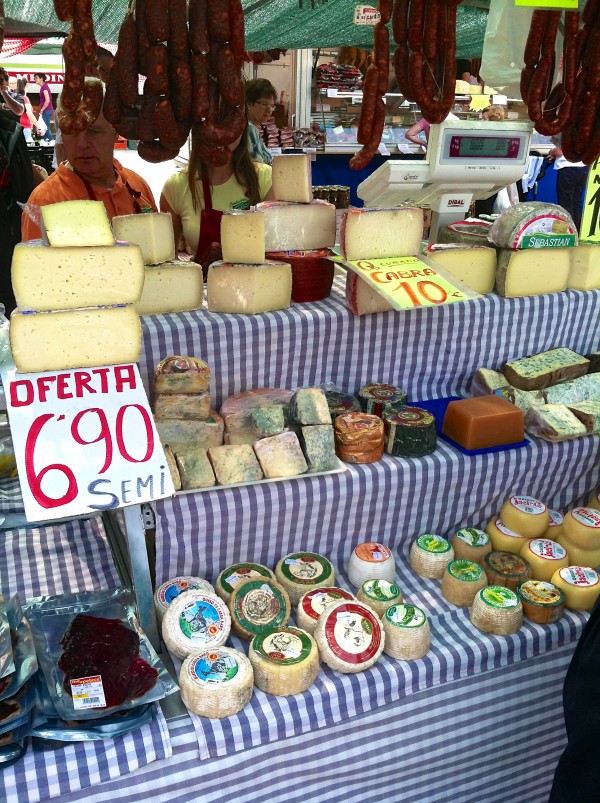 Cheeses are also a big staple food in Spain. My ultimate favorite cheese in Manchego cheese. Every time I come to Spain I make sure that I leave with plenty of it in my luggage :-)
Aceitunas (olives) of many different kinds as well as assorted pastries are predominant in farmers markets. I didn't get any, because I know I would eat them all at once. Looking at them and taking pictures was enough for now!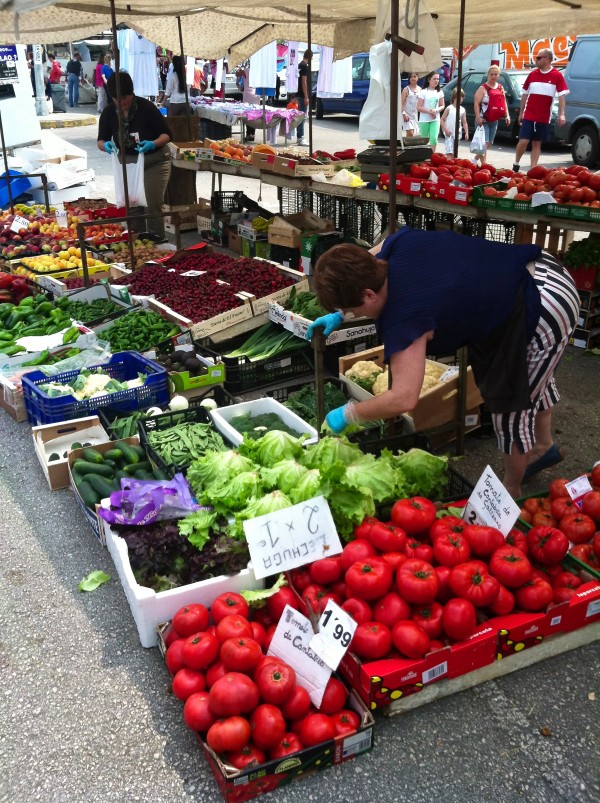 Vegetable stands predominate farmers markets here in Spain. I love seeing all of the beautiful, local vegetables and fruits. These tomatoes you see are the ones I bought to make some more Gazpacho. I can't get enough of this powerful and healthy drink.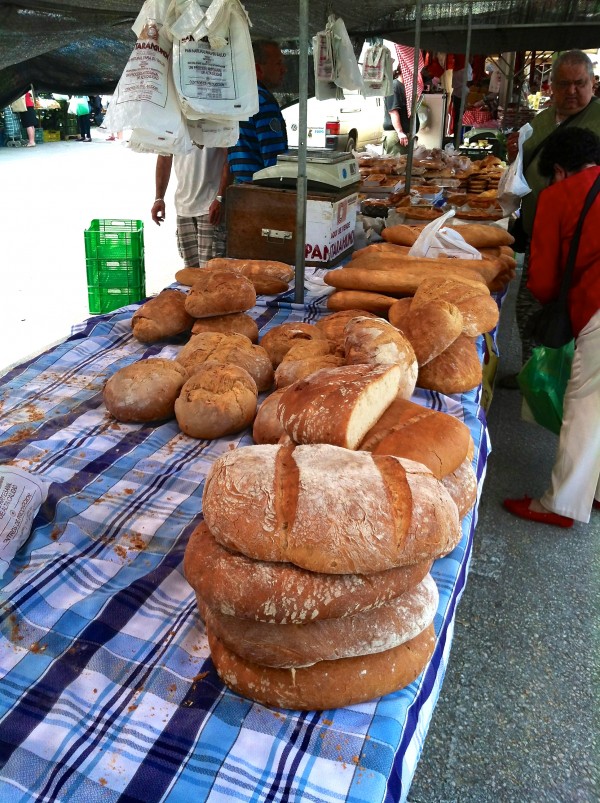 Do you have bread? I do…I love bread of any kind. I was able to get the last whole grain loaf of the day, and with that, I made some cheese and tomato sandwiches that were killer, just the best.
OK onto the tortilla now. Here you  can see the omelette being cooked. It is a little bit tricky to flip it with the plate but it is the only method. Just be careful and you will be fine. Also my omelette is kind of toasted, I don't like seeing runny eggs when I cut my tortilla, some people do, but not me!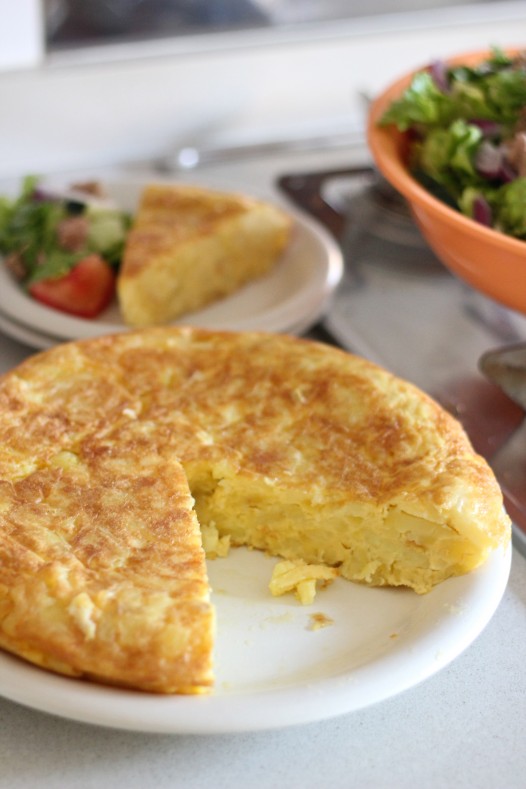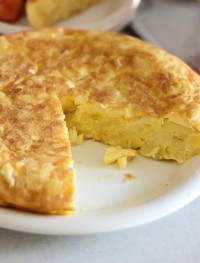 Tortilla de patata (Spanish omelette)
Yield: 6-8 servings
Total Time: 45 minutes
Ingredients:
4 lbs of potatoes, sliced, peeled and cut into thin disks
7 organic eggs
Pinch Celtic salt
2 Tbsp ginger, finely chopped
2-3 cups light olive oil, to fry the potatoes
Directions:
In your food processor, or mandoline, slice the potato quarters thinly crosswise.
Heat the olive oil in a large, heavy non-stick skillet over medium to low heat and add the potatoes evenly. Cook, stirring occasionally, to prevent the potatoes from sticking and browning until the potatoes are soft, about 15 minutes or more. If you are using the ginger, add it when the potatoes are half way cooked.
When the potatoes are cooked, transfer the potatoes to a colander set over a bowl and let them drain thoroughly and cool for a few minutes. Set aside 2 tablespoons of the cooking oil and strain the rest for another use.
Beat the eggs and salt in a large mixing bowl. Gently stir in the cool potatoes. Mix the potatoes well with the eggs. It is OK if some of the potatoes brake in the process.
Heat 2-3 tbsp of the reserved olive oil in the skillet, over medium to high heat. Pour the egg mixture into the skillet and distribute the potatoes evenly. Reduce the heat to medium-low and cook, moving and shaking the skillet, and running a thin spatula around the edges in the beginning. Then let it cook undisturbed until the top is a little wet but not liquid, 7-10 minutes.
Run the spatula under the tortilla to make sure that no part of the bottom is stuck to the skillet. Top the skillet with a rimless plate, or any possible flat plate, slightly larger than the skillet and quickly invert the tortilla onto the plate. If the skillet looks dry, add a little more olive oil.
Carefully slide the tortilla back into the skillet, uncooked side down. Shake the skillet to straighten the tortilla and push the edges in with the spatula. Reduce the heat to low and cook the tortilla until a toothpick inserted in the center comes out dry, about 7-10 minutes.
Let it cool a little, then cut the tortilla into wedges and serve warm or at room temperature. To serve as a tapa, cut the tortilla into squares and serve with toothpicks.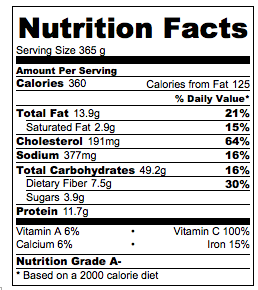 Nutrition facts calculated based on the recipe giving 6 servings.