Tomato pasta with white wine and spinach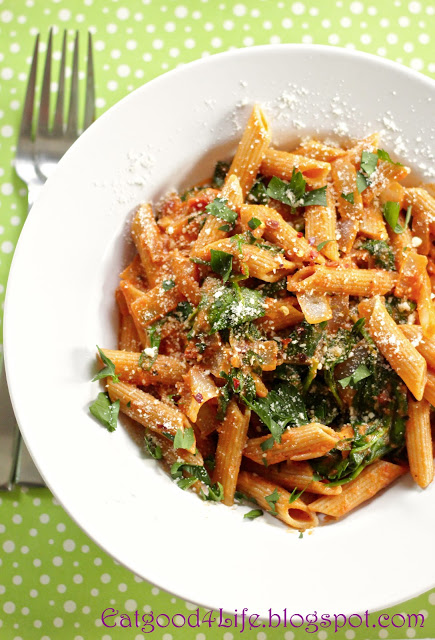 I have been M.I.A for a week, sorry but I have been working like crazy on the upcoming e-cookbooks as well as the content for the new website that will be up an running in less than two weeks.
To be honest I don't think that everything will be done, so much to do, but I will try my best!!
I have been cooking and baking up a storm the past 2 weeks trying to catch up on my recipes. I have done some great ones and some not so great, trial and error I guess, but for the most part I am quite content with the results.
Stay tuned for the books, I think you are going to be quite happy about them. Remember all of the pictures I have been posting on facebook with all of those yummy goodies? were they will all be included in the books. I am so so pumped.
Well, about this dish now, to be honest this is a very similar one I made a while back. The only difference with this one is that I used tons of parsley and blue cheese as well as marinara sauce instead of chopped tomatoes. I also used white wine so I think this one is a good contender too. You see, we love blue cheese, even my kids liked it in this dish. Granted they will not eat it all on its own, but in the pasta it is rather yummy. it gave it a very distinctive flavor.
You can use any other  type of cheese you may like though. I did a combination of the blue cheese and Parmesan and it was rather good, so go ahead and used your favorite combination.
I never get tired of pasta. I sometimes use gluten free pasta made with brown rice which is also very good. Since we do eat quite a bit of pasta switching to a gluten free kind is something that we do often.
Anyhow, I hope you like this tomato pasta version. Until my next post,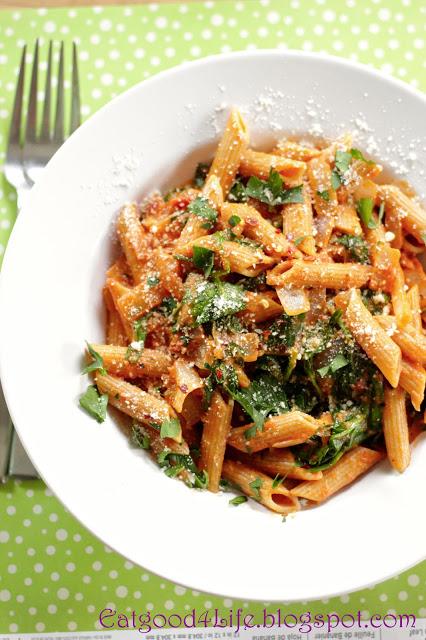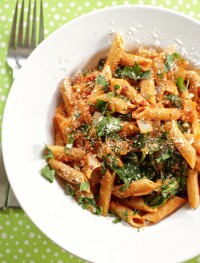 Tomato pasta with white wine and spinach
Ingredients:
1 lb whole wheat penne
1 lb jar organic marinara sauce, use your favorite one
1 14-16 oz can chopped tomatoes, drained
1 onion, chopped
4 garlic cloves, chopped
1/3 cup heavy cream
1/3 cup dry white wine
1 10 oz bag fresh spinach
1 cup shredded Parmesan cheese
1/3 cup crumbled blue cheese
1/3 cup chopped fresh parsley
3 tablespoons olive oil
1 teaspoon pepper flakes, optional
1 teaspoon of salt or to taste
Directions:
Cook pasta to aldente stage.
Meanwhile, In a heavy sauce pan, over medium to high heat, place oil and onion and cook for about 2-3 minutes. Add garlic and cook for 1 minute, just until fragrant. Add white wine and reduce it by half. This will happen rather quick. Add drained tomatoes, salt and pepper flakes if using. Cook tomatoes for about 3-4 minutes.
Add marinara sauce, cheeses, heavy cream and parsley and stir to combine letting the sauce cook for another minute or so. Add seasoning to taste (If you find the sauce is too thick for your liking you may want to add more cream). Turn heat off and add the fresh spinach. Toss in the drained cooked pasta and stir to combine. Sprinkle
Serve while still warm with some sprinkled Parmesan cheese and more parsley.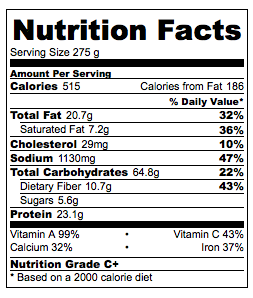 Nutrition facts calculated based on the recipe giving 6 servings.