Tomato, Basil and Garlic Whole Wheat Pasta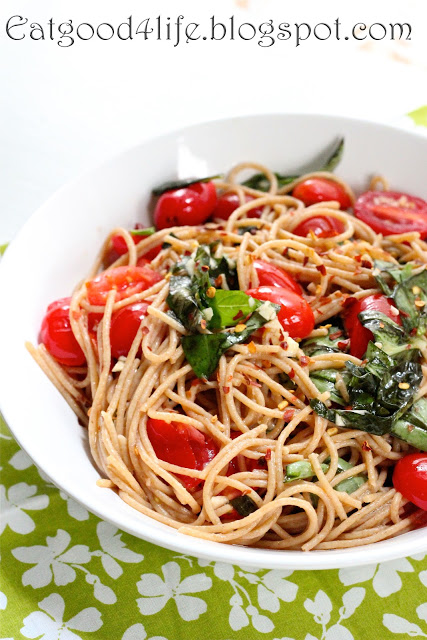 I know I have not posted any recipes for a while. My family and myself have been on vacation in TN for about 3 weeks, lots of fun and family time :-).
Today we were catching up on chores around the house and with the new herbs and veggies growing in our garden, especially after not picking them for about 3 weeks, I had to do something with the tomatoes and basil.
This recipe was easy to put together, yummy, and nutritious. There is nothing better than using home grown veggies and herbs.
Enjoy!!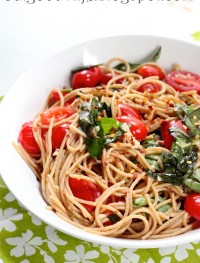 Tomato, Basil and Garlic Whole Wheat Pasta
Ingredients:
1 13.5 oz package of whole wheat pasta
1 lb of cherry tomatoes or regular tomatoes
3 cups of basil roughly chopped, I put lots since we love it
6 cloves of garlic chopped
5 tablespoons of extra virgin olive oil, or olive oil
Salt and pepper to taste
Pepper flakes, optional
Parmesan cheese, optional
Directions:
In a large pan heat water to boiling point. Add pasta and cook until aldente, about 10-12 minutes. Whole wheat pasta takes a bit longer than regular pasta to cook. In another pan mix chopped tomatoes, garlic, and basil.
Add cooked pasta and olive oil. Mix thoroughly and serve. Add salt and pepper to taste. At this point you can individually add pepper flakes and cheese to each plate if you like.