To the max Green smoothie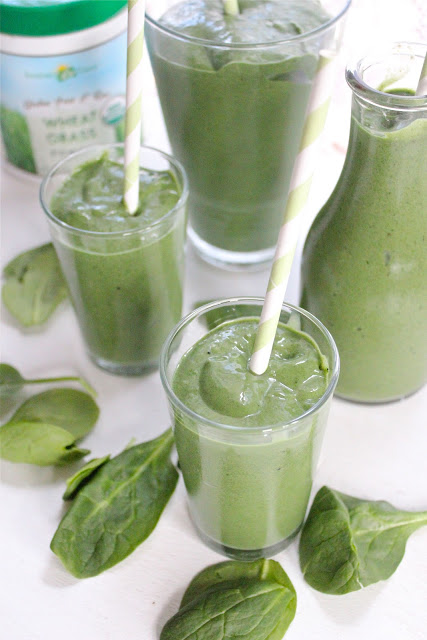 Why haven't I used wheat grass and spirulina before with the great properties these two ingredients have to offer? I just don't know but better late than never!!
I have heard that wheat grass shots can cost up to $5, just crazy although by no means I consider the container I bought cheap, more economical yes, but not cheap. The container I bought contains 30 servings, and was $17.99, but I know it will last us for a while. In any event, I think it is much better than $5 dollars a shot for sure!!
The texture of the smoothie was really ideal with the avocados and frozen bananas, which by the way it was the first time I used avocados for smoothies, and I really liked it. Also, if you like, you can add some fresh mint to give the smoothie a more refreshing taste…..just a thought :-)
Properties of two of the powerful ingredients used in this smoothie
Spirulina: Is a water plant (Seaweed)
Contains high concentrations of 18 Vitamins and Minerals
Rich in Chlorophyll
Contains ALL essential amino acids
65% of Spirulina is Protein
Rich in gamma-linoleic acid (GLA) – an anti-inflammatory Omega 6 Fatty Acid
100x the Vitamin A of Carrots
50x the Iron of Spinach
10x the Beta Carotene of Carrots
7x the Calcium of Milk
6x the Protein of Eggs
3x More Iron Than Beef
Rich in Phytonutrients and antioxidants
Wheat Grass:
Detoxifies the liver
Cleanses the colon
Leads to a tangible energy boost
Boosts the immune system
Purifies blood as Chlorophyll has similar molecular structure to hemoglobin – a component of blood
Very rich in chlorophyll
Contains 97 enzymes, vitamins, phytochemicals and minerals in treatment of cancer
Contains more protein per once than beef.
This smoothie is definitely a keeper :-) The nutritional value on this smoothie is just out of this world so I hope you try it. If you are interested in drinking your nutrition here are other smoothies you may like as well:
Pumpkin spice smoothie
Blackberry, banana and mint smoothie
Papaya and coconut smoothie
Spinach and strawberry smoothie
Chocolate, peanut butter and banana smoothie.
Enjoy!!
This smoothie was very creamy and thick. If you like it more liquid/juice like consistency stay tuned for other variations I will be making with this :-) By the way I didn't use chia seeds this time around, I forgot :-)
These could also be frozen really well and eaten as a treat. The kids would love them….or at least mine do :-)
This smoothie is packed with great properties. The honey and the ginger of set the wheat grass flavor which it simply tastes like grass, not my kind of flavor :-)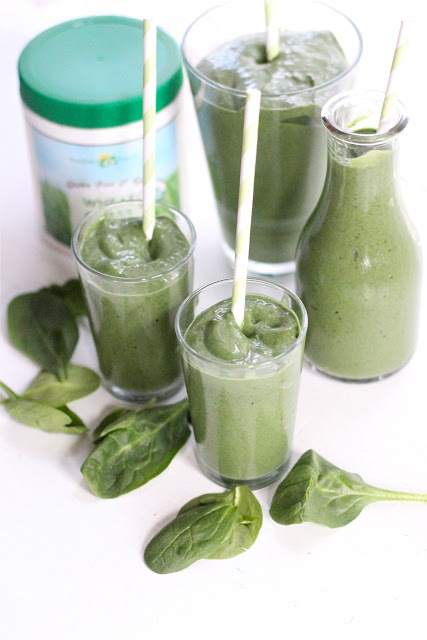 Next time I use wheat powder I think I will also add parsley that has great antioxidant properties, and mint and ginger as well as lemon juice to mask the wheat grass flavor. It will be a more juice texture type of smoothie so stay tuned!!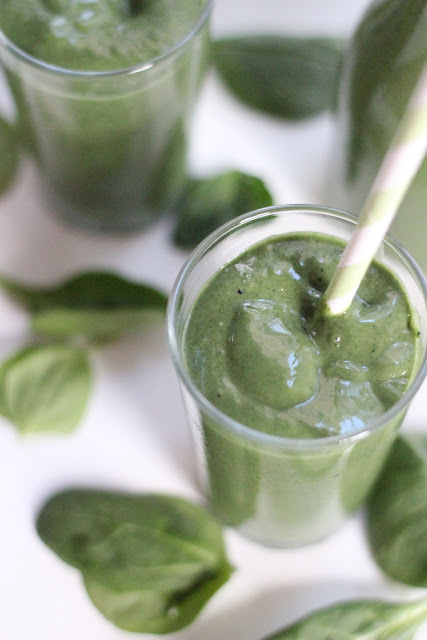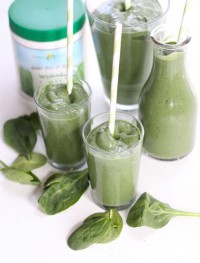 to the max green smoothie
Ingredients:
2 tablespoons wheat grass powder
1/2 tablespoon spirulina powder
2 avocados
3 cups fresh spinach
2 frozen bananas
4 cups almond milk, more if you like, any other type of milk will also work
1 tablespoon fresh ginger, chopped, I used ginger powder since I did not have any fresh on hand
1/4 cup honey
1/4 cup flax seed meal, optional, I use it sometimes
Directions:
Place all of the ingredients in your food processor and pulse until smooth. Serve immediately!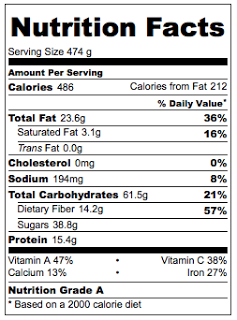 Nutrition facts are calculated based on 4 servings. This is high in magnesium, manganese, vitamin A, B6 and and vitamin C. You can decrease the sugar content by adding 2 tablespoons of honey instead and it will give 30 g of sugar, 53g total of carbohydrates.