To Die for Fish Chowder
Fish Chowder is something that I don't make often, however, when I do we enjoy every bite of it. This Fish Chowder version is magnificent, for sure a to die for fish chowder recipe!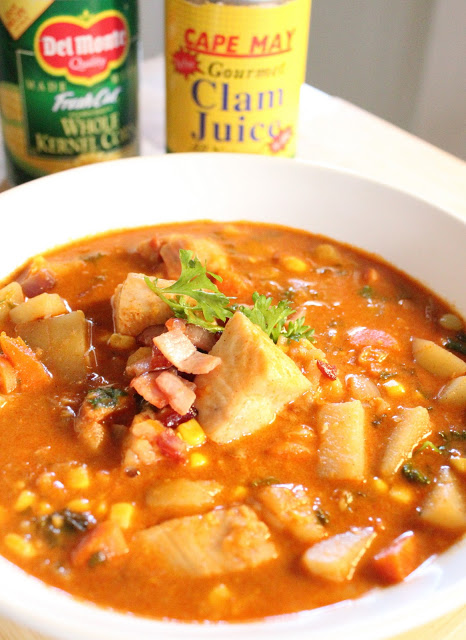 This fish chowder is literally to die for. It is the first time I have made something like this and let me tell you this one recipe is going to be made for years to come. It was so comforting, tasty and unique that I could not believe how good it was. Better than at restaurants. I don't know how much money they can charge for something like this but I bit a lot.
I hardly ever go out to eat because I am very specific about food. I like to know what I am eating and since I like to use the best quality ingredients eating at home is easiest.
If you haven't make chowder before I urge to try this chowder version, you will not be disappointed.
Enjoy!
Here you can see that I got the ingredients together. The right picture is the Mahi Mahi. A very yummy fish. It holds together very well once cooked. 1 lb cost me about $5.50 so is not that bad.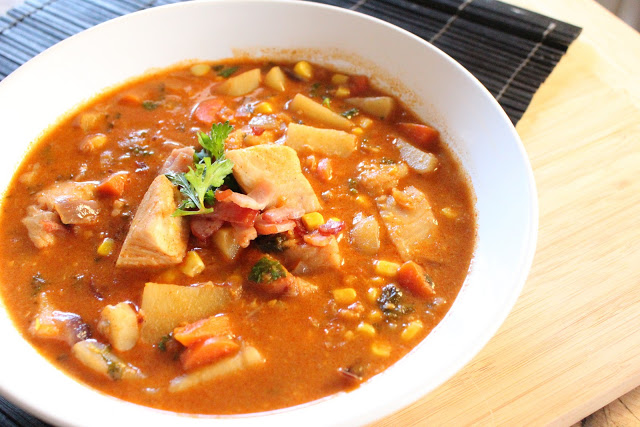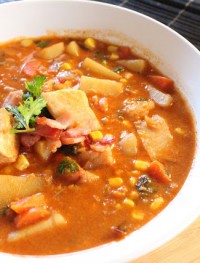 To Die for Fish Chowder
Yield: 4-6 servings
Total Time: 35 minutes
Ingredients:
1 to 2 lbs Mahi Mahi or other firm white fish
1 15 oz canned corn
4-6 slices Canadian bacon,
1 onion, chopped
4 carrots, chopped
4 garlic cloves, minced
4 medium potatoes, chopped into small cubes
1 tablespoon paprika
1 tablespoon thyme
3 bay leaves
4-6 tablespoons olive oil
1 tbsp arrowroot powder
2 cups low fat milk
2 10 oz cans clam juice
Fresh parsley
Pepper corns
Directions:
In a 6 qt dutch oven, over medium to high heat, add 1 tablespoons of oil and cook bacon until crispy. Remove from pan and set aside.
Add the onion, carrots, and garlic to the pan. Cook for about 5 minutes. On the mean time, in a small mixing bowl add  arrowroot powder and milk and mix with a whisk until arrowroot powder is dissolved.
Add paprika, thyme, bay leaves and pepper corns to the dutch oven and heat through. Add milk mixture, potatoes, half the parsley and clam juice. Cook for about 10 minutes.
Place half of the corn in a food processor  or blender and blend until smooth. Add the fish, corn kernels and pureed corn into the soup and cook for another 10 minutes or until fish is fully cooked. Discard the bay leaves and add bacon and remaining parsley to the chowder. Serve while hot.