Shrimp Pasta with Peanut Sauce
This shrimp pasta with peanut sauce is awesome. I love the flavor of the peanut butter.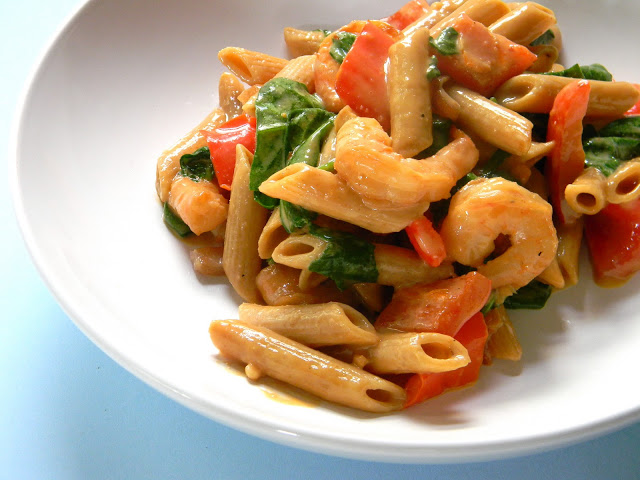 This is one of my favorite pastas recipes ever. The first time I made it I thought I would not like it because I figured peanut butter and pasta do not go good together but after I tried it, oh boy, I was in for a pleasant surprise. This recipe calls for cilantro, which gives it a really good touch/flavor. I did not have it on hand, but I went on ahead to make the pasta anyhow.
Once again, in this shrimp pasta with peanut sauce recipe you can use other veggies like broccoli or use cut up chicken or tenderloin instead of shrimp, you decide.
This Shrimp Pasta with Peanut Sauce recipe has become a family favorite along with a few others so I wanted to post it to be able to referred to it when ever I wanted. I will also be posting some other pasta favorites so stay tuned :-). So many recipes to do and so little time.
You can also freeze this Shrimp Pasta with Peanut Sauce recipe once you are done. Just defrost in the refrigerator and heat up in your microwave for 2-3 minutes. You can also use any other protein of choice. Chicken will be rather good for this pasta dish as well.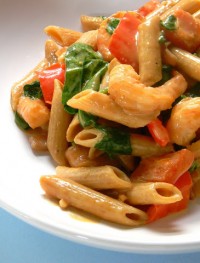 Shrimp and Pasta with Peanut Sauce
Yield: 4-6 servings
Total Time: 20 minutes max!
Ingredients:
4 tbsp of cilantro, chopped
4 tbsp fresh ginger, chopped
2 garlic cloves minced
2 tablespoons low sodium soy sauce
1/3 cup crunchy peanut butter
3 tbsp of rice wine vinegar + 1 tbsp water
1 tsp of hot sauce
2 tbsp sesame oil
1 lb medium shrimp
1 red onion sliced
3 red bell peppers cut into strips
1 bag fresh spinach
1 package of whole wheat penne pasta
4 tbsps of olive oil
Directions:
Combine first 8 ingredients in a bowl. (I normally double the sauce ingredients so you can as well)
NOTE: Here you can adjust the sauce to your liking, I tend to add more peanut butter and more rice wine vinegar most times!
Heat a large skillet over medium heat and add oil, onions and peppers. Saute for 3-5 minutes.
Add shrimp and cook for an additional 3 minutes. Add sauce mixture and heat for about 2 minutes. Turn heat off and add spinach and cooked pasta. Spinach will wilt by combining all ingredients. Serve while it is still warm.