thai shrimp curry with snap peas
Thai food is one of my favorite cuisines to make at home. If you purchase the curries and a few of the spices you will be able to make a large number of Thai recipes like this Thai shrimp curry with snap peas.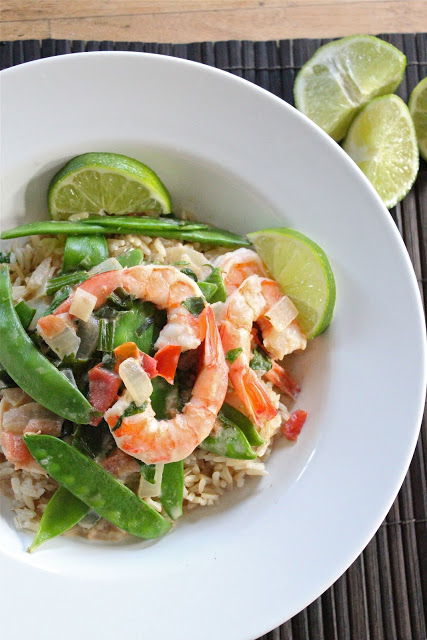 I don't know if I have mention it before but Thai food is one of my ultimate favorite cuisines. I tend to make this Thai shrimp curry at least once a week it is that good……super simple and fast also comes to mind :-)
Some people think that having healthy and nutritious dinners can take a long time, not the case. This dish, from start to finish, can be done in as little as 20 minutes, and if you have a rice maker, like I do, it becomes even easier…..I couldn't live without my rice maker….we eat a lot of rice and having a rice maker makes the job making rice a hell of a lot easier. I love my cheap rice maker :-)
I actually made this Thai curry for a lunch gathering I had at my house with three of my girlfriends.  They actually wanted me to make and extra batch for them to take home with them……they are too funny……well now they can make it on their own.
I told them as long as you have the ingredients you are good to go. No fuzz and complicated techniques here…….just basically having the green curry paste, coconut milk and fish sauce would be the secret key!!
Forget spending $15 to $20 dollars at a Thai restaurant, after making this you won't ever again order this one out. You won't believe how easy and fast this dish is and lets not forget you could also add any other veggies and protein of your choice.
Enjoy!
This is my cheap rice cooker I mentioned before. I could not live without it!!
If you make this dish the green curry paste, and fish sauce will last you for ever.
The left picture is before adding the shrimp and the snap peas. Just let that mixture cook for 2-3 minutes at medium to high heat before adding the shrimp.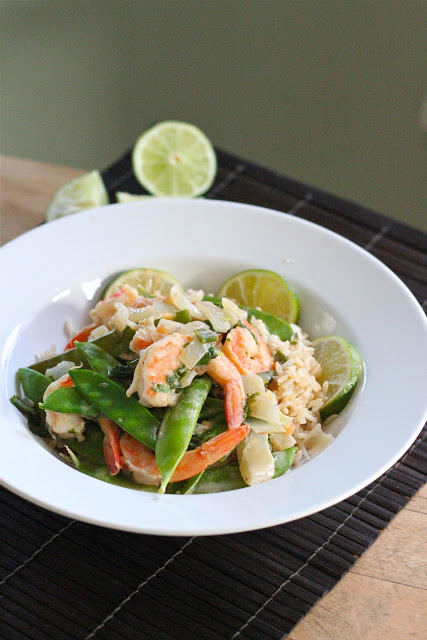 This is just awesome and packed with superb flavors. You won't regret making this at all!!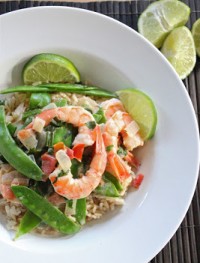 thai shrimp curry with snap peas
Yield: 6-8 servings
Total Time: 25 minutes
Ingredients:
2 tablespoons olive oil
1 onion, chopped
6-8 green onions, chopped
1 to 2 tablespoons Thai green curry paste
1 14-ounce can coconut milk
1/2 cup chicken broth
3 tablespoons Thai fish sauce
1 tablespoon unrefined sugar
1 fresh tomato, diced
1- 2 lbs cooked large shrimp
9 oz fresh snow peas
2-3 kaffir lime lives, or lime zest of 1 lime
Chopped fresh cilantro leaves
Lime wedges to serve, optional
Directions:
Heat oil in non stick large skillet over medium to high heat (I used a wok). Add sliced onion and cook for 3 minutes or so until soft and beginning to brown.
Reduce heat to medium and add the green onions and curry paste. Stir until fragrant, about 1 minute. Add coconut milk, chicken broth, fish sauce, sugar and kaffir lime leaves. Bring to a boil and add the tomatoes. Cook further for another 2-3 minutes.
Add shrimp and snap peas and cook for another 2-3 minutes. Garnish with cilantro. Serve over brown rice and if using add lime wedges.
Adapted from here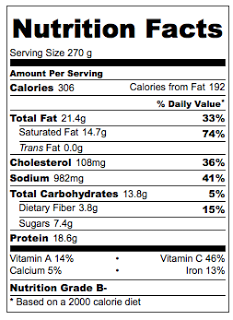 Nutrition facts calculated based on the recipe giving 6 servings. The brown rice is not part of the calculations.