Thai Quinoa Salad
Thai quinoa salad anyone? This salad is the bomb. I actually was meant to make this one with noodles but tried it with quinoa and oh boy!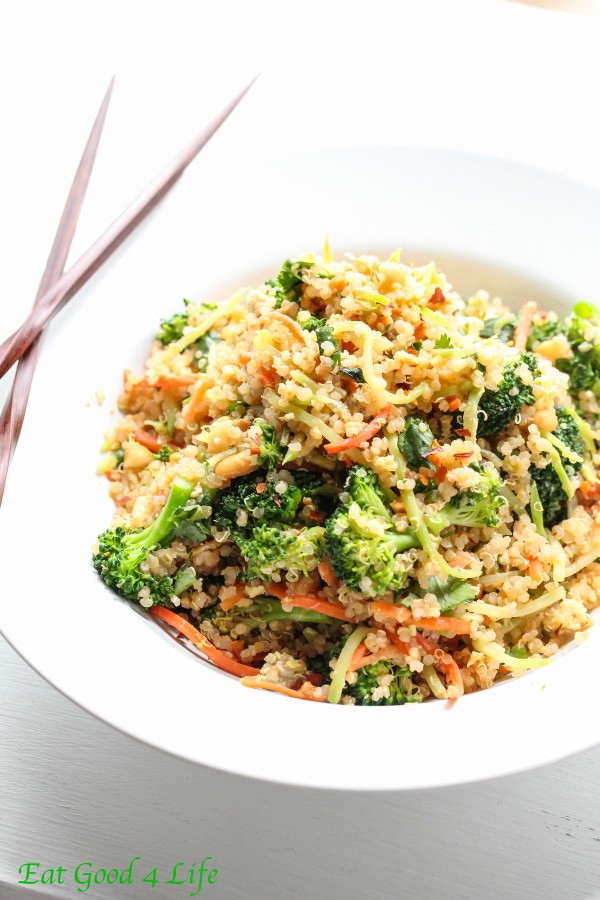 I must say that I am loving quinoa lately. This Thai quinoa salad was just perfect. I kind of improvised with this recipe and I am so glad I did. My husband and kids loved it however my kids complaint that it was a bit on the spicy side. None the less they still ate it.
This salad was truly the bomb. I actually loved the crunch of the peanuts. Don't skip them, unless you are allergic to them of course.
I made quite a bit of this Thai quinoa salad and I am so glad I did. Having the leftovers the next day was the best. I kind of had to hide it in the fridge so that I could enjoy them all to myself. Sometimes I have to do that with some of the leftovers. What the heck, I get to make the food so if there is a recipe that turns out great I should get to have the leftovers!
I think with this salad you can also add any other veggies of your choice. Maybe some peas as well as chopped peppers might be really good in this Thai salad.
Well there is not too much to elaborate on this recipe. It is truly a winner salad so I hope you get to make it soon. Sorry for those waiting on the quinoa cake recipe I made today. I promise that recipe will come next. Sunday to be exact!
Enjoy!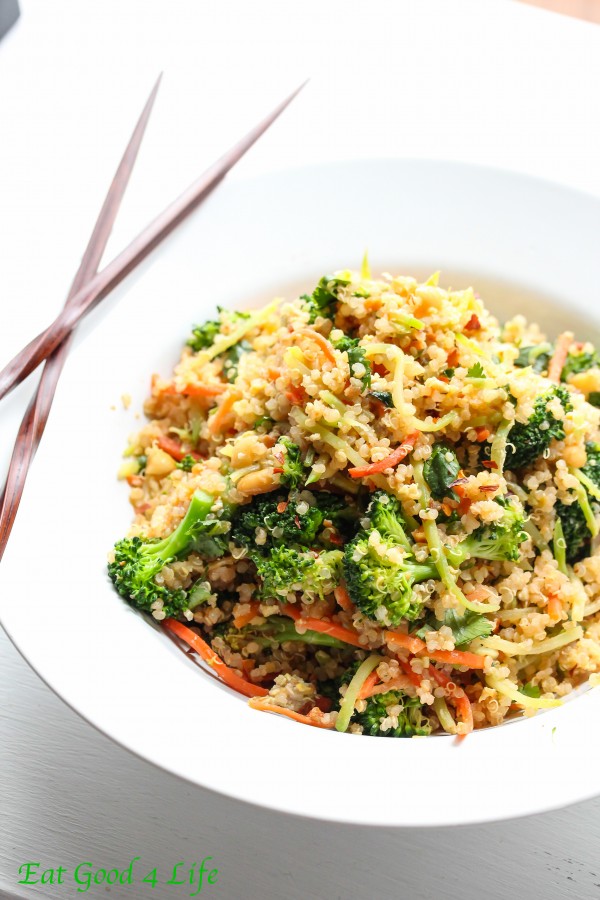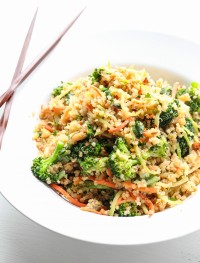 Thai Quinoa Salad
Ingredients:
4 cups cooked quinoa, about 2 uncooked
4 organic eggs
12 oz broccoli slaw
6 oz shredded carrots
12 oz fresh organic broccoli
1/3 cup chopped peanuts
1/4 cup fresh cilantro, chopped
2 tbsp olive oil
For the sauce
Directions:
Cook quinoa according to package instructions. I always do in my rice cooker that I couldn't live without. It always comes out perfect in it.
Place the broccoli in a microwave safe dish and microwave for 6-7 until soft but not mushy. Make sure it does keep its vibrant color and some crunch. Alternatively you can steam it but the microwave works faster for me.
In a small mixing bowl mix the sweet chili and pad thai sauce and set aside.
In a large skillet, this is the exact one I used, add the olive oil, broccoli slaw and shredded carrots. Cook for about 5 minutes until they soften up a bit. Make some space in the middle of the skillet, pushing the broccoli slaw and shredded carrots to the side of the pan, and add the eggs. Scramble them in the middle of the pan and let them set for 1-2 minutes. Mix the eggs with the veggies making sure the eggs are totally cooked through.
Turn the heat off and add the peanuts, broccoli, quinoa, cilantro and sauce. Mix through and serve while still warm.