Thai quesadillas
Holly molly, these Thai quesadillas are the bomb. So easy to make, healthy, and totally delicious.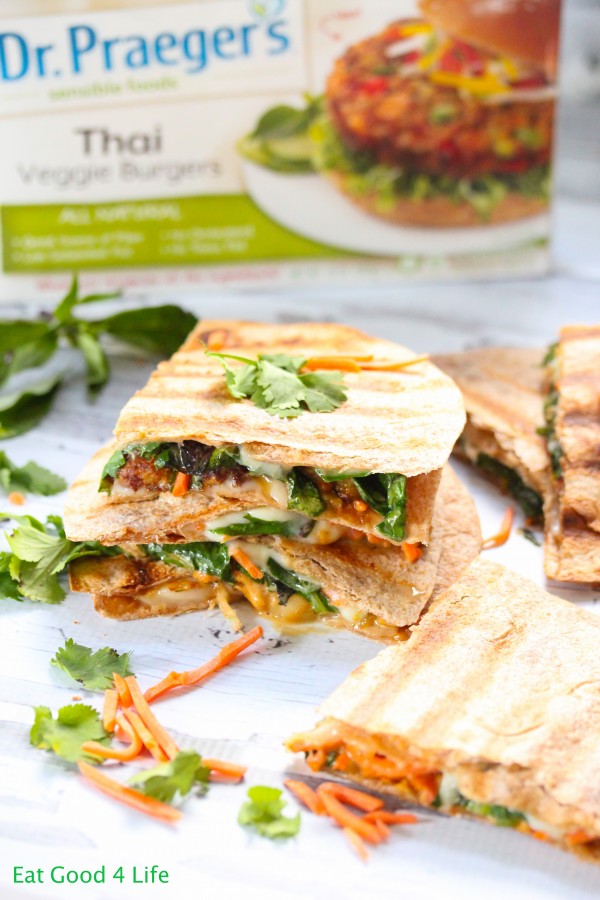 I added some extra nutrition and nutrient dense ingredients by incorporating Thai veggie burgers from Dr.Praeger's, which went really well with the Thai theme for these quesadillas.
I am really skeptical when using any products that are already made. However, I could trust these Thai veggie burgers as the ingredients are natural and there are no weird ingredients. Natural ingredients is what I look for when purchasing products that are already made, which aren't many.
Dr. Praeger's has a large assortment of veggie burgers, gluten free fish products and patties. Check out their website. I am sure you will find something that you will like to try. I can't wait to try their gluten free products, which I will shortly.
To compliment the flavors of the Thai quesadillas I also made my own peanut butter dressing. Thai flavors relies a lot on peanut butter as well as soy sauce and sesame oil. You can use this salad dressing for any of your salads. It is exquisite and delicious. I always keep a bottle of this dressing on hand.
I love quesadillas because they are extremely versatile and quick to prepare. They are perfect for any busy week night.
My two kids and husband throughly enjoyed these Thai quesadillas. I love anything Thai. Thai flavors are one of my favorite, so this recipe was right up my alley.
Let me know if you get to try these Thai quesadillas. They are truly delicious, easy and fast to make.
Enjoy!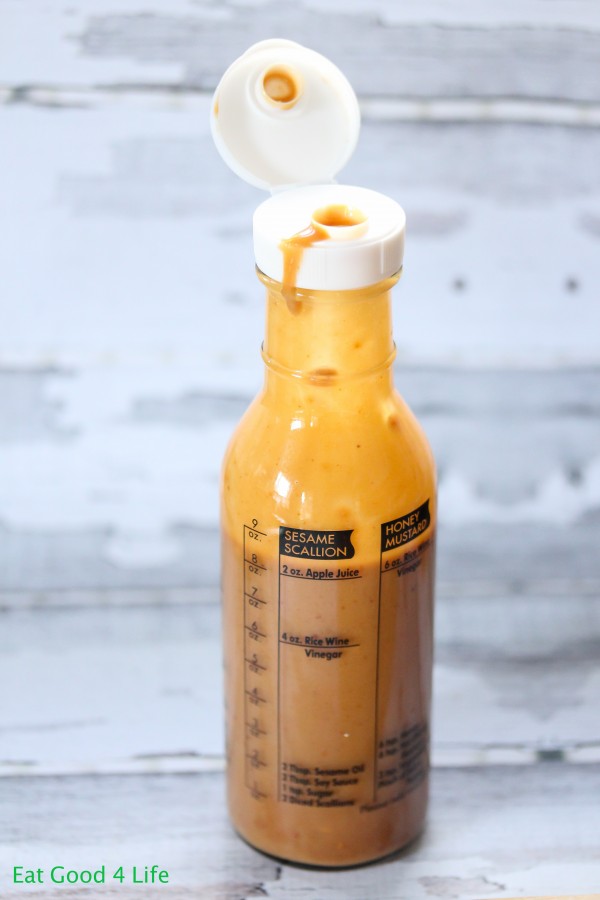 This peanut salad dressing is to die for. You don't ever need to buy store bought anymore. If you think the flavors are too strong you can dilute the dressing further by adding more water. For me is perfect as is. Also, this containers are the bomb. I have about four of them which I use them all. You can buy them here.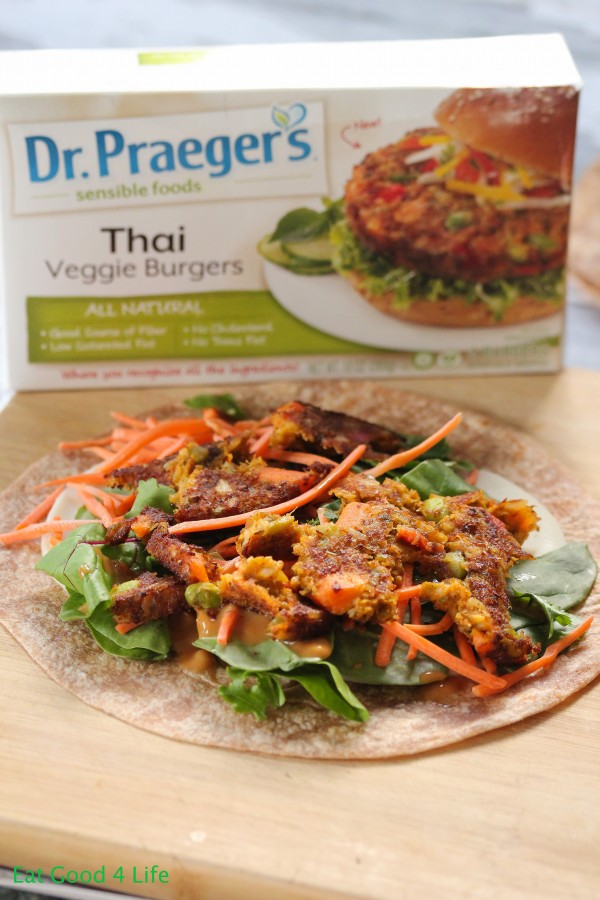 Just placed all of the quesadilla ingredients over the whole wheat tortilla starting with the cheese, greens, shredded carrots, cilantro, peanut salad dressing and broken Thai veggie burger. Then just place the other whole wheat flour tortilla over and grill for 2-3 minutes on each side. Add more cheese if you like over the burger. I did!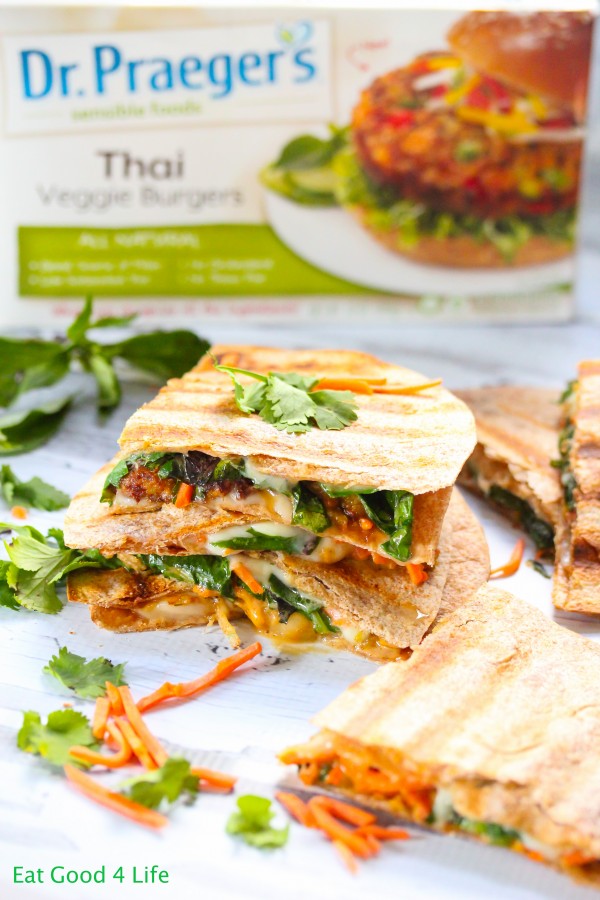 Disclaimer: This post is sponsored by Dr. Preager's. This post contains affiliate links. Dr. Preager's provided me with their products to write this review and all opinions are my own. I speak from personal experience. The end :-)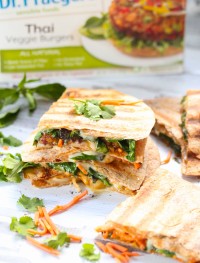 Thai quesadillas
Yield: 4 servings
Total Time: 15 minutes
Ingredients:
Peanut Butter Dressing
1/2 cup organic peanut butter
2 tbsp soy sauce
2 tbsp rice wine vinegar
2 tbsp honey, or maple syrup
2 tbs sesame oil
1/2 cup water
1 tbsp grated ginger, optional
Quesadillas
2 cups greens, any type
10 slices provolone cheese
8 whole wheat flour tortillas
1 cup shredded carrots
Fresh cilantro
Directions:
Cook the Thai burgers according to package instructions. I cooked mine in the oven.
In a small mixing bowl mix the dressing ingredients and set aside. You can store leftovers in salad dressing containers. I love these.
To assemble the quesadillas, on four tortillas place one and a half slices of provolone. Follow by 1/2 cup of greens, I used salad greens, 1/4 cup of shredded carrots and 1-2 tbsp of the peanut dressing. Sprinkle some cilantro over them.
Broken into pieces, arrange one cooked Thai veggie burger over each quesadilla and top with the other flour tortilla. You can add another slice of provolone cheese over the burger before placing the other flour tortilla on top. I did.
Grill each quesadilla on a grill pan or non stick skillet 2-3 minutes on each side or until the cheese is melted and gooey.
Cut each quesadilla into fourths and serve while still warm.