Thai noodle soup
Thai food is one of my ultimate favorite cuisines. I could eat Thai food all day everyday. This Thai noodle soup is really good, easy and very tasty.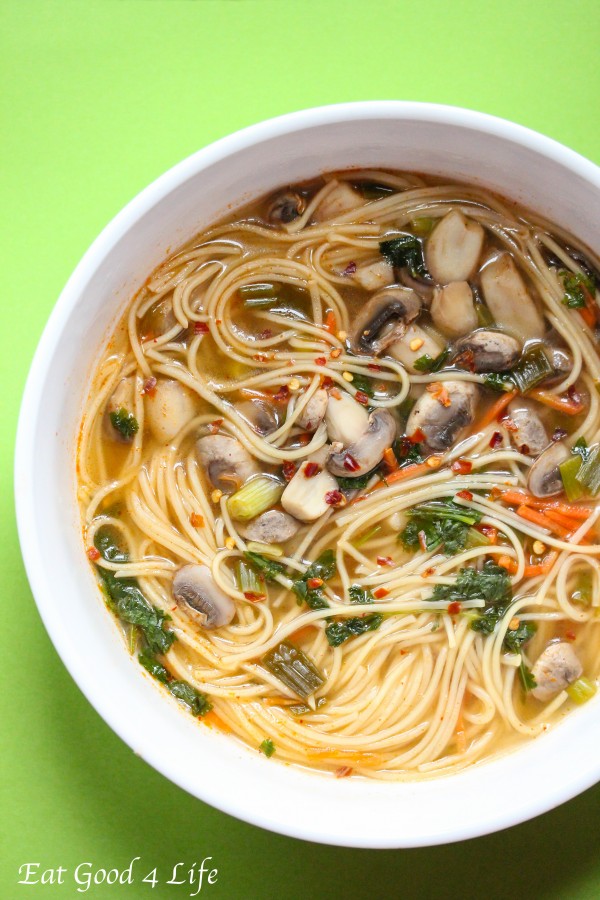 I am lucky enough that I have an Asian market 10 minutes from where I live. Getting the Thai pastes and curries allows me to make all of the different types of Thai dishes. This Thai noodle soup is an example.
While I used different vegetables for this Thai noodle soup you can also use which ever you like best. I used mushrooms, onions and carrots but since this soup is very versatile you can use whatever.
I added noodles to make it more dense and filling. If you like to make it gluten free you can add gluten free noodles as well.
For this Thai noodle soup version I mixed red thai curry paste with tom yum paste. I love them both. You may see tom yum paste used right by itself when making Thai soups but for me mixing them both are much better.
When using lemon grass, make sure you get the meaty part that is in the center. You will have to discard the outside of it. It has taken me quite a bit of time to lean this and sometimes I have cooked with it without knowing eating the hard part and chewing what I should have discarded.
If you can't find lemon grass you may use lime zest instead. It is not quite the same but at least it will give you some extra lime/lemon flavor.
I hope you like this soup. I have been making a few soup recipes lately and freezing half of it. It is really convenient to freeze and have for future consumption so whenever I make soups I make it an effort to do this.
I hope you like this recipe. If you get to try it let me know.
Enjoy!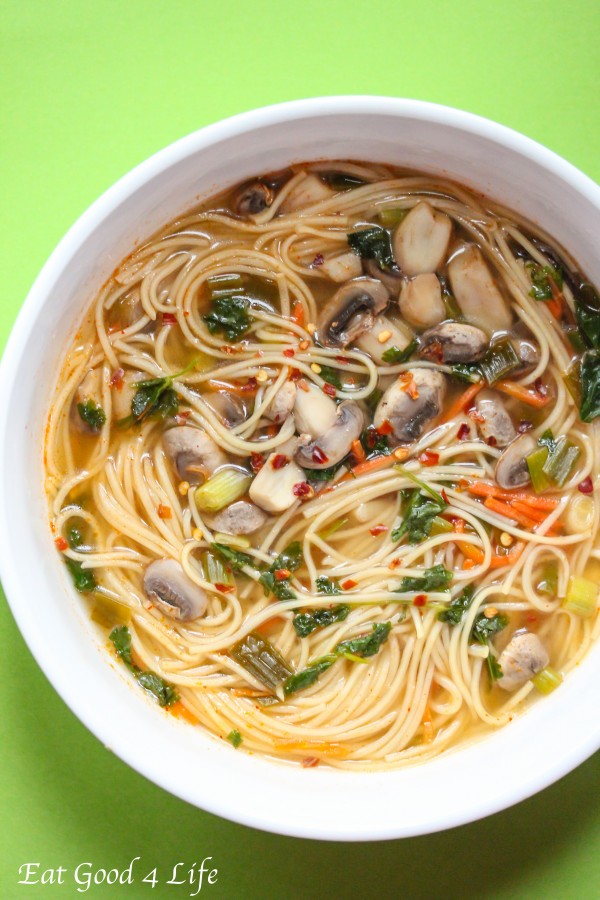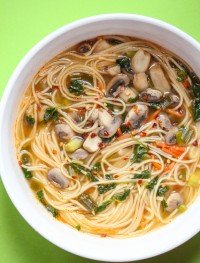 Thai noodle soup
Yield: 4 servings
Total Time: 20-30 minutes
Ingredients:
10 oz egg noodles
2 quarts water
3 stalk lemon grass, chopped edible part, you can use lime zest
2 tbs fish sauce
10 oz sliced mushrooms
1 cup shredded carrots
6 green onions, chopped
1 cup fresh cilantro
2 tsp celtic salt
1 tbsp red thai curry paste
3 tbsp tom yum paste
3 limes, juice
Directions:
In a large 5qt dutch oven add the water, lemon grass, and fish sauce. Bring to a boil. Add the veggies, pastes, salt and noodles and cook for 8-10 minutes or until noodles are cooked through. Add the green onions, lime juice and cilantro. Mix through and cook for another minute or so. Taste the soup and adjust seasonings.