Thai Curry pumpkin Soup
Thai food is my favorite cuisine and this thai curry pumpkin soup is one of my favorite soups. Have you ever tried to make your own Thai food? It is easier than you think.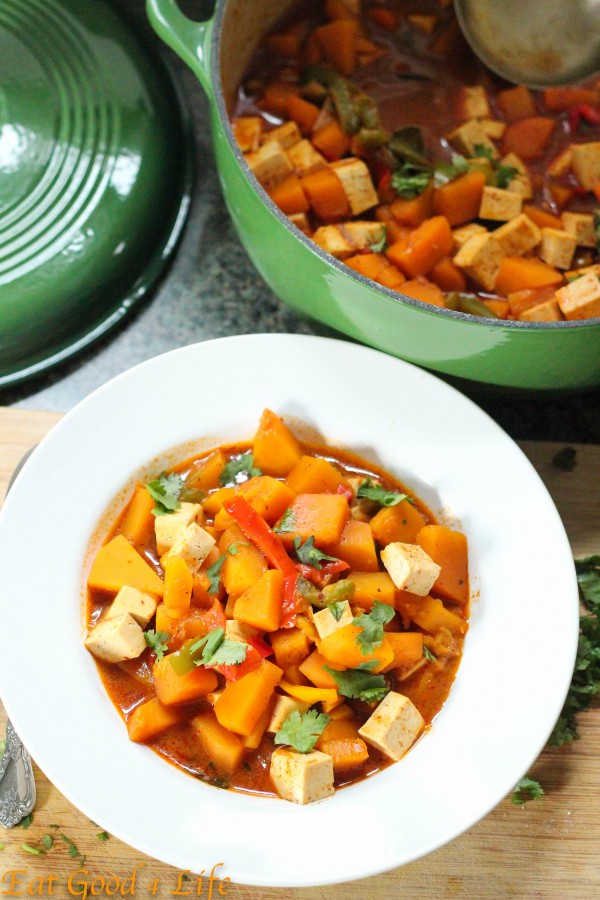 Thai food is one of my ultimate favorite cuisines. I have many of the different curry pastes, fish sauce and other type of sauces. The flavors are just exquisite and unique. If you haven't tried to make your own Thai food I really urge you to because it is super easy and simple. All you need are the curries and sauces.
I am lucky enough to live near an Asian market that carries many of these ingredients. I normally have to look a little bit closer when I buy these sauces because a lot of them carry MSG (monosodium glutamate). Free MSG products are a must in my house hold!
With this Thai Curry pumpkin Soup you can add other ingredients if you like, or simply swap some of ingredients if you like too.
For making this curry soup I used my amazing dutch oven I bought a couple of months ago but you can use any other heavy large pot you may have.
This Thai soup will freeze very well. I have lots of glass containers and when I make soup I make extra batches so that I can store some in the freezer and serve in the future.
I will be coming with more soup recipes very soon. Some made in the slow cooker. I need to up the number of recipes I make in this piece of equipment, which I actually love.
Until my next recipe I leave you with this Thai Curry pumpkin Soup
Enjoy!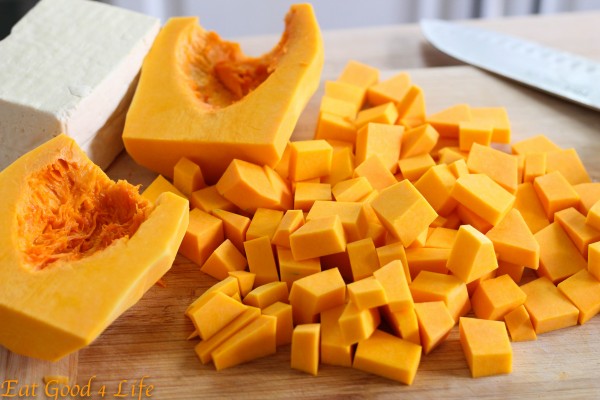 I used quite a lot of butter nut squash. It was my first time using this ingredient in a fresh version but it will not be my last. I loved the vibrant color of the soup and the taste was just amazing!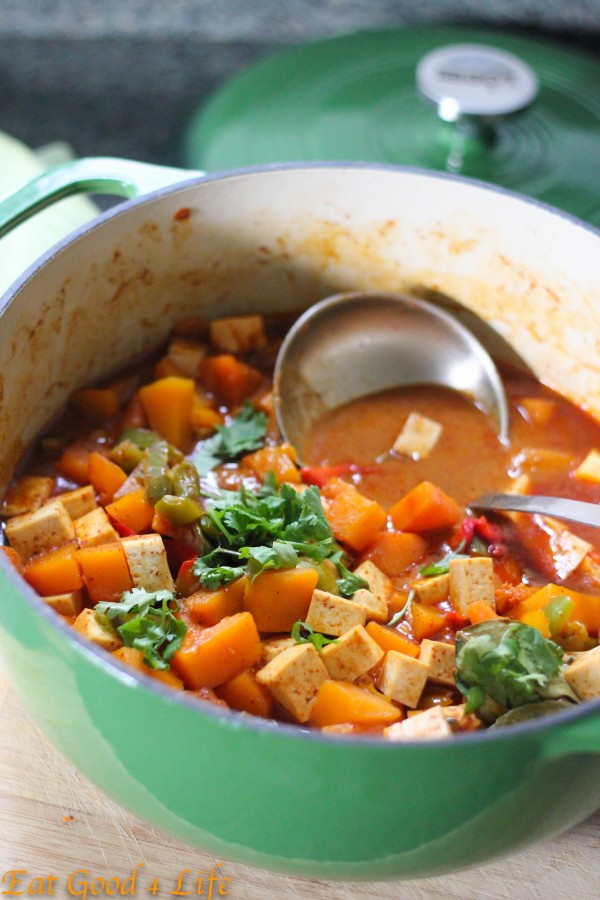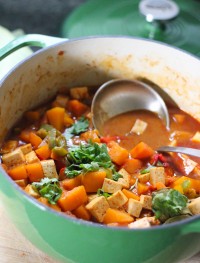 Thai Curry pumpkin Soup
Yield: 4-6 servings
Total Time: 30-45 minutes
Ingredients:
1 (14-ounce) can coconut milk
2 tablespoons yellow Thai curry paste, or red
2 cups vegetable stock
1 lb extra firm tofu, chopped into small cubes
3 tablespoons fish sauce (recommended: Nam Pla) omit for a vegan version
2 tablespoons unrefined sugar
3 lemongrass stalks, each cut into 1/3's and bruised with the flat of a knife
3 lime leaves, stalked and cut into strips, optional
1 teaspoon turmeric
2 1/2 pounds pumpkin or butter nut squash, peeled and cut into large, bite-sized chunks
1 large red pepper, chopped
1/2 to 1 lime, juiced or more to taste
Fresh cilantro, chopped
Brown Basmati rice, optional
Directions:
Add the coconut milk and paste to the dutch oven pot and using a fork or wooden spoon, beat milk and paste together until combined.
Add the stock, fish sauce, sugar, lemongrass, lime leaves (if using) and turmeric. Bring to a boil and then add the pumpkin, red pepper and tofu. Cook on a fast simmer until the pumpkin is tender, about 15-20 minutes, although different sorts of pumpkins can vary enormously in the time they take to cook; some squash can take a little as 5 minutes.Take the pan off the heat and sprinkle over the cilantro; eat as it or with some
brown Basmati rice.
Recipe adapted from Nigella Lawson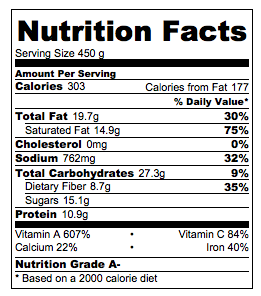 Nutrition facts calculated based on the recipe giving 6 servings.