Thai basil tofu with zucchini
I have made this Thai basil tofu with zucchini twice this week already. The first time turned out better than the second round. The last time I made it I added too much soy sauce but it was still edible!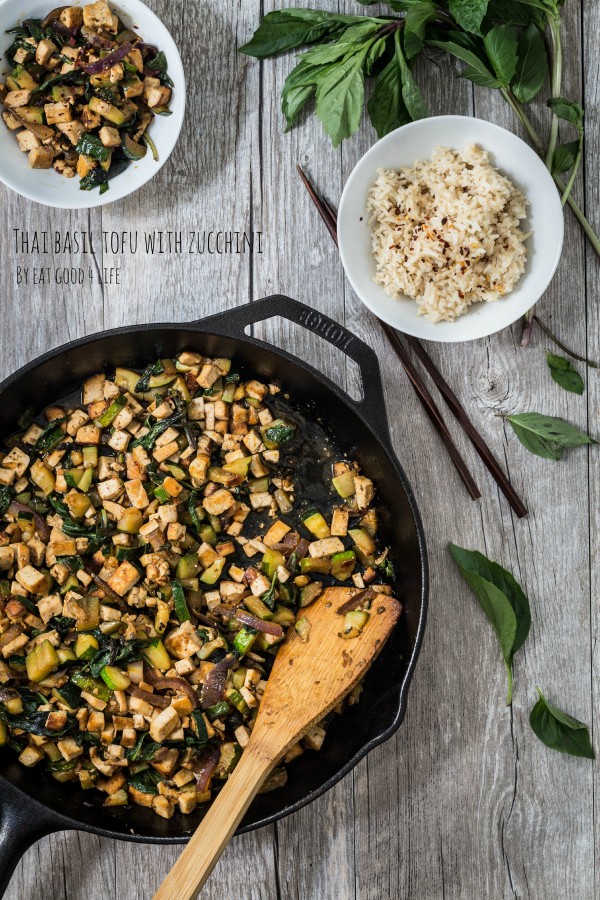 Lucky for you, in the recipe, the changes have been noted so that you can get the best result possible. The way I got the thai basil tofu with zucchini the first time I made it. I love this dish and I will be making this over and over again. Thai food is my ultimate favorite cuisine.
While I got the Thai basil paste at my local Asian market you can still get it through Amazon. If you have an Asian market around where you live I am sure you will find it there.
The flavor of Thai basil is very unique. It is very different from regular basil. If you can't find Thai basil regular basil will have to suffice.
You can also make this recipe with chicken or any other protein of your choice. I have seen it done with chicken most but any veggies and protein you like to use for this recipe would be fine.
I love the fact that this recipe takes just about 15-20 minutes to make…the rice takes longer to cook it is that quick. Subsequent times I will be trying this Thai basil tofu with zucchini with rice noodles. I will let you know how it tastes but I believe it will be equally good.
I hope you get to try this recipe. If you like Thai food you will love this one.
Enjoy!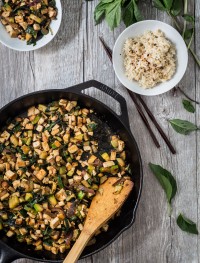 Thai tofu basil with zucchini
Yield: 4 servings
Total Time: 20 minutes
Ingredients:
16 oz extra-firm tofu, cut into small pieces
3 large zucchinis, cut into small pieces
1 small onion, sliced
3 cups fresh Thai basil
4 tbsp Thai basil paste
2 tbs honey, or coconut sugar
2 tbs soy sauce, gluten free if needed
1 tbs water
2 cups brown rice
Pepper flakes, optional
Directions:
In a large skillet, over medium to high heat, add the thai basil paste and tofu and brown for 5 minutes stirring occasionally. On the meantime, in a small bowl mix the water, soy sauce and honey, set aside.
Add the zucchini and onions to the skillet and cook until soft stirring occasionally, about 5 minutes, or until the veggies are soft.
Add the soy sauce mixture, thai basil to the skillet and stir. Turn heat off and sprinkle some pepper flakes if using. Serve over brown rice or rice noodles.