Tex Mex Quinoa Casserole
Braise yourselves, this Tex Mex Quinoa Casserole is to die for. I am so excited to be posting this recipe at last.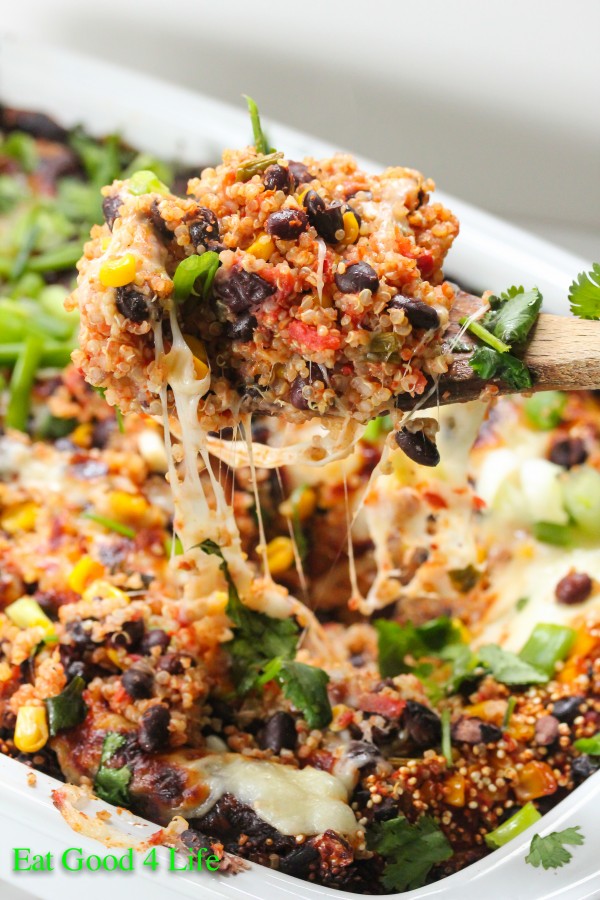 I have been experimenting with this Tex Mex Quinoa Casserole recipe for a couple of weeks now. I think it is a superb recipe. I am loving making one pot dinners in which you mix everything in a large baking dish and bake until it is done and ready to eat.
For this Tex Mex Quinoa casserole version I didn't add any chicken to my casserole and kept it strictly vegetarian but if you like you can add some chicken chunks to it for some added protein.
This recipe makes quite a bit, I think at least 6 servings, which you can keep leftovers in the fridge or freeze for future consumption.
This Tex Mex Quinoa Casserole is going to be a recipe that I am going to make quite often. Lately I have been experimenting with recipes that are easy because come May I won't be able to spend too much time cooking. Plus my husband is going to have to learn a few easy recipes since he is going to have to take over. Let see how that goes…
I used taco seasoning that I purchased at Trade Joes. You can use your own or any other varieties of your choice. Just make sure that the ingredients are herbs and nothing else. The food industry like to add caking agents and other crap to herb mixtures so be careful which ones you purchase if any.
When you bake the Tex Mex Quinoa Casserole make sure you cover it with aluminum foil the first 45 – 1 hr so the top doesn't burn. I also think this allows the quinoa to cook better.
Anyhow, I hope you guys try this recipe and I hope you like it as much as we do.
Enjoy!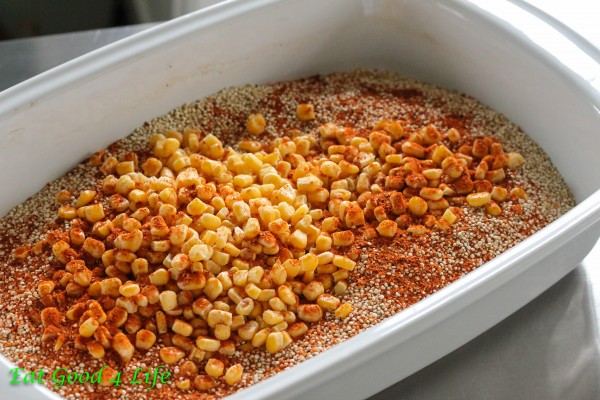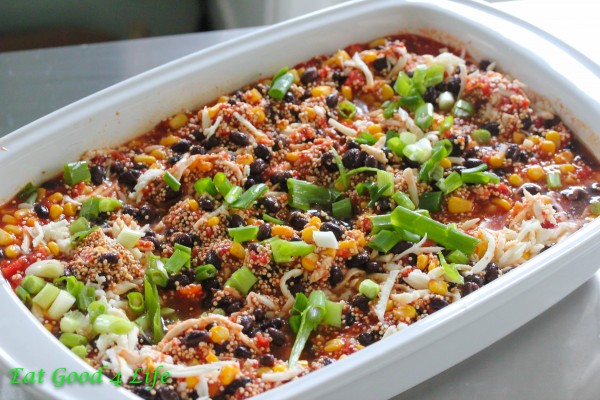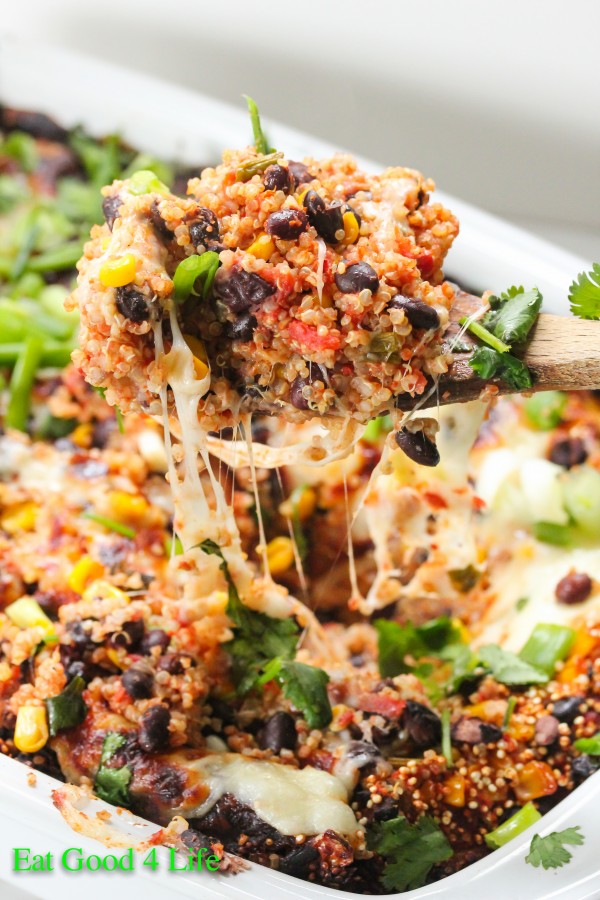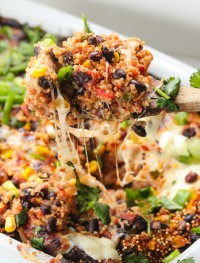 Tex Mex Quinoa Casserole
Yield: 8 servings
Total Time: 1 hour 30 minutes
Ingredients:
3 cups quinoa, dry and uncooked
8 oz frozen corn kernels
15oz canned black beans
1 lb canned chopped tomatoes or marinara sauce
6 green onions, chopped
16 oz skim mozzarella, grated
4 cup hot water
1 1/2 tsp Celtic salt
1 tbsp taco seasoning
1/4 cup fresh cilantro, chopped
Directions:
Preheat your oven to 350F.
In a 9 x 13 rectangular baking dish, about 5qt capacity as the quinoa will expand and need more room, add all of the ingredients and mix through. Save some of the grated mozzarella cheese, cilantro and green onions to sprinkle over the top. Cover the dish with aluminum foil and bake covered for 1 hour.
Remove the aluminum foil and sprinkle the rest of the cheese all over the quinoa and bake uncovered for another 30 minutes or until the quinoa is completely cooked. You may want to use your broiler for 2 minutes to brown the top a bit when the quinoa is done cooking. I normally don't do this step though. When the quinoa is done sprinkle the rest of the green onions and cilantro over the top and serve while still warm.