Teriyaki shrimp – how to make your own teriyaki sauce
 If you you like anything teriyaki you must make this teriyaki shrimp. To make the sauce is exceptionally easy. You will never go back to ordering this out again!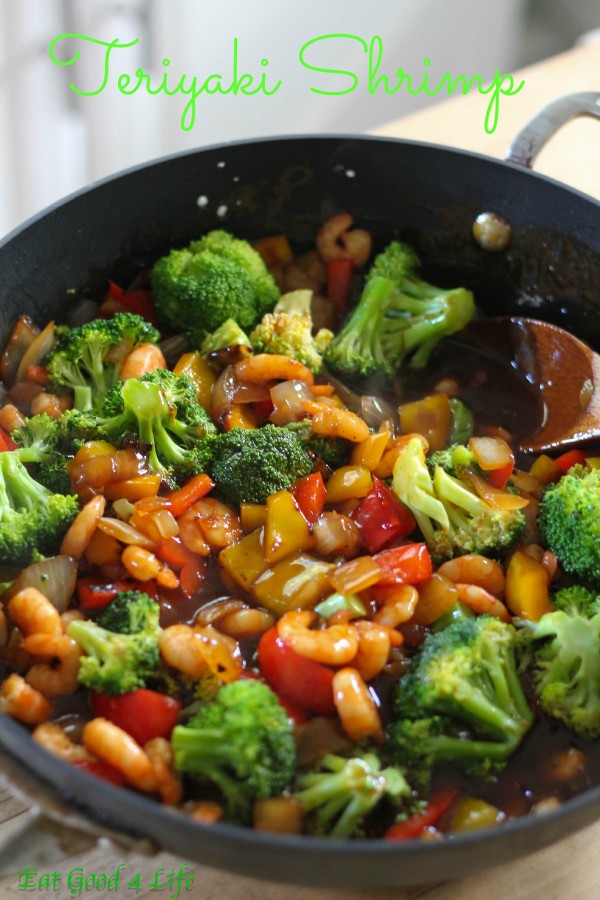 Who doesn't like anything Teriyaki? I don't know of anyone that doesn't.
Even though I love anything Teriyaki, I have not bought it in for ever just because I haven't found one that is made with just basic ingredients and making it really didn't cross my mind until recently.
Oh boy, what was I waiting for? This sauce is the best thing ever. In the past week I have made three different things using Teriyaki sauce. I even made some brussel sprouts using the sauce it is that good.
You may have noticed that I made the Teriyaki sauce with honey rather than with unrefined sugar.  I think using either one will be fine. Note that you can also use this sauce for what ever type of protein you like, chicken, fish, veggies, or even tofu. I have done it with wild salmon and it was just divine. I paired it with green beans and I even added some sauce to the beans.
My three year old daughter has never eaten green beans that fast they were that good. She even asked for a second serving!
If you need a super yummy, simple and fast dinner recipe, look no further. The minute you try this recipe you will be coming back to it over and over again. For us, this recipe is going to become one of our regular dinner menu repertoire  dishes. So versatile, so good and so simple.
Do yourself a favor and make this for your family tonight. They will love you to the moon and back :-)
Stay safe and enjoy!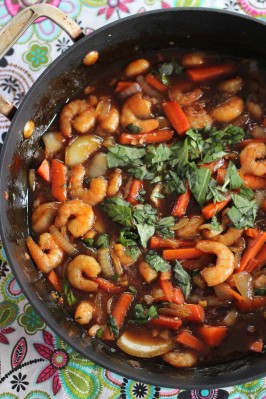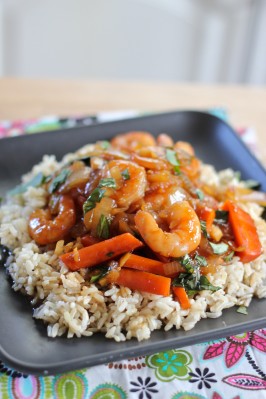 This has become one of our favorite dishes lately. So far I have made it with extra firm tofu and wild salmon fillets and it was just awesome. If you want to try it with chicken just cook the chicken pieces first for about 5 minutes before you add the onions and carrots.
was just awesome. If you want to try it with chicken just cook the chicken pieces first for about 5 minutes before you add the onions and carrots.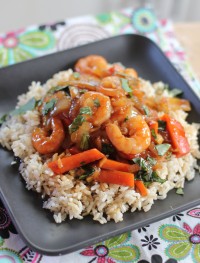 Teriyaki shrimp and how to make your own teriyaki sauce
Yield: 4-6 servings
Total Time: 30 minutes
Ingredients:
1 lb frozen medium shrimp, thawed out
1 large onion, chopped
12 oz fresh broccoli
1 red pepper, chopped
2 garlic cloves, you can also use ginger
4-5 large carrots, sliced
Thai fresh basil, chopped you can also use regular basil
2 Tbsp olive oil
Teriyaki sauce
Directions:
In a small bowl mix the Teriyaki sauce ingredients and set aside. If you just want to make the sauce for future consumption store it in an air tight container and store in the refrigerator.
In a sauce pan add the two tablespoons of olive oil. Add the onions, peppers and carrots and cook stirring occasionally until almost tender, about 5 minutes. Add the garlic and broccoli and cook further for another minute.
Add the shrimp and stir followed by the Teriyaki sauce. Stir for about 1-2 minutes until the shrimp and the sauce is warmed up and the sauce starts to thicken. Turn heat off and add the chopped basil.
Serve over brown rice.
NOTE: I doubled the Teriyaki sauce for us.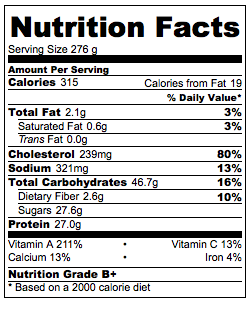 Nutrition facts calculated based on the recipe giving 4 servings. It gives more than that!